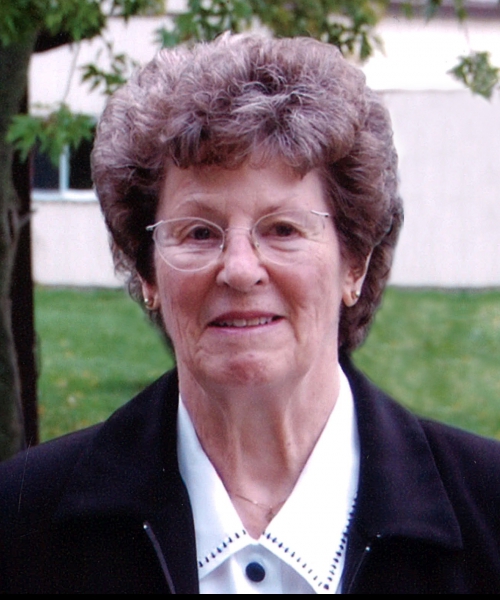 Doris Eccles
April 26, 2022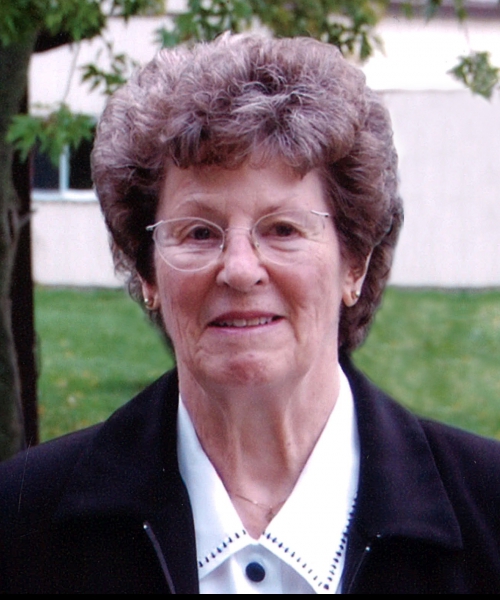 ECCLES, Doris - Peacefully on Tuesday, April 26, 2022 at Royal Terrace, Palmerston in her 92nd year. Beloved wife of the late George Eccles (2008). Loving mother of Brent Eccles and his wife Cathie of Kitchener. Dear grandmother of Shelley Durnan and her husband Craig of Kitchener, Jennifer Roth and her husband Chris of Woodstock, and Lisa Eccles and her husband Brady Callaghan of Kitchener. Great-grandmother of Katie and Josh Durnan.
Doris is survived by her sisters-in-law Mable Hardy, Audrey Holliday, Barb Eccles, Joan Troup (Alex) and by many nieces, nephews, extended family and friends.
She is predeceased by her brothers Murray Holliday, Ross Holliday, Lloyd Holliday, her half brother Wally Holliday, her half sister Margaret Vaine, and by her 15 sisters and brothers-in-law.
At Doris' request, there will be no visitation. A private funeral service will be conducted at the England Funeral Home, Mount Forest followed by a private burial at the Mount Forest Cemetery.
Those wishing to make a donation in memory of Doris are asked to consider the Royal Terrace Residents Council.
Condolences
So very sad to read of Doris' passing. I will remember her fondly.
— Laura Douglas, May 3, 2022
What a Great Life you've had...Lots of memories, stories and just good old fashioned fun.You will certainly be remembered by all of the young people you helped to raise in the community, including my kids.You were a great Lady to know,a wonderful friend and will be fondly thought of and missed by us all. Thanks for everything ,Doris
Rest in Peace
Julie, Brian, Meagan, Justin
— Brian & Julie ,Meagan & Justin Crawford, May 1, 2022
I always admired Aunt Doris and hoped I would be like her when I grew up: hardworking, humble, gracious, and fun.
She and Uncle George gave us so many great memories with all the Eccles clan
Recently she shared her fudge recipe with me, and now it is my Christmas tradition, and holds a special memory of Doris making it for all us cousins when we were kids.
Our hearts go out to Brent, Cathie, and all the Eccles whose lives were touched by this special lady!
Holly Eccles Gagnon


— Holly Eccles Gagnon, April 30, 2022
My deepest condolences to Brent, Cathy and all of the extended family.
I met Doris and George when I was teaching at Kenilworth and really enjoyed their friendship. A really gracious couple!. You are all in my thoughts and prayers, - especially you, Brent.
Pauline Brown
— Pauline Brown, April 30, 2022
Our family has lots of fond memories of George and Doris. Our condolences the Brent and Cathie and Family. Alan and Fay Robertson.

— Fay Robertson, April 30, 2022
We were saddened to hear of the passing of Aunt Doris. A special lady and loved by everyone. I have fond memories of her - I remember her and George getting married at Pike Lake (I was about four years old), Aunt Doris taking me to my first movie at the theatre in Mount Forest, the big meals and her delicious pies when staying at the farm and her feeding and caring for all those children over the years. Such a big heart - condolences to my cousin Brent and all the family.
Randy Eccles (and Bev).
— Randy Eccles, April 30, 2022
Doris and George were special. Our children were blessed to have had them as babysitters. Sometimes they refused to come home, as they enjoyed their "additional grandparents" antics too much. Maybe it was the Ginger ale out of the tap. Wonderful memories.

Condolences from the Harper Family.
Ron ,Nancy ,Allison, Scott, Brett and Stacey
— Nancy Harper, April 30, 2022
Doris was a lovely lady who always was well groomed and dressed so sharp. When asking how she was, the answer was always "Well, I guess I am not too bad". If you are at the Clinic, you are not well and the last time I saw her, she had difficulty walking. She was a real trooper, making the best of life. She spoke highly of her family. I remember, anyone who could have her babysit their children, we lucky. Her reputation in that direction was awesome. Hopefully your happy memories will ease some of the pain of losing your dear one. May she rest in Peace. Mary I. McIntee
— Mary I. McIntee, April 29, 2022
Doris was like a grandmother to us and we are forever thankful for her care throughout our childhood. She was an incredibly kind and patient woman. We will miss her dearly and always hold the memories from George and Doris's close to our hearts. Condolences to Brent, Cathie and family.
Love, Meagan and Justin
— Meagan Crawford, April 29, 2022
Condolences to Brent, Cathy & Family. Doris was one of a kind! She and George were a great couple and welcomed everyone who visited and no-one ever left without a meal, no matter how many were there.
Lots of great memories.
— Marlyn (Brown) Howard, April 29, 2022
Aunt Doris was such a great lady. My mother Maggie used to tell us about her and Doris back in Robbtown when we'd visit. I was there go chore guy went on road convention trips. R.I.P. Doris.

Rick Vaine
— Rick Vaine, April 29, 2022
To the family of Doris. I am a cousin of George and Doris , Marilyn Brown Preston , from Holstein. It is many years since I have seen Doris but remember her as a kind and gentle person. I send my deepest sympathy on your loss.
— Marilyn Preston, April 29, 2022
I enjoyed the time I spent on the farm with Aunt Doris and Uncle George. She was always smiling and kind. I will always miss both of them. Condolences from my family to yours.
— Ronnie Hawkrigg, April 29, 2022
Doris and George were the absolute best!! Both our children loved to go there. As everyone above has said, they treated all the children they babysat like gold. You will be remembered fondly Doris. condolences to the family.
— Bob and Lynne Morley, April 29, 2022
Auntie Doris was the sweetest GREAT auntie. Even though she didn't see us often, she was always up-to-date and interested in our lives. When we visited, she had questions about what what we were up to and encouraged us and loved us. My memory is full of lovely visits to the farm. She was funny too! I loved laughing with her and uncle George! I'm sure she missed him and will be so happy to be reunited with him at the big Eccles reunion in heaven!
We will miss her and love her always.
— Cherish, April 28, 2022
I was surprised to hear my Aunt Doris had passed……Just last week I called her and we had a great visit as well as a few good laughs….I was her flower girl at their wedding…lol
Condolences to Brent, Cathie and family.
May she Rest In Peace.
— Doreen Matthews, April 28, 2022
Doris and George babysat our children and numerous others for many years. My kids often asked to go to Doris' even when I wasn't working. They still talk of the fun times they had at their place.
— Helen Ellis, April 28, 2022
— Helen Ellis, April 28, 2022
Who could whip up a meal for 40 people at a moment's notice? Babysit all those kids and still have time to help out milking cows?
Auntie Doris. George used to call her "Dorisy"

I spent many summers at the farm when I was younger. Helping out milking cows, feeding calves, piglets, chickens, dogs and cats. Loved every minute of it because I knew after a long day I'd be tucking into one of Auntie Doris' great homemade meals.
To Brent and Cathie and the family I'm sorry for your loss of a great woman.


We're going to miss you Auntie Doris.

Love,
Kevin
— Kevin brown, April 28, 2022
We would like to extend our sympathy to Doris's whole family. She was a lovely woman as well as a great neighbour who will be deeply missed.
Bob and Donna McFarlane
— Bob and Donna McFarlane, April 28, 2022
Auntie Doris was simply the best! She looked after our three kids, her great nephews and niece and treated them like her own. She had a heart so big that she shared it with so many kids and always made them feel like they were loved and special. Doris was always kind, logical and so much more! She is what so many of us should strive to be! Thankful that we were in her life and in her family…. She was an incredible lady ! Love David, Brenda, Ryan , Ben and Leah

— David and Brenda Holliday, April 28, 2022
Doris was always a role model for me. Kind, generous and strong, I always thought there wasn't a problem she wouldn't tackle and likely solve. She knew how to work hard. Doris and George were a great example of what a marriage should be--lots of give and take, lots of laughter and love. When she married George she got the whole Eccles family and took such good care of us all at the farm for so many years. And never seemed to get old! Thank you Doris for wonderful memories. Rest well. Hugs to Brent, Cathie, and all the family.

— Simonne Ferguson, April 28, 2022