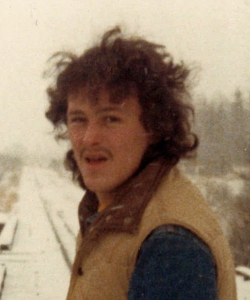 Corey Webber
May 25, 2022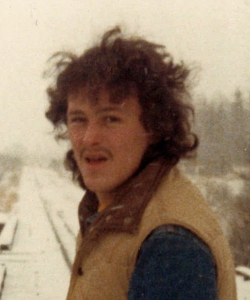 WEBBER, Corey – Unexpectedly but peacefully and surrounded by loved ones at the Louise Marshall Hospital on Wednesday, May 25, 2022 in his 54th year. Beloved son of the late Virginia & Albert Webber. Dear brother of Barbara Stortz of Waterloo, Joan Loos and her husband Paul of Conn, Bonnie Bettschen and her husband Brad of Palmerston, Sheldon Webber of Mount Forest, Deborah Southwell and her partner Dave of Mount Forest, the late Sharon Konnerth and her partner Peter Culliton of Ayton, Ronnie Webber of Mount Forest, Ross Webber of Kitchener, and Patty Eckenswiller and her partner Murray Roelofsen of Arthur. Corey will be missed by many nieces, nephews, extended family and friends.
The family would like to thank the staff at the Louise Marshall Hospital for the incredible care and kindness given to Corey.
A memorial service will be held at Mount Forest Pentecostal Church, 259 Fergus Street South, Mount Forest, on Friday, June 10, 2022 at 11:00 a.m. If you are unable to attend the service in person, you are invited to view livestream by visiting: https://www.facebook.com/profile.php?id=100057424542022. Those wishing to make a donation in memory of Corey are asked to consider the Louise Marshall Hospital Foundation. Arrangements entrusted to the England Funeral Home, Mount Forest.
Condolences
So very sorry for your loss, our deepest condolence to your family God Bless Judy and Bill Gerber
— Judy Orchard Gerber, June 9, 2022
Very sad to hear of the passing of an old friend….R.I.P Corey, you will be missed.

The Antonopoulos family….
— Tom Antonopoulos, June 2, 2022
There are no words to describe the deep impact you have made on our lives with the times we shared living in this little house together. I remember the time you came out of your room with a broom in your hand sweeping , continuing until the whole house was complete. One time when I came downstairs the whole place was spotless , nothing for me to do .You were the best roommate ever. Mama Bear, Rexy, especially Oscar , with my brood , will miss you terribly . Mama Bear still sits by your door . We will miss making your special pancakes, made just the way you loved. As for the shed the last thing you built will stand strong A plaque on the front bearing your name . We will remember you forever Corey, we love you, miss you, will never forget you until we meet again

In our thoughts & prayers
loving you always
Donna , Karen and Laura ❤️❤️❤️
— Laura Richard, May 30, 2022
Deepest sympathy to the family
Brian Plume, Tamara Bondy
— Brian Tamara, May 30, 2022
To the Weber family. Very sorry to hear of Corey's passing. My condolences to you all. Rest in peace Corey.
— Bart Penwarden, May 28, 2022
I was very sorry to hear of Corey's passing. Your whole family is in my thoughts and prayers. I taught Corey in Grade Six, my second year of teaching at Mount Forest Public.
— Donna McFarlane, May 27, 2022
Sorry to hear the news. I can't really think of to many memories growing up that Corey isn't part of. From kindergarten to high school I have many memories. Riding our bikes with hockey cards rubbing our spokes to drinking beer listening to AC DC. They'll be playing Hells Bells for you in heaven, so Crank it up. You'll always be remembered. Rest in Peace Corey
— Jim Wakelim, May 27, 2022
I first met Corey back in grade 7 at Mount Forest public school , we were friends ever since, i have lots of good memories with him that i will never forget , i want to send our heartfelt condolences to all his family and friends, Corey you were taken way to soon from all of us, may you rest in in peace my friend . Until we meet again Brother !!
— ( SQUAB ) Steven , Lisa, Korey and Payton Sudeyko, May 27, 2022