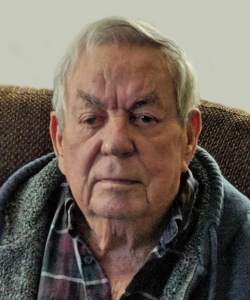 Gerald Adam Denney
May 29, 2022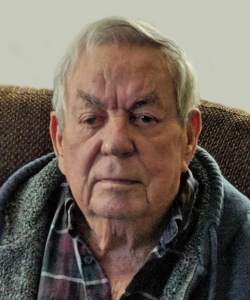 DENNEY, Gerald Adam – Peacefully at the Louise Marshall Hospital, Mount Forest, on Sunday, May 29, 2022 at the age of 86. Predeceased by his beloved wife, Reta Denney (née Marshall). Cherished father of Lori-Lynn Smither of Mount Forest and Janine Denney-Lightfoot of Toronto. Dear grandfather of Holly Byrne and her husband Bobby, Tanya Smither, and Jake Lightfoot. Survived by his sister-in-law Terri Denney.
Predeceased by his siblings: Doreen Rapley and her husband Harvey, Bill Denney, and Bruce Denney and his wife Jean; parents Laura McMullen and her husband Albert Bowles, and Jack Denney and his wife Jean Marcott.
Gerald was born in Toronto but spent the majority of his life in Brampton. He moved to Mount Forest five years ago to be closer to family. Gerald was a dedicated member of the Royal Canadian Legion, Branch 15 Brampton, for 47 years. He worked for 40 years in the transportation industry. Some of his favourite memories include time spent at his second home in Sauble Beach.
A Celeration of Life Service will be held at the England Funeral Home, 294 Main Street South, Mount Forest, on Saturday, June 11, 2022 at 11:00 a.m. with visitation from 10:30-11:00 a.m. Please wear a mask. Highway 89 is currently under construction, visit www.englandfuneralhome.com for instructions on how to enter the parking lot. Interment at Maple Grove Cemetery, Dundalk. Those wishing to make a donation in memory of Gerald are asked to consider Cancer Patient Services or the Heart & Stroke Foundation.
Condolences
I was sorry to hear about Uncle Jerry. Whenever I think of him It makes me happy. He was always upbeat and laughing.
— Michelle (Shelly) Stewart, August 31, 2022
We're so sorry to hear of the passing of uncle Jerry. He was a great man and will be missed. Maybe he'll meet up with Bill, Bruce and Doreen for a drink up in heaven? On behalf of Rich , Lyne and Terry we hope that you'll find peace in his passing. 86 years on this earth was certainly a good life. I'm sure aunt Rita will be happy to see him. May he Rest In Peace!
Love,
Rich, Lyne and Terry Denney.
— Rich Denney, June 11, 2022
Lori and Janine and family so sorry to hear of your Dads passing we had many good times and water fights over the fence he will be missed sending my love
— Linda Pinches, June 4, 2022
Dear Lori and Janine,
It is with great sadness that Mike and I received word that your Dad had passed. Your Dad and Mom were like a second family to Mike, Sue and me. We have so many wonderful memories of the best neighbours anyone could ever have for over fifty years. We will never forget your kind, fun loving father.
With love,
Mike and Joyce
— Michael and Joyce Burke, June 3, 2022
Janine, I am so deeply sorry to hear about the loss of your father. I am sending hugs and prayers to you and your family at this difficult time. Take care.
— Brian Kreissl, June 3, 2022
Very sorry to hear of uncle Gerry's passing,remembering him as a fun loving man (cucumber sandwiches) always welcoming and very kind. Regret because of distance not seeing him and his family more often. Condolences
— Sharon Marcel and Family, June 3, 2022
My sincerest condolences to your family. Known as grumpy, his spirit lives on through the lives he touched and inspired. Never having the pleasure to meet this angel, hearing his voice on the phone daily when he would call Janine and Jakie was a cherished celebration by all. His voice would light up the room and make you feel supported. I am here in any capacity to support through every step and chapter of your lives. I love you all <3
— dianne luca, June 2, 2022
Janine and Lori, I'm so sad to hear of your dad's passing. I have so many great memories of spending time at your house as well as the cottage. Great laughs and silly jokes and endless teasing, good times indeed.
Thinking of you,
Rest easy Mr Denney
Nadine
— Nadine deLange, June 2, 2022
I am so sorry to hear of uncle Gerry's passing, I have great memories of spending time as a child when you's lived in Brampton, he was always smiling and what a joker he was , he loved nothing more then to tease everyone. Cherish all the memories you all have, I know I will. RIP Uncle Gerry. ❤️
— Bill & Cindy, June 2, 2022
To Janine and Jake and to all those grieving this loss, I am so sorry for your pain. May his memory be a blessing.
— Amelia Golden, June 1, 2022
Lori, Janine and Families,
I have so many great memories of visiting your parents during the summers with my mom and dad. Uncle Gerry loved to tease and I just adored him💕. He had a constant twinkle in his eye and a mischievous smile on his lips. He loved telling a good story and boy was he a very entertaining raconteur! Hugs to all of you. Keep your memories of him close and may they bring you comfort during this difficult time. Cousin Tamara
— Tamara Jones (née Salmi), June 1, 2022
To Lori and all of Gerry's family,

I'm very sorry to hear of Gerry's passing. He was a very friendly man.
I know he was well taken care of and loved so much. What a joy it must have been to him to be cared for 24-7 by a loving daughter for as long as possible. Wishing you all peace and strength.

Love Virginia
— Virginia, June 1, 2022
Lori,
it was a pleasure meeting and getting to know your dad. He was a nice man. R.I.P. Jerry, my condolences to Lori& Fmly . Cherish your memories.
— Donna Bacchiochi, June 1, 2022
Dear Lori, Sadie ,Tanya, Holly, Bobbie, Janine and Jake;.
No words can describe how sorry I am for your loss, may you find comfort in your memories of your Dad aka Gump.
Tea time visits will not be the same.
Love;
Cathy
— Cathy Colquhoun, June 1, 2022
Dear Lori,
So sorry to hear about your Dad. Our condolences to you and your family.

Norm and Cheryl Ward
— Cheryl Colquhoun, May 31, 2022
Dear Lori
Im sorry to heard of your dad's passing,
Please know my thoughts and prayers are with you at this time.
It was a pleasure to chat with you on many occasions
Hugs
Heather
— Heather Smith, May 31, 2022