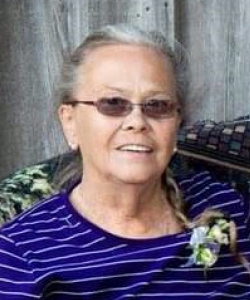 Pearl Doig
June 5, 2022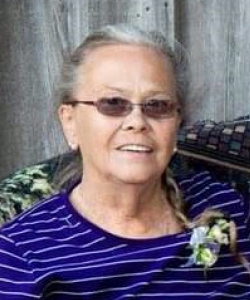 DOIG, Pearl – Passed away peacefully in London, ON in her 81st year, on Sunday, June 5, 2022 with her daughter by her side. Loving mother of Shari Smart and her husband Ron. Cherished grandmother of Laura Perreault and her children Levi, Moses, Emilee and Julie; Megan Woods (Kyle) and their children Olivia, Amelia and Ayanna; Ayron Smart (Ryan) and their children Scarlett, Oakley and Lincoln; Bronson Smart (Tesa) and their daughter Grace; and Christa Schackwidt and her daughter Arianna. Pearl will be sadly missed by many extended family and friends in Ontario and Alberta.
Pearl was an avid baker and delighted her family with a variety of treats. She also enjoyed cooking, birds, birdwatching and crocheting.
Private arrangements entrusted to the England Funeral Home, Mount Forest. Those wishing to make a donation in memory of Pearl are asked to consider the Alzheimer Society of Waterloo Wellington or a charity of their choice.
Condolences
Dear Shari and family: Pearl was a precious friend of mine as far back as the late 70's. She and I did alot of fruit picking , canning and crafting. We had many laughs together. I am so sorry for your loss, she will be greatly missed. In the past few years I wondered where she was and how she was doing. Shari if you could call me @ 252 379 9003.


— Claire Belch, June 12, 2022
Shari and family,
Sending strength, support, a shoulert and love, across the waters. Pearls spirit is free to soar. Hold your memories tight. Let love surround you.
Sheridan x


— Sheridan, June 7, 2022
i too am so greatful for my sister's daughter shari.. shari has done a good thing by standing by her mother an talking with her all the time.. so much of her own heart did shari give back to her mommy..

where i was placed as a 3year old in the early 40's.. my new mom also was loving the baking an cooking an crocheting.. how interesting.. she loved her friends an the whist clubs they were in an the bridge clubs once a week.. my dad an i went to the basement to build a boat.. lol

i am so sad that i did not get to meet pearl.. she was being born as i was suffering from a bad burn on my face.. altho later years my sons an i met my brother peter.. the blind piano tuner.. paul was in victoria.. so close but yet so far.. altho, we did meet as we call her ''aunty pat'' in prince george an spent her last lovely easter weekend with her an her family.. but never pearl... hmm..

as i am born again christian.. i have learned that God knows all things.. so i leave the rest of the family in HIs capable hands to look after..

all in His Son Jesus' .. as He says in john.. ''if you want to see my Father , you must come through Me'' love an hugs to you all.. helena xxx
— helena k. macrae, June 7, 2022
Dear Shari and family,

My deepest condolences for the loss of your Momma❤️

I'll always remember Pearl from my earliest childhood and the times our families spent together.

I'm sending tight hugs and all my love ❤️

Roxanne
— Roxanne Werbicki, June 7, 2022
Megan, Kyle and the girls, Ayron, Ryan and the kids, Bronson, Tes and your daughter, Laura and her children. I am sorry to hear about the passing of Pearl. I am gratfeul that I was able to spend some time with her and know her a bit. I will always remember GiGi with a warm heart.
— Barb Leigh, June 7, 2022
So wonderful that Pearl had her daughter by her side as she transitioned to the great beyond. We are holding Shari, Ronnie, and your family in our hearts. May you find peace in the moments of love shared together.
— Kim Alvarado and John Tuk, June 6, 2022