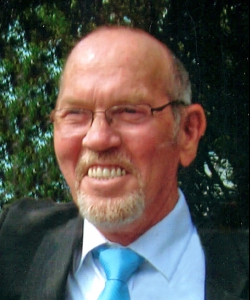 David "Henry" Doherty
June 29, 2022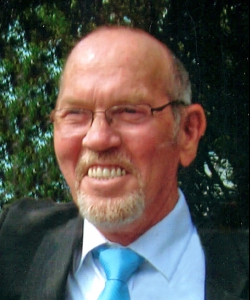 DOHERTY, David "Henry" – Passed away peacefully at the Louise Marshall Hospital on Wednesday, June 29, 2022 in his 78th year. Beloved husband of Sandra for 45 years. Loving father of Chris Doherty and his wife Christina, and Victoria Hibbins and her husband Tim. Dear brother of Audrey Bloodsworth and Margaret Ruff; and brother-in-law of Norm (Jane) Phillips, Shirley (David) Hauraney. Cherished grandfather of Liam and Elana Doherty, Tanya and Maxton Eckstein, Amanda and Andrew "Avelyn" Hibbins; great-grandfather of Anne, Samson, James, Tancred and Godfrey Eckstein.
Predeceased by his sons, Jim and Steven; brothers: Albert, Merle, Winston and Garnet; sisters: Judy, Carolyn and Geraldine; brothers- and sisters-in-law: Barb, Elihu, Winston and Ross; and nieces: Barb and Annette.
Henry loved to tinker in "his" garage and always welcomed a visit from friends and neighbours.
Private funeral arrangements entrusted to the England Funeral Home, Mount Forest. Henry's cremated remains will be interred in Fielding Cemetery, New Brunswick, where he was born and raised. Those wishing to make a donation in memory of Henry are asked to consider the Canadian Lung Association or Meningitis Foundation Canada.
Condolences
Henry was the most kind hearted, open, and accepting man I've ever met. I can't even remember him without that smile. He affectionately referred to me as his blackanese son and was the kind of man you could talk to about anything and he would always give you his best and honest answer. He was just a pure good hearted guy who always made you feel like family and will be missed very much. My love and deepest condolences to Sandra, Chris and family members. Happy trails, pop. Thank you for the memories.
— Stephen Clem, July 10, 2022
Hi Sandy,so sorry for your loss.

— garth brewer, July 8, 2022
Bitter sweet goodbyes to you uncle Hank,to me you were like a brother as you were always with ,Leroy,Leighton and Lanson and I always remember you letting me drive your car,you were and with out a doubt will always be a hard act to follow,your sense of humour was a breeze to you and we were always laughing with you around,hugs to you anty Sandi,love you to the moon,may he rip,til we meet again,hugs to all xo his cricket.
— Levita Hollingsworth, July 2, 2022
Aunt Sandy , Vickie , chris and your families . I'm so sorry to hear of Uncle Henry's passing . Last time we chatted he had a project car he was working on.. I'm not sure he got to finish it or not . Uncle Henry will always hold a special place in my heart as he always was moms little brother . Place a kiss on moms cheek for me 💔 until we meet again . Love pickle ❤️
— Bertha crouse, July 2, 2022
Uncle Henry you will be greatly missed. I love you so much. I remember the last time you were home I was pregnant with my son Aiden and you looked at me and said it's hard to believe that my baby is having a baby. I am so sorry for your families loss of you. You were an amazing person and I am lucky to have had you in my life
— Zoey Boles, July 1, 2022
Dear Uncle Henry. We go back a long way. Grammy Doherty had a phone on the wall with a crank. She made the best molasses cookies. You and I and Judy and Frank and Jeffery and Richard and Emery made quite a gang. All I ever had to do to get you laughing was to mention my first cigarette. Fond memories. I shall miss myou always.
— Gary C Doherty, July 1, 2022
Thoughts and prays with you Sandy and the family as well as all his family here in N.B
— phyllis clarke, July 1, 2022
Hi Sandy,
So sorry to hear of Henrys passing ,hugs and thoughts are with you and your family up there as well as the family here.
Phyllis

— phyllis clarke, July 1, 2022
It is so profound that we are saying good bye. Uncle Henry you are without a doubt one of the best story tellers and bull shitters in our family. You loved us all and made us laugh until we cried! You knew how to give the best hugs and you loved a good debate on whatever the Hot Topic of the Day was! I love you always xo
— Lottie Nye, June 30, 2022
I will always have fond memories of Uncle Henry. He always made me smile and he will always have a special place in my heart. Please know I am thinking of all of you and sending you my love.
— Tania Palmer, June 30, 2022