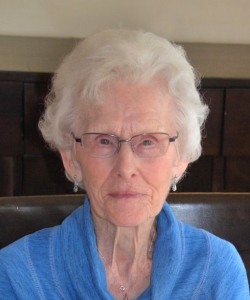 Norma McLean
July 7, 2022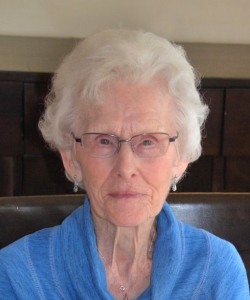 McLEAN, Norma Audrey – Peacefully at Strathcona Long Term Care on Thursday, July 7, 2022 at the age of 94. Beloved wife for over 70 years of the late Vernon McLean (2020). Loving mother of Eldon McLean and his wife Monica, and Phyllis Small and her husband Carmen. Cherished grandmother of Katrina and her husband Ryan, Kristie and her husband Alan, Adam and his partner Emily, and Lisa. Predeceased by her grandsons Jason and Ryan McLean. Dear great-grandmother of Reid, Autumn, Morgan, Ella, Connor, Nathan, Thomas, Audrey and Jason. Survived by her brother Donald McTavish. Predeceased by her siblings: Florence, Iva (Bob), Effie (Keith), Kenneth, Dorothy (Ivan), and Jack. Norma will be missed by her many nieces, nephews, extended family and friends.
Norma was a caring and energetic woman, who always found something to keep her busy. Family, community, and church were very important to her.
A private graveside service will be held in Greenfield Cemetery, Arthur. Those wishing to make a donation in memory of Norma are asked to consider the Louise Marshall Hospital Foundation. Arrangements entrusted to the England Funeral Home, Mount Forest.
Condolences
Dear Eldon and Monica, Fern and Dwayne and Donnie: Our sincere condolences on the passing of your dear Mom and Aunt. She and Eldon were great people and wonderful neighbours. Truly good people! They are missed!
— Lorna Bevcar, August 18, 2022
Phyllis and Carmen , Eldon and Monica and families.
My sincere condolences..... Maureen Hakenberg
— Maureen Hakenkerg, July 26, 2022
Dear Phyllis and family. I have had the privilege of being with your Mom since 2019. From the moment I met her she was such an inspiration to not only myself but all the Strathcona residents. She was truly one of a kind! My heart aches for yours and our loss. I will always remember her with the love and kindness she shared with all. She was truly one of the best! It was kind of crazy that I have walked past you and not realized who you were until I stood above you looking down (much like at high school lol) and realized you were such a huge part of my high school life. There are no words I can say to help you through this. Please know that I am always here for you! Love and hugs, Donna
— Donna Bilton, July 22, 2022
Dear Phyllis
Keeping you and your family in my thoughts and prayers. My condolences.

— Janet Saunders, July 13, 2022
I would like to extend my deepest sympathy on the passing of Norma.
I met Norma ,when I was a young mother, at the Monck Baptist church.
She was always so welcoming with a big smile and a firm handshake. I loved her sense of humor! She had such a genuine nature and I will always treasure my memories with her. I think they wrote the song " Dear Hearts and Gentle People " about her and her sisters.
Thinking of you all at this difficult time. Take care and God bless.
— Trina Larter, July 13, 2022
To the MacLean family
Extending my sincere sympathy upon the recent passing of Norma.
Such a gracious, petite, caring person who was such a pleasant community minded lady.
Norma will be forever remembered and admired for working at
Ideal Ladies Wear and such a fashion statement Norma was !

May God richly bless Norma
Faye Craig
— Faye Craig, July 12, 2022
Dear McLean Family,
We are so sad to hear of Aunt Norma's passing! She will always live in our memories for her sweet and considerate personality, and kind and thoughtful acts. Our sympathies and condolences from Mary and the McTavish Family!
— Mary McTavish, July 12, 2022
Eldon, Monica, Phyllis, Carmen and families
My memories of Your mom go way back to West Luther when the McLeans lived across the road from Aunt Jean and Uncle Bill Saunders. She was always so sweet and kind and we loved to chat with your parents when ever we saw them - be it at a dance or on the street or at church. Fond memories we will hold tight.
— Chris and Bonnie McIntosh, July 11, 2022
Our sincere condolences to
all the McLean family on the passing of Norma.

— Julie Michael McDermott, July 11, 2022
Our sincere condolences to the McLean family on the loss of your mother.
We miss seeing both of them sitting out back on their deck, always waving, chatting, cutting the grass, working in the garden, and just the nicest neighbors anyone could wish for.
Every spring she would call me and ask if she could use my clothesline, to dry her quilts….. and I always told her, just use it when you want, but she always asked first!
Her zest and energy was admired by many, and always had time to chat…….she was truly a great lady, and is missed greatly in our neighborhood.
Wayne and Ruth-Anne Rawn
— Ruth-Anne and Wayne Rawn, July 11, 2022
Sending sincere condolences to all the family. Norma and Vern were among our wonderful neighbours on our Street when we all
moved here (25 years ago)!! Their friendliness and welcoming kindnesses will always be remembered.

Jean Crowe
— Jean Crowe, July 11, 2022
Sincerest sympathy to Norma's family.
Several ladies woulds meet at The Spot restaurant on Saturday mornings, myself being one. Quite often Vernon and Norma would be there having breakfast as well.
We soon felt like good friends as they were a sweet and friendly couple. Norma did most of the socializing and after introducing ourselves and chatting for a few minutes, we did not interrupt them while we had our breakfasts but, we would always look forward to our next visit.
We have been missing them since the time of Vernon's passing.
Miriam Long.
— Miriam Long, July 11, 2022
Dear Phyllis, Eldon, and families,
It is sad to hear that you have lost your mom. She had a vibrant personality and was like a second mom to me when I lived in West Luther. A lady that I will always remember and cherish.
— Marian George (Mainland), July 11, 2022
Phyllis, Carmen, Eldon, Monica and families,
We extend our sincere condolences in your loss of Norma. She was always so full of fun and will be missed. Our thoughts and prayers are with you!!
Wayne & Dianne
— Wayne & Dianne MacDonald, July 10, 2022
SO SORRY TO HEAR OF NORMAS PASSING DIANNE AND FRED
— FRED AND DIANNE HOEHN, July 10, 2022
Dear Monica, Eldon and Families. Our heartfelt sympathy goes out to you on the loss of your mother. Sincerely Paul and Mary Lou
— Paul & Mary Lou Bolen, July 10, 2022
Eldon Phyllis and families…. so very saddened to hear of Norma's death. What a grand lady. Just this little bundle of energy and cheer. Just chatting with her left a smile on your face. She will be truly missed. Sending our prayers and deepest sympathy for peace and comfort in the days and weeks ahead. Sincerely Al and Ruth
— Al and Ruth McEachern, July 9, 2022
Our Deepest Sympathy to all the Family
— Ambrose and Brenda Brown, July 8, 2022
So sorry to hear of Norma's passing. Always enjoyed her chats and her energy.
Sending love to all 💕
— Jewel, July 8, 2022
So sorry to hear of Norma's passing - what a lovely lady she was.

— Gaye Ennett, July 8, 2022
To Norma's Family.
We always enjoyed chatting with Norma when she was out and about town. Our condolences to all her family. Sincerely Joe and Faye Meulensteen
— Faye, July 8, 2022
To Norma's family:
We are so sad to hear of Norma's passing. She was a wonderful neighbour and a good friend,
We will miss our visits with her. Our thoughts and prayers are with you all,
Dan and Doris Tone
— Dan and Doris Tone, July 8, 2022