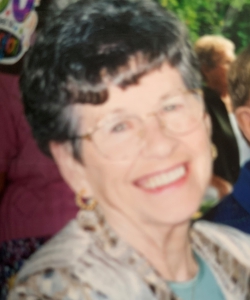 Olive Edna "Pat" Greenwood
July 15, 2022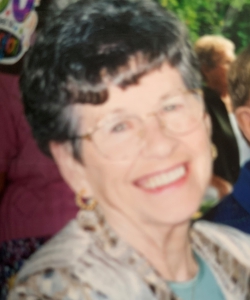 GREENWOOD, Olive Edna "Pat" – Peacefully and surrounded by her family on Friday, July 15, 2022, in her daughters home a few days shy of her 99th birthday. Predeceased by her beloved husband and true love, Murray Greenwood (2009). Cherished mother of Patricia Hedges and her late husband Mel, of Burlington. Loving grandmother of Darren Hedges and his wife Allison of Guelph, and Tricia Hutton and her husband Gary of Burlington. Dear great-grandmother of Alexis and Zachery Hutton, and Jocelyn and Reese Hedges. Lovingly remembered by her sister Des Murphy and her late husband Roy, of Harriston. Survived by many nieces, nephews and their families. Predeceased by sisters: Aura Hargrave and her husband Clarence, Elma Grant and her husband Doug, Jean Moore and her husband Lorne, and Eleanor Shier and her husband Don.
Those who knew Pat will remember her infectious smile and always welcoming and fun nature. She and her husband Murray were long-time owners of the Holstein Feed Mill; and Pat also worked for Bell Telephone in Holstein.
A graveside service will be held at the Holstein Cemetery, 412202 Southgate Sideroad 41, Holstein, on Saturday, August 13, 2022 at 11:00 a.m. Those wishing to make a donation in memory of Pat are asked to consider Crohn's and Colitis Canada, Autism Ontario or the Canadian Cancer Society. Arrangements entrusted to the England Funeral Home, Mount Forest.
Condolences
I was one of the PSW's that took care of her and will always remember her smile and sweet nature. She was an absolute doll and a joy to work with, sending lots of love to the family, Patsy I will miss our chats, take care and sending you lots of love!
Lisa
— Lisa, August 2, 2022
I remember Pat, Murray and Patsy from my days in Holstein. She was always welcoming when Des and I were hanging out and going about our adventures. Always a smile and a wave when she saw us walking to school. As a young girl I thought she was very beautiful and loved her infectious smile. She will be missed by her loving family.
— Marilyn Brown Preston, July 26, 2022
I'm so sorry to hear about Aunt Pat's passing. She was a special lady. She was always so warm and welcoming. I know it was a pleasure to spend time with her and Uncle Murray and Patsy.
She has left me with special memories.
Love Elaine Kerr
— Elaine Kerr, July 24, 2022
It is with great sadness to hear of the passing of a great inspirational Lady.I enjoyed my many visits that I was able to have with Mrs Greenwood and the letters she sent me I will cherish the visits and letters forever. I am proud to continue the legacy of the Holstein Feed Mill that Mrs Greenwood and family we're so much apart of for so many years. I always knew whenMrs Greenwood lived beside the mill that at the end of the day when I left the the Mill it was in good hands with Mrs Greenwood on duty thank you. My condolences to the family from Mark & Nadine Goetz
— Mark & Nadine Goetz, July 20, 2022
So very sorry for your loss.Aunt Pat was a very beautiful woman, inside and out. So thankful for all the wonderful memories . Lynda
— Lynda Plakholm, July 19, 2022
My deepest condolences. I have such fond memories of times spent with your family. Isobel Spence Morrison
— Isobel Morrison, July 18, 2022
I knew Aunt Pat and Uncle Murray all my life. They were like two peas in a pod; always together, holding hands, a wonderful couple. I remember when Uncle Murray would tell a story, always with a cigarette in hand. I would watch his hand as there would be about two inches of ash hanging off the end. So many good memories of an incredible couple.


— Judy & Bill Gerber, July 18, 2022
Sincere sympathy to the family. Our thoughts and prayers are with you at this time. We remember fondly our visits with Murray & Pat during our ministry at Trinity United Church in Holstein. Rev. Russell & Marilyn Rogers
— Russell and Marilyn Rogers, July 18, 2022
Our deepest sympathy to the family
Brian Plume & Tamara Bondy
— Brian Plume, July 18, 2022
Our Condolence. So sorry to hear of your loss.
— Larry & Marg Kerr, July 17, 2022