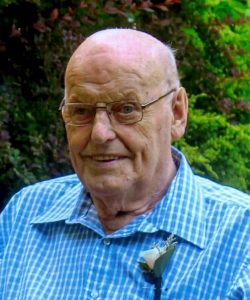 Peter De Jong
July 29, 2022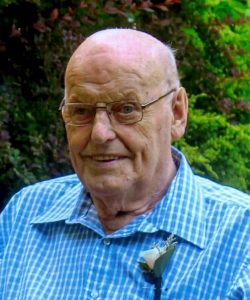 DE JONG, Peter – Peacefully and surrounded by his family at Strathcona Long Term Care, Mount Forest, on Friday, July 29, 2022 in his 84th year. Beloved husband of Dorothy De Jong for 58 years. Loving father of John and Jennifer De Jong of Southgate, Jerome and Susy De Jong of Everett, Paul and Carrie Anne De Jong of Charlton, and the late Peter De Jong (1997). Cherished grandfather of Erin (Kyle), Jordan, Shelby (Steve), Shaunacy (Brandon), Abigail (Max), Amelia, Sean, Peter, Maria (Adam), and Olivia; and great-grandfather of Jaxon, Carlee, Drew, Blake and Claire. Survived by siblings: Coba, Gijs (Ria), Toos (Jaap); and sisters-in-law: Coba, Riek, and Corrie (Leo). Remembered by extended family and friends in Canada and Holland. Predeceased by his parents, several brothers, sisters, and brothers- and sisters-in-law.
Peter was a long-time dairy farmer outside of Dundalk. He cherished his family and loved spending time with them, especially his grandchildren. His memory will live on in their hearts forever.
Visitation will be held at the England Funeral Home, 294 Main Street South, Mount Forest, on Wednesday, August 3rd from 6:00-8:00 p.m. with prayers offered by the Knights of Columbus at 7:45 p.m. The Funeral Mass will be celebrated at St. Mary of the Purification Roman Catholic Church, 310 Parkside Drive, Mount Forest, on Thursday, August 4, 2022 at 11:00 a.m., with visitation at the church from 10:00-10:45 a.m. Private interment in Maple Grove Cemetery, Dundalk. Due to the ongoing construction on Hwy. 89 in Mount Forest, please allow yourself extra driving time. Visit www.englandfuneralhome.com for instructions on how to enter the funeral home parking lot for visitation. The Funeral Mass will be livestreamed and may be viewed by visiting: https://www.facebook.com/profile.php?id=100057424542022. Those wishing to make a donation in memory of Peter are asked to consider the MS Society of Canada or the Canadian Foodgrains Bank.
Condolences
Tante Door en familie,
Gecondoleerd met het verlies van Piet.
Wij wensen jullie veel sterkte .

Familie Schwering.
— Cato Schwering, September 29, 2022
John, Jennifer & family;
Our deepest sympathy to you with the passing of your father and grandfather,
Thinking of you at this difficult time.
— Brian, Janice, Sabrina & Curtis Duncan, August 9, 2022
My mom Irene Stillinger often spoke of Dorothy and Peter. My condolences to the family.

— Rose Haskell, August 6, 2022
Thank you to the family of Peter De Jong for allowing myself on behalf of the Knights of Columbus to spend some time with you and your family to honour a Brother Knights of Columbus member and to allow the Knights to lead in the prayer service and rosary. May I offer my condolences again to you Dorothy and your entire family God Bless.
— Mark Goetz, August 4, 2022
Beste familie Piet de Jong,

Ik wil jullie mijn medeleven betonen met het verlies van uw man en jullie (schoon)vader Piet.
Lieve tante Door: het liefst sloeg ik mijn armen om u heen om u, al was het maar een fractie van de liefde welke u ons gegeven heeft, te doen voelen in deze dagen van afscheid. En daarbij mogen gerust de tranen vloeien. Het is fijn te weten dat jullie een hechte familie vormen, in mijn ogen de mooiste vrucht van uw lange huwelijk met oom Piet. Zeker iets wat in deze en de komende dagen elkaar tot steun zal zijn.
Kees en ik hebben vele malen mogen logeren bij jullie in Zoeterwoude-Rijndijk. Ook al is dat meer dan 40 jaar geleden: de herinneringen zijn talrijk en niet vervaagd. Oom Piet was een harde werker, die wist wat hij wilde: 'wat hij in zijn hoofd had, had hij niet in zijn bips'. Daarnaast was in mijn beleving oom Piet beresterk en voor de duvel niet bang. Hij bezat humor, wat steevast tot uiting kwam tijdens het wekelijkse uurtje paardrijles, waar wij 2 aan mochten deelnemen. Naar mijn idee had oom Piet zelf de meeste pret, wanneer het een tikkeltje ondeugend was. Als kleine jongen keek ik naar hem op: naast zijn inspanningen op de manege, was hij ook nog enige tijd wethouder en als ik het me goed kan heugen zelfs loco-burgemeester. Ook zijn diensttijd in Papoea Nieuw-Guinea en de daarbij behorende verhalen maakten indruk. Samengevat: oom Piet had persoonlijkheid.

Tom

— Tom van Veen, August 3, 2022
Sincere condolences to Dorothy and family on Peter's passing. He was a wonderful man and will certainly be missed. The DeJongs were great neighbours and I have many fond memories of the Ventry neighborhood gatherings whether putting a float together for a parade or the community potluck meal. Hope recalling your many memories of Peter will help at this sad time.
— Mary Fowler, August 3, 2022
Dorothy and Family
Please accept our deepest condolences. We are praying for strength and comfort for you at this time.
Imtinan and Johannes Bahjat
August 3 2022
— Imtinan Bahjat, August 3, 2022
Dorothy and family,
Sincere condolences to all of your family. We have fond memories if your visits at our house after Mass in Proton.
May God give you peace and comfort in the days ahead.
— Kim and Grace Lennox, August 2, 2022
Lieve Tante Door en familie.
Wij willen jullie condoleren met het grote verlies van uw man, jullie (schoon) vader, opa en overgrootvader.
Wij denken met mooie herinneringen terug aan de fijne tijd bij jullie in Canada.
De grappen en humor van Oom Piet zijn onze kinderen nog niet vergeten.
Wij wensen jullie veel kracht en sterkte toe.
Lieve groet, Carolien, Lisette, Inge, Cock en Jacqueline.
— C.F.M Verleun., August 2, 2022
Dorothy,

We were sorry to hear of Peter's passing. Please know that our thoughts are with you and your family at this time.

Doug & Christine
Unit 43
— Doug Fischer & Christine Ditner, August 2, 2022
Dorothy en Family
Wij condoleren jullie met het overlijden van Piet.
Moge de mooie herinneringen en de liefde die hij jullie gegeven heeft
een steun zijn om dit verlies te dragen.
Op grote afstand zijn we aanwezig bij het laatste afscheid van Piet.

Jaap-Toos Verkade-de Jong, Nico en Yvonne, Robert en Monica.
— j Verkade, August 1, 2022
Please accept our deep condolences on the death of Peter. It was such unexpected and sad news.
Peter always displayed lots of happiness whenever we were together, especially while working with the Knights, Parish committees or at various church events.
Our hearts go out to Dorothy and the family. Know that we share in your grief and will keep you in our prayers.
May Peter rest in peace.
Sincere sympathy,
Sharon & Mike Noel
— Sharon & Mike Noel, August 1, 2022
Sincere sympathy to you and your family, Dorothy. Virtual hugs. ❤️
— Katie Harrison, August 1, 2022
Door gecondoleerd met t verlies v Piet ook de verdere fam. Gecondoleerd. Ik hoop je nog te zien dit jaar liefs en sterkte v Ria
— Ria v Bergen Spruijt, August 1, 2022
Dear Dorothy and Family,

So sorry to hear about Peter's passing away. Peter lived his life well and now departed for eternal rest.
May he rest in peace.
Heart felt condolences to Dorothy and family. May the loving Lord console you all.

With Prayers,
Fr Paul Mathew, St John's Parish Dundalk (Shelburne & Proton).
— Fr Paul Mathew, July 31, 2022
We want to say to Dorothy and your whole family how sorry we are for your loss.
We hope that memories and sharing them will bring you comfort.
Stan & Jean Batchelor
— Stan & Jean Batchelor, July 31, 2022
Our condolences on the passing of Peter. He was such a kind man and I always appreciated his sense of humour and patience's when we sat in front or behind you with our family. He was always so sweet to say hi and see how you were doing. We need more people like him in this world.
— Leo and Nereda Manion, July 31, 2022
Dorothy and Family,
Our deepest sympathy with your loss.
He will be missed.
Love you ♥️

Dick, Mary and Family.
— Dick and Mary Spruyt and family, July 31, 2022
Dortje en families
Our deepest sympathiy for your loss
We have so many fond memories of Piet
He always kept you laughing
May he Rest In Peace now
Thinking of you all during this difficult time
Love the Spruyt families xo 🙏
— Sophia, July 31, 2022
Our deepest condolences to Dorothy and family. He was a great man and a real gentleman. He will be missed. May God Bless You ALL.
— Anne Peterson, July 31, 2022
John, Jennifer, Erin and Jordan,
Please accept my sincere condolences on the loss of your father and grandfather. I know you will miss him.
Linda McGarry
— Linda McGarry, July 30, 2022
My thoughts with Dorothy Nd the family. He will be missed. I lived in the neighborhood when they were farming. . Many memories.

— Kathleen Irving, July 30, 2022
Sorry to hear about your loss. I spent a lot of time visiting with Peter, Dorothy, and the boys. They were always so nice and always had good visits!
Dad and I send our condolences.
— Patty Aiken ( Bleys ), July 30, 2022