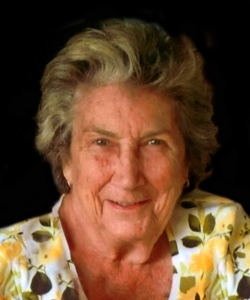 Anne Elizabeth MacDougall
August 8, 2022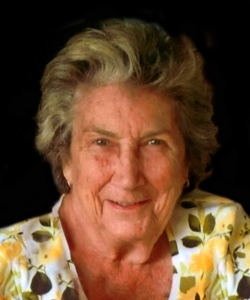 MacDOUGALL, Anne Elizabeth (née Irvin) – Anne passed away peacefully, surrounded by her five children, on Monday, August 8, 2022, at 94 years. Anne's family meant the world to her, and she loved them all dearly. Anne is predeceased by her husband Peter MacDougall (2010), daughter Connie (2002), and son-in-law Mark Kreller (2013). She was born in Egremont Township to Rose and Arthur Irvin on November 18, 1927. Anne and Peter began married life in Kitchener, where they raised their six children on Fairmount Road along with dogs, cats, ducks, chickens and the occasional pony. Anne and Peter eventually moved back to the area of their birthplace, where they spent over 25 years of retirement together in Holstein with many wonderful family gatherings each year. Anne loved cooking and baking and having all her children, grandchildren and great-grandchildren together. She lives on in her children: Barb (Jim) Pinder, Audrey (Mark) Coffey, Scott (Caroline) MacDougall, Christine Michaud and Beth (Volker) Lamprecht. Her loving grandchildren and their families: Jennifer Pinder, Luke (Kate) Pinder, Kevin Coffey (Ange Gaetano), Sam Coffey (Regan MacDonald), Catherine MacDougall, Elizabeth MacDougall, Stuart (Cassandra) Michaud, Emily Lamprecht, Amy Lamprecht (Kevin Mara), Katie Lamprecht (Colin Conroy); and great-grandchildren: Olivia and James Pinder, Marcus Michaud and Roman, and Celia Mara-Lamprecht. A dear friend and 'Mom' to Anita Ceh. Dear sister to Audrey Dowling, John (Wilma) Irvin and sister-in-law to Jim (Ann) MacDougall, and Ruth Ann MacDougall. Anne is also survived by many nieces and nephews and their families. Predeceased by siblings: Richard Irvin, Charlie Irvin, and Ethel McQueen. We are so blessed to have had the love, guidance and friendship of an amazing woman, mother and grandmother. A private family service and celebration of Anne's life will take place on Monday, August 15, 2022 with interment in Holstein Cemetery. Memorial donations to National Service Dogs would be appreciated by the family. Online condolences may be made at www.englandfuneralhome.com
Condolences
To the MacDougall family,
I was saddened to read of your Mom's passing. I thought a lot of both your Mom and Dad and feel blessed to have known them. Your Dad gave so much time to the Legion, Victoria Cross Public School and my students. Your Mom stood right beside him.... always a team. My Dad worked at Uniroyal with your Dad and I remember a lovely afternoon with tea and snacks your Mom prepared for us as we had a great visit together.
— Donna McFarlane, August 30, 2022
What fabulous memories I have of growing up on Fairmount Road opposite the MacDougall clan; a family who were always central to all those good times.

Dear Anne, Godspeed.

Dear MacDougalls and families - heartfelt condolences.

Graham and family
Cheshire, UK
— Graham Tennant, August 28, 2022
On behalf of the entire Russell family we wish to extend our deepest sympathy to your family. We were all raised in a wonderful neighborhood and your mother was definitely someone we always knew that we could go to. Mrs McDougall had the warmest heart and always a beautiful smile on her face . We had lots of fun with all of the kids and lasting memories were made on Fairmount road. Please know that you are in our thoughts and prayers.
— Sue Logan, August 20, 2022
Many of my most fondest childhood memories were spent with Aunt Anne, as my grandmother and I would stop in at her house whenever I was in town for a visit from Mount Forest. We would walk to the Holstein post office to pick up the mail, I would get a popsicle during the summer months (if I played my cards right) and then we'd be on our way to Aunt Anne's place. If Grandma ever forgot about stopping by Aunt Anne's, you can guarantee I'd remind her that it was the next step in our adventure. I loved spending time with her, Uncle Pete, and Daisy. Aunt Anne was always so warm, welcoming, and funny to be around. She always made me laugh one way or another! I will hold my memories of her close to my heart forever. She will be missed immensely by all, and may she rest in peace. We love you Aunt Anne.
— Chad Fernandez, August 15, 2022
To Barb, Jim and family
You are wonderful neighbours and we want you to know that we care and that we are so sorry for your loss.
Hold onto those cherished memories

Andrea & Quincy Morgan
— Andrea Morgan, August 15, 2022
Bonsoir Scott, Caroline, Catherine et Elizabeth,

Mes condoléances à toute la famille. Une petite pensée spéciale à la famille MacDougall pour vous envoyez du courage et de l'amour. Que vous puissez vous rappelez de beaux souvenirs de cette chère femme à vos yeux.

Take care!

Cynthia Morin

— Cynthia Morin, August 12, 2022
To the family, Our condolences on the passing of a wonderful lady. We were lucky to have lived across from Pete and Anne for 22 years. Best neighbours ever. She was such a kind and loving person. When we moved from Holstein she gave me a garden stone that she had made. I still have it and will always treasure it as a memory of them both. Marlerne & Russell McNally
— Marlene & Russell McNally, August 12, 2022
Dear Scott, Caroline, and family,

I am so very sorry to hear of your loss. My heart is with you and yours at this difficult time. Please accept my most heartfelt condolences.
Wishing you peace, comfort, courage, and lots of love at this time of sorrow.
Je pense à vous!
xo
— Dianne Elizabeth Stankiewicz (colleague of Scott and Caroline), August 12, 2022
Hi Audrey and Mark,
Sorry for your loss.
Condolences from our home to yours.
— Cheryl de Slegte, August 11, 2022
Stephane se joint à moi pour vous souhaiter nos plus sincères sympathies à toute la famille. À toi Catherine qui nous a fait connaître ta grand-mère que tu adorait par tes récits de tes belles vacances avec elle nos plus sincères condoléances ma belle 😘🙏💐
— Nathalie Samson & Stephane Roy, August 11, 2022
Anne was a member of the Global Grannies organization in Holstein. As a newcomer to the community, I appreciated her gracious, welcoming, sincere friendship. What a legacy she leaves!

— Mary Ellen Kowaltschuk, August 11, 2022

Sincere condolences to the MacDougall family.

Over the years, we have had iincredible experiences with the family.

Teresa introduced Marylin and I. Tuffy and Betty showed up with Flicka a number of times.

Great memories sharing lunch and laughs at Anne's home in Holstein.

In many ways, Anne and the family enriched our lives.

Al and Marylin Anderson
— Al Anderson, August 11, 2022
Our sister-in-law was a very special person in our lives, a person you could chat with all day long and always learn something new. We enjoyed every minute we spent with Anne. Anne and Pete raised an absolutely amazing family. What wonderful Family Picnics we attended in Holstein! We never visited Anne in Holstein without having some of that wonderful baking or even a meal! She was our role model. She will always be a loving memory in our hearts. We will truly miss our beautiful Anne. We love you, Anne!
— Jim and Anne MacDougall, August 11, 2022
We send our sympathies,Aunt Anne was a beautiful lady and always had a welcoming smile.Our thoughts and prayers are with the MacDoudall family at this time of sorrow.
— Don and Sharon Irvin, August 11, 2022

Dear Beth and family. Sorry to hear of your mom's passing, such a wonderful person we had many laughs while having her hair done ,Many memories while growing up in Holstein , her kindness to me will never be forgotten.
She was a special person . Thinking of you all in this time of sadness. Trudy Parker ,August 10,2022
— Trudy Parker, August 11, 2022
Dear Barb...My heart feels a great sadness for you and the family , such a huge loss...May my sympathy touch the pain in your heart ....hugs and much love ..Gloria
— Gloria Byron, August 10, 2022
To: Barb, Audrey, Scott, Chris ,Beth and families,

You were blessed to have Aunt Anne for your Mom. We were equally blessed to have her as our Aunt. She was a quiet, kind, loving person with a supreme patience and a great sense of humor. She always had a big smile and a warm hug for all of us regardless of our age. She demonstrated a calm strength and dignity, regardless of the adversities she faced through out her life and right to the end. May she rest in peace . She will be missed. Our hearts feel your pain.

Sharon and Joe Fernandez and family
— Sharon & Joe Fernandez, August 10, 2022
To Scotty and family we give you ours sincerely sympathies. GOD bless you 🙏🙏.


Michelle and Mario Deblois
Saint-Georges de Beauce.
Québec
— Michellle Roy & Mario Deblois, August 10, 2022
When I recall all the summers spent in Ontario it is with fond memories of Aunt Anne, she always welcome her nieces and nephew with open arms and a huge smile. I always felt safe and loved when staying in her home. She was the kindest Aunt, who I truly loved.
My thoughts go out to the whole family sending lots of hugs.
Debbie MacDougall
Moncton NB
— Debbie MacDougall, August 10, 2022
I am so sorry to hear of the passing of such a wonderful neighbour. I so much enjoyed the many conversations over a cup of tea that was offered at every visit. Ann was such a kind and caring person and I will miss the many afternoons that I had the pleasure of spending the time with her. Barb, Jim, Scott and all the family your mother was a person I will always remember and who will be truly missed. I am so very sorry for your loss. I wish I could have made the visit in person but will always remember the phone call I had with her since being back in Kitchener and her telling me how she has had a very good life. I have no doubt that it was all of you that made it so good! May the many memories give you comfort in this time of sadness. Love to all.
Marsha, Carl, Sierra and Joseph

— Marsha Jackson, August 10, 2022
To Aunt Anne's family:

Peggy and I are so sorry to learn of Aunt Anne's death. She was a remarkable woman, with a great sense of humour.
I have fond memories my numerous Holstein adventures.

Our thoughts are with you.

Larry
— Larry MacDougall, August 10, 2022
To my Aunt Anne's kids.

Although I didn't get to know your sister Connie well, I did get to know you Barb, Audie, Scott, Chris, and Beth. I sincerely hope each of you can find comfort in knowing that your mom was a special person. Barb, you described her as the glue that kept the family together and I can't think of a better way to put it.

When I became a parent, my admiration for your mom grew significantly. Raising kids is not easy and we only have two! When I think of each of you, I can't tip my hat enough in recognition of the wonderful people your mom and dad raised.

To me, your mom was unconditionally welcoming, warm, inviting, and never judgmental. I have very fond memories of the MacDougall reunions hosted by your mom and dad and particularly fond reminiscences of the food your mom cooked and baked.

My thoughts are with you.

— Neil MacDougall, August 10, 2022
Our deepest sympathies. Anne was such a lovely lady. Her kind heart and sense of humour made everyone feel welcome. Particularly Everett, who your mom made feel like part of the family.
Tom, myself and the boys will be thinking of you all.
— Amanda Kerr, August 10, 2022