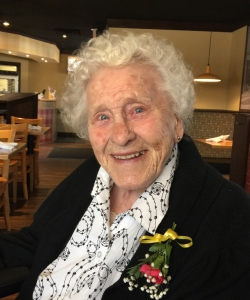 Berendina MacKenzie
August 16, 2022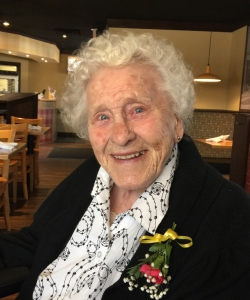 MacKENZIE, Berendina - It is with profound sadness that the family of Berendina "Dini" MacKenzie (née Pluim) of Mount Forest, formerly of Georgetown announce her peaceful passing with her daughter and Lucy by her side on Tuesday, August 16th, 2022 at Strathcona Long Term Care, Mount Forest at the age of 99, just weeks shy of her 100th Birthday.
Dini is survived by her children: Jim MacKenzie (Christine) of Penticton, BC, Lynn MacKenzie (Patricia) of Markdale, Marilyn McLeod of Mount Forest, Gwen Parker (Doug) of Mono, and Ian MacKenzie (Diane) of Cold Lake, AB. She leaves to mourn numerous grandchildren and great-grandchildren.
Predeceased by her adoring husband John "Jack" (1988), her infant son John (1950), and son-in-law David McLeod (2013).
Mom was born in Winschoten, Groningen, Holland in 1922 following the end of World War I into a family with 12 siblings. She survived the years of hardship during the Great Depression and experienced the horrors of World War II in German occupied Holland. She was happily liberated by the Canadian Army in 1945 and especially one Canadian soldier whom she met and married. She came to Toronto, Canada in 1946 where they would start their life and family together.
In 1958 they moved to Georgetown where Mom was enthusiastically involved in the local Kinsmen/Kinette club and Brownies/Girl Guides for many years. Her children were her life to the very end whom she raised with a gentle hand with wisdom and discipline. As per Mom's wishes, there will be no services and cremation has taken place. She will be laid to rest with her beloved husband and infant son in a private family service in Mount Pleasant Cemetery, Toronto. The family wish to acknowledge all the love, compassionate care, and kindness we received from all of her caregivers at Strathcona for the past seven years. Thank you is just not enough. In lieu of flowers, memorial donations can be made in Mom's name to the Canadian Cystic Fibrosis Foundation. England Funeral Home entrusted with arrangements.
Condolences
Very sorry for your loss. Jack and Dini were great neighbors on Stevens Cres. in Georgetown.
— Silvia Mountain, September 1, 2022
Hi Marilyn,
It saddened me to hear of your Mom's passing. She was such a lovely lady and I have so many fond memories of her. I hope the memories of all the happy times together brings you comfort, during this very sad time.
— Susan Boulanger, August 29, 2022
Dear Marilyn,
Please know that you are in my thoughts and prayers. I hope that the wonderful lifetime full of memories keeps you smiling.
Sincerely
Andrea Van De Valk
— Andrea Van De Valk, August 22, 2022
Marilyn We are sorry to hear the passing of your Mom. She will always be in your heart. Hugs from us.
— Doug/Brenda Hawkrigg, August 21, 2022
Mikie,

I was saddened to hear of this devastating news... I will always remember both your mom and dad with a special fondness...

Love,

Diane Holotiuk Falle
— Diane Falle, August 21, 2022
We wish to pass on our sympathy to your family on the loss of your mother grandmother and cherished family member. Her long life has been a source of love for you all and though she has lived a long life her passing will nonetheless be difficult . We hope you can take comfort in the many ways she has enriched your lives.
— Mitch and Brenda Zamojc, August 19, 2022
Hi Marilyn and family - you are all in our hearts and prayers. May the many wonderful memories and all the love you shared give you gentle peace. Warm hugs, Mike and Lynne
— Mike and Lynne Boyd, August 19, 2022
My condolences to you Ian & Diane and the rest of your family.

— Garth McMillan, August 19, 2022
Marilyn - I'm so sorry to learn of your Mother's passing. I remember sitting with you in the back seat and your parents driving us to a parade - they were both lovely people!
— Linda Pilgrim, August 18, 2022
I am so sorry to hear of my Auntie Dini's passing. I enjoyed a childhood with Dini and Jack being best friends with my parents and as per the tradition of respect they were Aunt and Uncle to me. Dini was also my Brown Owl which gives me lots of wonderful fun memories. Dini always knew how to tickle my Dad's funny bone, they shared a birthday so the celebrations were large together and she loved life to the fullest. I have the fondest, loving, laughing beautiful memories of my life with Dini. Condolences to your entire family.
— Linda Middleton, August 18, 2022
My deepest condolences to Dini's family. I have lots of memories from working with Dini since she came to Saugeen Valley now called Strathcona long term care. From the first words she spoke to me I told her she sounded just like my Oma who was also from Holland and that was very special to me. Her dancing beautiful blue eyes the same as my Dutch fathers are. She always called me half a Dutchie lol. I will miss you Dini and our memories we have will stay in my heart. You were one of a kind!!
I'm sorry for your loss Marilyn and Lucy as I know you will miss her very much. She will be missed by a lot of residents and staff as she was a beautiful spirit. God bless you
— Peggy O'Neill, August 18, 2022
So sorry to hear of Your Mom's passing, Great Lady, who guided great kids on a good path, our condolences. Kent & Jen. Santa will miss his visits.
— KENT ROBINSON, August 18, 2022
Marilyn and Family. Sincere condolences in the loss of your mother. Our thoughts and prayers are with you. Wayne and Sandra
— Wayne and Sandra Lytle, August 17, 2022