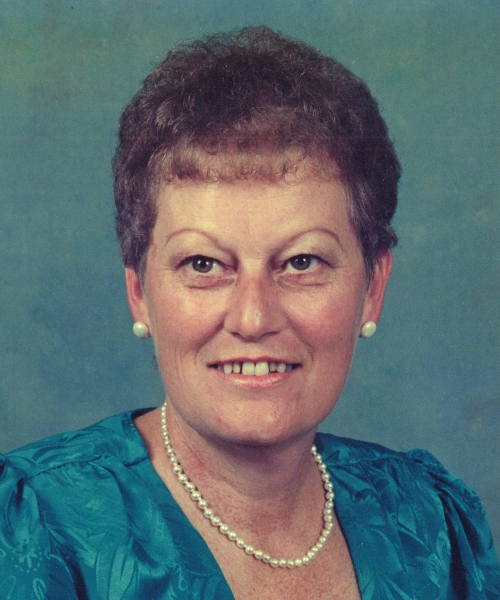 Bertha Jackson
August 19, 2022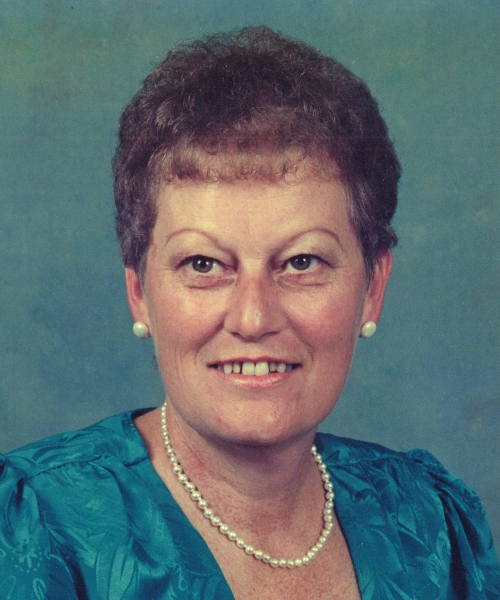 JACKSON, Bertha Joan - Peacefully on Friday, August 19, 2022 at the Louise Marshall Hospital in her 81st year. Beloved wife for over 60 years of Harvey Jackson. Loving mother of Christopher Jackson of Owen Sound, Donna Allen and her husband Doug of Mount Forest, and Derrick Jackson and his wife Kerri of Holstein. Bertha will be missed by her grandchildren Jordon (Jess), Melissa (Brad), Amy (T.J.), Megan, Trent (Robyn), and by her great-grandchildren Bentley and Kaylee. Bertha is survived by her brother Neil Flear (Ester) and is predeceased by her parents Walter & Edna Flear, her bothers Lloyd Flear (Wilma), Don Flear, Herb Flear (Sheila) and Jerry Flear (Sandy). She will be missed by her large extended family, including her in-laws, nieces, nephews and many friends.
Bertha and Harvey farmed in Arthur Township for many years. After selling the farm, Bertha worked at Trim Trends for 20 years. She could often be found in the garden, caring for her flowers. When not at home, they enjoyed visiting their friends at their cottages, where Bertha loved boating, trying to catch a big fish.
A graveside service will be conducted at 11:00 a.m. on Friday, August 26, 2022, at the Mount Forest Cemetery, followed by a celebration of her life at the Mount Forest Legion from 12:00 – 2:00 p.m. Words of remembrance will be shared at 1:00 p.m. Those wishing to make a donation in memory of Bertha are asked to consider the Palmerston and District Hospital, or Community Living - Owen Sound and District. England Funeral Home entrusted with arrangements.
Condolences
Our deepest sympathy Harvey & family during this sad & difficult time. Thinking of you all.

Norm & Janet Freiburger
— Janet Freiburger, September 7, 2022
I am so very sorry for your loss. Aunt Bertha was a wonderful lady that will be missed by so many. I have many fond memories from my childhood thanks to her. My condolences to Harv, Donna, and Derrick.
— Teresa Zacharias, August 28, 2022
Dear Harvey and family, We were so sorry to hear of Bertha's passing.....she was certainly a lovely lady and you will all miss her dearly. You will treasure the many wonderful memories for sure.
Sincerely,
Steve and Dianne Leith
— Steve and Dianne Leith, August 26, 2022
Sending our Thoughts and Prayers to All of You at this time of loss.

Lisa and Jay Hodder
— Lisa Hodder, August 26, 2022
Uncle Harv, Chris, Donna & family, Derrick & family. My thoughts and condolences are with all of you at this heartbreaking time. May Aunt Bertha Rest In Peace. She has left a gift to all of a life time of cherished memories that will remain in your hearts forever. All My Love. Lori Jobin
— Lori Jobin, August 26, 2022
Dearest Harv & Family;
May you find peace and comfort in knowing Bertha is whole & healed. She was, and remains, well-loved.
— Lesa & Rod, August 25, 2022
Our condolences to all of the Jackson family. We enjoyed our time and conversations with Bertha whenever we seen her during visits. She was such a nice person, she will be missed.
Jan Hamilton and Tim Towers.
— Janice Hamilton & Tim Towers, August 25, 2022
Donna, Doug Allen & family
Sending our deepest sympathy and condolences.
— Brian & Laura Kennedy, August 24, 2022
Uncle Harv. Chris Derek & family Donna & family. My most heartfelt condolences are sent to you all at this most heartbreaking of times. May Aunt Bertha be now at peace free of pain. Although the heartache is deep for you all now may her love & guidance give you the strength to continue to live your lives to the fullest as I know this is what she would want for you all. Cherish all your wonderful memories they will be yours forever. RIP aunt Bertha with love Debbie Flear
— Debbie Flear, August 24, 2022
Donna and family, so sorry to hear of your Mom, may you all find comfort in each other and the love Bertha had for each of you.
— Diana, August 23, 2022
Our condolences on the loss of Bertha to Harvey, Donna, Derek and the rest of the family. She was a fabulous neighbour and friend to my mom and dad. She will be missed by many. Diane and Peter Manojlovic (nee MacEachern)
— Diane Manojlovic, August 23, 2022
Sending deepest sympathies to Uncle Harv, Chris, Donna and Derrick. Aunt Bertha always had a great smile and was kind to all. I have fond memories of visits when I was a child and chats at various functions over the years.
So very sorry for your loss.
Sincerely,
Lorelei Jackson
— Lorelei Jackson, August 23, 2022
Harvey & family, Our sincere condolences on the death of your wife and mother.
— B0b & Mary McIntee, August 22, 2022
We send deepest sympathies to you, Harvey and your family. Our thoughts and prayers are with you all. Bertha is at peace.
Brian & Laurie Moyer
— Brian Moyer, August 22, 2022
Our deepest sympathy to all your family and you Harvey,
You are in our thoughts and prayers. Tom and Margaret Mary and Darlene.
— Margaret Mary and Tom Tangney and Darlene, August 22, 2022
We wish to extend our deepest condolences to our close friend Chris Jackson and his entire family on the passing of his mother, Bertha. We pray God comforts you all, as you grieve and mourn the loss of your wife, mother & grandmother.
Respectfully; Janice & Jim Cunningham
— Jim Cunningham, August 22, 2022
Harvey and family, our sincere sympathy. We are thinking of you during this difficult time, our thoughts and prayers are with you.
— Joe & Katheryn Meyer, August 22, 2022
Harvey and family our sincere condolences to all of you. May the support of family, friends and your treasured memories bring you some comfort moving forward. May she rest in peace.
— Bill & Diane Dineen, August 22, 2022
Know that our thoughts are with you and your family at this sorrowful time. May you know that Birth is now at peace and she Loved you all Dearly.
Our Deepest Sympathy- Millie, Kim and Lynn
— Mildred Kitchen, August 22, 2022