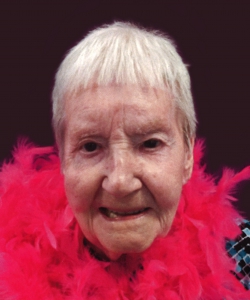 Isla Florence Johnson
September 19, 2022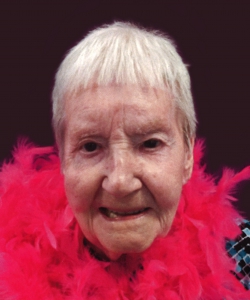 JOHNSON, Isla Florence – A resident of Strathcona Long Term Care, passed away peacefully at the Louise Marshall Hospital on Monday, September 19, 2022 in her 98th year. Predeceased by her beloved husband, William "Bill" Johnson (2004), married for over 50 years. Cherished mother of Rhonda Turcotte and her husband Michael of Cochrane, Alberta, and Mike Johnson and his late wife Darlene (2021) of Mount Forest. Loving grandmother of Kailyn, Derek (Beth), Shawn (Karlyn), Luke (Natalie) and Chris (Tori) and great-grandmother of Landon, Isla, Cullen, Cameron and Sawyer. Survived by her dear sister, Gladys North, as well as many nieces, nephews and their families. Special friend of Donna Stoner. Predeceased by her siblings: Evelyn Manion, Shirley Saunders (Herb), and Bob Manion (Kathleen).
Isla spent many happy years with her husband Bill in Farewell raising their two children and farming. She was an accomplished cook, quilter and puzzle master. She was most proud of her children, grandchildren and great-grandchildren, and was a fixture at their broomball and hockey games. Isla was generous, loving and kind and will be missed by her family, friends and community at Strathcona Long Term Care.
A private graveside service will be held at Mount Forest Cemetery. Those wishing to make a donation in memory of Isla are asked to consider the Louise Marshall Hospital Foundation. Arrangements entrusted to the England Funeral Home, Mount Forest.
Condolences
Mike, my sincere condolences to you and your family. I have great memories of working alongside Isla at Dianne's Beauty Salon with Mable and Sheila. We had a lot of laughs as she managed to keep us in line and on time, one shampoo at a time. I will remember her with a smile.
— Donna Shaw, October 5, 2022
Mike and Families, So sorry for your loss, you are in our thoughts,
Jerry and Valerie Arthur
— Jerry and Valerie Arthur, September 28, 2022
Mike & family: Our thoughts and prayers for comfort and peace go out to you at this time of loss of Mom & Grandma. Garn & Barb
— garn troyer, September 27, 2022
Our deepest sympathy to you and your family. Hold your memories close to your heart.
— Dennis and Lorri Grein, September 27, 2022
I worked with your Mom at the Diane Beauty Salon with Mable and Donna.Your Mom was great to work with and was a wonderful helper. Wayne and I send our sympathy to you for a mom of a life well lived. Sincerely Sheila Donald.
— Sheila Donald, September 27, 2022
Sending our condolences to the Johnson families at the loss of a dear grandmother.
— Brett and Caitlin Reeves, September 26, 2022
She was a really nice lady and we had lots of great talks over the years.

— Dr Hugh Perrin, September 25, 2022
Mike , we're so sorry to learn about your Mom. Thinking of you …

— Kelly and Laurie Laughlin, September 25, 2022
My Sincere Sympathy to all of Isla's family. I just knew her to say "Hello" at the Grocery Store and she always replied with a greeting and smile. She lived a full life according to her Obituary. Special condolence to Donna Stone. She is with your twin sister in Heaven. May their Souls Rest In Peace, Sincerely, Mary McIntee, MF.
— Mary McIntee, September 25, 2022
Mike and family. So sorry to hear of your mom's passing. Our sincerest condolences.
— Lynette and Kevin, September 24, 2022
Mike,
Sorry to hear of your Mom's passing. My heartfelt condolences to you and your family.
— Wanda Chilton (nee Cowan), September 24, 2022
Mike. Sorry to hear of the loss of your mom. Hoping all of your wonderful memories will help ease the pain during this time. Thinking of you and your family. Heather
— Heather Walker, September 24, 2022
Deepest sympathy to all families during your time of sorrow.
— Karen K Switzer, September 23, 2022
She was a really warm hearted, neighbour and friend to everyone in the Farewell area. One of the last remaining good folks of that good neighbourhood……. Lot of good memories. Your family will have good memories that can help you through this sad time.
Mary
— Mary Allen, September 23, 2022