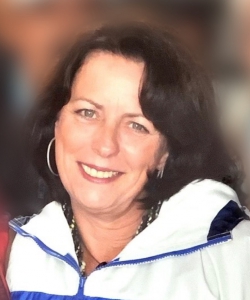 Sherry Jeanette Annand
September 29, 2022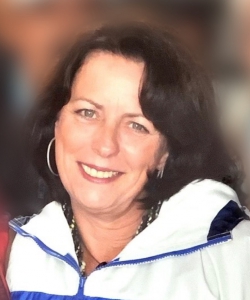 ANNAND, Sherry Jeanette – Peacefully with her family by her side at the Innisfree Hospice Kitchener, on Thursday, September 29, 2022 in her 66th year. Beloved mother of Kris Annand (April), Jeff Clements (Amanda), and Lindsay Clements (Russell). Loving grandmother of Riley, Chloe, Tommy, Jack, Brynley, and a grandson arriving in December. Sherry was predeceased by her parents Lorne and Marie Bezanson and is survived, and will be greatly missed by her siblings Donna, Cathee (Lenny), Janice (Kai), Stephen (Andrea), Tim (Roisin), her Aunt Joan, and many nieces, nephews, extended family and friends.
Sherry was very involved and committed to her work at Quality Homes. She loved to garden, travel, try new foods, and was always up for a road trip. She loved socializing and to sit and talk with her friends, but above all, she loved her family. She worked hard creating memories and experiences with her family that they will cherish forever.
Visitation will be held from 10:00 – 10:45 a.m. on Wednesday, October 12, 2022 at the Mount Forest United Church, 175 Queen Street East, Mount Forest followed by Memorial Service at 11:00 a.m. Everyone is invited to a reception immediately following the service. Interment at Mount Forest Cemetery. Those wishing to make a donation in memory of Sherry are asked to consider Mount Forest Cancer Patient Services or the Lisaard & Innisfree Hospice. England Funeral Home entrusted with arrangements.
Condolences
We are so very sorry for your loss.
Frank & Cathy Higdon
— Cathy Higdon, October 12, 2022
Sherry was always a role model to me. She was kind, compassionate, and committed to her family. I will miss her very much.

Jolene Pattison
— Jolene D Pattison, October 11, 2022
Dear Chris, Jeff, & Lindsay ,and families, Donna, Cathy, Janice, Stephen & Tim
My thoughts and prayers are with you All.
You all know how special Sherry was to me, and my family. To say I'll miss her is an understatement. I'm so thankful for 40+ years of shared memories with her and the whole family.
Lin's, thanks for contacting me early enough that I had the pleasure of seeing her 1 last time. Big hugs, stay in touch, & keep her in your hearts, then she's never really gone. Love to all.

— Diane Urbach, October 9, 2022
Our thoughts and prayers are with you at.this difficult time Deb and Frank van den Broek
— Frank van den Broek, October 7, 2022
So sorry to hear of Sherry's passing. I worked with her in the Sales Office at Quality Homes for a few years. She was great to work with.
— Brenda Harrison, October 6, 2022
My deepest and most sincere condolences to Sherry's family. I worked with her at Quality Homes, and was always struck by her work ethic, and how incredibly good she was at her job. She was a fixture of Quality Homes, and can never be replaced.
— Andrew Bamford, October 5, 2022
My deepest sympathy to Sherry's family. Sherry spoke often at work about her grandchildren and children.
May she rest in peace.
Brenda, Quality Homes Co-Worker
— Brenda Henderson, October 5, 2022
To all of Sherrys Family and Friends.
My deepest sympathy goes out to you all. She will be greatly missed by us all. Love and hugs to everyone.
So many great times were spent at her family home.
Cousin Darlene Kent.
— Darlene Kent, October 4, 2022
We are so sorry to hear about Sherry. We lived beside Sherry and her family on Henry Street and enjoyed her friendship very much. She was a wonderful person. Rest In Peace Sherry!

— Sandra Fettes, October 3, 2022
Our sincerest condolences
Matt & Celine Leafloor
— Celine & Matt Leafloor, October 3, 2022
To all the families of Sherry, from cousin Doreen, remembering our childhood
get togethers, lots of fun times. It is so sad to know Sherry has passed on but
now with her parents and resting in peace free from pain. Prayers to you all.
love Doreen (cousin).
— Doreen Gerlitz, October 3, 2022
Our Lindy and Jeff - so sad to hear of your mom passing away. We all know how close you both were to her and how much you loved her. Lots and Lots of love and hugs for you both.
— Amanda Blacktopp, October 3, 2022
On behalf of the entire Quality Homes family, we send our heart-felt condolences to Sherry's loved ones.
Sherry was such an inspiration to all that worked with her. Her unwavering guidance and in-depth knowledge made us all better at our jobs, each and every day. She was patient with us when we faltered and celebrated our successes with passion and joy.
She will be sorely missed and always be fondly remembered in our aching hearts.



— Quality Homes, October 3, 2022
My deepest condolences to your family and you Lindsay, she will be dearly missed by all, may the fact that she is no longer in pain give you some comfort in this difficult time.
— Kelly Dunning, October 3, 2022
We are so sorry to here about Sherry's passing. From the Kenilworth PS days, to soccer sidelines and executives, our family have been fortunate to know Sherry and experience her sense of humour , dedication, and family. You are in our thoughts and prayers ,
Ron, Nancy, Allison, Scott, Brett, and Stacey Harper

— Nancy Harper, October 3, 2022
My deepest condolences to Jeff and his family

— shirley, October 3, 2022
To Sherry's family,
So sorry to learn about your mother and extending heart felt sympathy,
Carol Armstrong
— Carol Armstrong, October 2, 2022
I would like to send condolences on behalf of Esteem Dental Hygiene in Mount Forest.
RIP Sherry 💐
Michele Baak
Darlene Diebold
— Michele Baak, October 2, 2022
I am so sorry to hear of your mother's passing. She was a super nice and special lady. R.I.P. XXX
— Wendy Paterson, October 2, 2022
Tim, Rose and I are saddened at the passing of your sister Sherry. Our prayers and thoughts are with you and your siblings at this sad time.
Bosco and Rose Harkin
— Bosco and Rose Harkin, October 2, 2022
We are so sorry to hear of your loss . Your mother was an amazing lady we met her through friends and she was always fun to hangout with. Our thoughts are with you at this very difficult time. Wendy & Carl Abbott
— Wendy & Carl Abbott, October 2, 2022