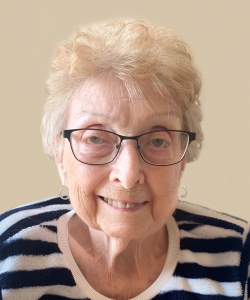 Annie "Eleanor" Kathleen Keith
November 26, 2022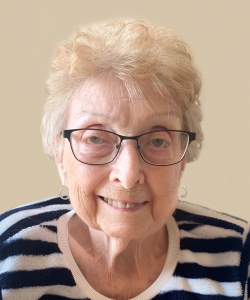 KEITH, Annie "Eleanor" Kathleen – At the Louise Marshall Hospital, passed away on Saturday, November 26, 2022 in her 94th year. Predeceased by her beloved husband, Eldon Keith (2003); and their daughter Pauline Anne (1961). Special Aunt to Diane McDougall (2017) and her husband Ernie; and their children: Jeff McDougall, Juliann Ellis, Rhonda Koehler and their families. Loving Aunt of Jim Donald (Lois), Marie Leibold (Barry), Ken Donald (2012) (Debbie), Kate Ross Leblanc (Jean Pierre), Lindsey Donald (Anna-Beth), and Judy Eden (Bruce); and sister-in-law of Margaret Donald. Predeceased by her brothers Elwood Donald (2015) (Lillian (1991), Nancy (2020)) and Ralph Donald (2009). Eleanor will also be fondly remembered by her 15 great and 25 great-great-nieces and nephews.
Eleanor was born and raised in Mount Forest where she lived most of her life. She spent a short time in Hespeler working at Dominion Woolens before marrying Eldon on August 5, 1953. They ran Keith Sales & Service for many years together, while she worked in the community at Penwarden Drug Store, Sears, Dental Clinic as well selling Avon. She was an active member at St. Andrew's Presbyterian Church and dedicated her time on many committees. Eleanor enjoyed baking, gardening, hosting her family, watched many baseball games of all generations of her family, loved to sit and read a cookbook as well as spent hours knitting. We will miss her warm heart, her determination, her laugh and how she always made time for us.
Visitation will be held at the England Funeral Home, 294 Main Street South, Mount Forest, on Wednesday, November 30th from 6:00-8:00 p.m. The Funeral Service will be held at St. Andrew's Presbyterian Church, 196 Birmingham Street East, Mount Forest, on Thursday, December 1st at 11:00 a.m., with visitation at the church from 10:00-10:45 a.m. All are invited for refreshments and fellowship at the church hall following the service. Spring interment will be held at Mount Forest Cemetery. If you are unable to attend the service in person, you are invited to view livestream by visiting: https://www.facebook.com/profile.php?id=100057424542022. In Eleanor's memory, donations may be made to St. Andrew's Presbyterian Church, Alzheimer Society or the Heart and Stroke Foundation.
Condolences
Sincere condolences on the loss of a beautiful lady…Eleanor was a dear friend for many years…we will miss our occasional phone calls. Our thoughts & prayers are with all of the family.
— Brian & Marilynne Adams, December 1, 2022
My deepest sympathy. Eleanor and I would share good company over a coffee at the condo. Eleanor will be missed.
— Grace Copeland, November 29, 2022
Please accept our deepest sympathy. Eleanor was a lovely lady and I had the pleasure of her friendship for many years at St. Andrew's choir and church activities. She will be missed.
— Gordon and Kathy Calder, November 29, 2022
I have many fond memories of Eleanor: in the choir, at Fireside group meetings, at Bible study, and any time there was something going on at the church. She has been a faithful soul! Well done, Eleanor! Rest in the peace of the Lord.
— Nan Louis, November 29, 2022
To Eleanor's Family, I extend my sincere condolences on her passing. I will cherish the fact that I had a short visit with Eleanor just a couple weeks ago when we were both getting our flu shots. She was always such a happy, friendly person and was able to brighten up a conversation and visit with her. Memories are made of this!
Marlyn Howard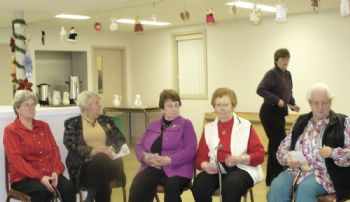 — Marlyn, November 29, 2022
Eleanor and I met in rehab at St. Joe's in Guelph and instantly became friends and later roommates. We had such great talks, enjoyed each other's company and looked out for each other. We kept in touch afterwards. I feel truly blessed that our paths crossed.
— Lig Taurins, November 29, 2022
So sorry to hear of your loss. I've known Eleanor for many years. Going way back when we lived on the farm at Conn and we bought a car from Eldon. Then I connected again when my dear friend Flora Cowan was my neighbour, and Flora gave me Avon for Christmas. Eleanor will be truly missed by family and friends.
— Isabel Black Primmer, November 28, 2022
Sorry to hear of Eleanor's passing, condolences to all the family
— John&Patti Weber, November 28, 2022
So sorry to hear of Eleanor's passing. Keeping your family in our thoughts and prayers.
— Kim & Dean Bulloch, November 28, 2022
Dear Eleanor was a wonderful lady, always dressed up and had a beautiful smile. She loved selling Avon and I enjoyed having a wee visit with her when picking it up. May her Soul Rest In Peace. Mary McIntee
— Mary McIntee, November 28, 2022
So sad to hear of her passing. Have known her through our church families my whole life. She always strongly encouraged me to stick with my piano lessons and singing with mom (Janice Kerr)RIP. I will miss her.
— sherry kerr, November 28, 2022
Sorry to hear of Eleanor's passing. Our thoughts and prayers are with you at this sad time. Wayne and Sandra
— Wayne and Sandra Lytle, November 28, 2022
I always remember Eleanor as a kind considerate lady, and enjoyed her "Avon" Christmas party.
Condolences to her family.
— Diana, November 28, 2022
Aunt Eleanor always had the brightest smile and loved to laugh! I will miss her dearly!
Much love Kim
— Kimberly Pegg, November 27, 2022