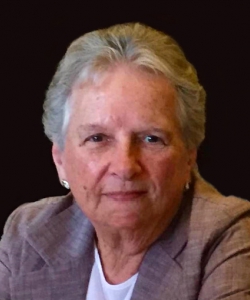 Madeline "Maddy" Redmond
November 24, 2022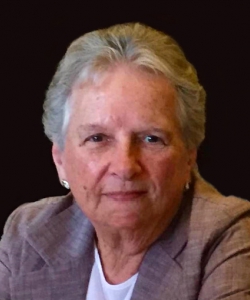 REDMOND, Madeline "Maddy" - Peacefully at the Louise Marshall Hospital on Thursday, November 24, 2022 in her 88th year. Maddy was predeceased by her first husband James McCleery (1989) and by her second husband Roger Perreault (2013). She will be missed by her daughters Kim McCleery and Linda McCleery, her four grandchildren and by her three great-grandchildren. Madeline will be mourned by her two surviving brothers: Andrew and Michael; sisters-in-law: Margo, Jacqueline, Joan, Celine, Johanne, Gisele, Noella and Micheline. Lovingly remembered by her many nieces, nephews and friends. Predeceased by her brothers Patrick, Thomas, John, David and Arthur.
Maddy was a Sister of Holy Cross in Montreal and Ottawa, during which time she trained as a teacher. Her teaching career spanned 35 years, ending with the Peel and Halton Boards of Education. In retirement, she was a volunteer and donor at the Mount Forest Blood Clinic for 25 years.
The Funeral Mass will be celebrated at St. Mary of the Purification Roman Catholic Church, 310 Parkside Drive, Mount Forest, on Friday, December 2, 2022 at 11:00 a.m., with visitation at the church from 10:00-10:45 a.m. Refreshments and fellowship will follow in the church hall. If you are unable to attend the service in person, you are invited to view livestream by visiting: https://www.facebook.com/profile.php?id=100057424542022. Those wishing to make a donation in memory of Maddy are asked to consider Canadian Blood Services. Arrangements entrusted to the England Funeral Home, Mount Forest.
Condolences
My sincerest sympathy to Maddy's entire family. She was remarkably 'one of a kind' in her love of life, family, friends and religion. We had the most wonderful conversations covering many topics....one truly felt welcomed into her world. It was an honour to know and call her a friend!!! Thank you Dear Maddy!!!

— Sharon O'Shea, December 12, 2022
My sincerest condonlences with the loss of Maddy, not knowing her that well, but she was such a great friend to mom, Anna Boer in Curve Rock, I am sure she will be sorely missed. I can picture them playing games together again!
— Ingrid van der Meer, December 10, 2022
These past few days have been tough, knowing that I'll never see aunt Maddy again, at least not here on earth. Through it all though I'm comforted by a lifetime full of vivid loving memories that I'll cherish forever. Some of my fondest memories go back to when my brother Josh and I would spend weekends with aunt Maddy and uncle Roger: Playing card games, watching movies cuddled up by the fire, helping with the veggie garden, finding Maggie the cat when she'd returned from hunting mice, swimming in Peanut lake with their pet duck. We loved feeding the birds and watching them from the kitchen while aunt Maddy and uncle Roger would make fresh bread to go with a hardy dinner.

Aunt Madeline always made us feel so special and loved. She was also a tough woman and good luck to you if you ever crossed her. She would dole out swift discipline to me and Josh whenever we got carried away, as young boys do. Many adventures experienced and life lessons learned on those unforgettable weekends with aunt Madeline and uncle Roger. ❤️

I was so delighted to have her celebrating with my wife Kristina and I at our wedding in 2012. Despite uncle Roger's rapidly declining health at the time they made sure to be there with us on our big day. For that I am forever grateful.

Aunt Madeline has always been there for me, from helping me with my high school French homework to praying for me and offering advice during my rebellious teenage years. Even as I navigated through tough times recently she'd never hesitate to pick up the phone and express her love for me and say exactly what I needed to hear. I thank God for blessing me with this incredible woman in my life and for enriching all of the lives of those who had the honor of knowing her.

You lived a beautiful and full life aunt Madeline and you've left your mark on all of us. You'll live on in our hearts and we will all cherish the memories you've given us.

Rest in peace Aunt Madeline
Until we meet again xoxo


Daniel Cresswell

— Daniel Cresswell, December 1, 2022
I am so grateful for the reconnection with Aunt Madeline in the past couple of years. While her presence and support has always been felt, it was great to reminisce about life (she lived fully), work (a shared passion in education) and love (she loved hard) with her. She made sure we knew that she had no regrets and has given me much to bring hold on to and to live. A fulfilled life. My deepest condolences to all of her family and friends who lived her dearly. You are all in my thoughts and prayers. Hugs…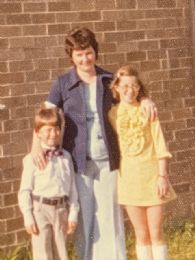 — Doreen Redmond, December 1, 2022
J'ai peine à croire que Tante Madeline n'est plus des nôtres. J'ai croisé peu de gens dans ma vie avec une telle authenticité. Chaque fois que je raccrochais le téléphone après une conversation avec elle, je sentais que tout était bien; tout était parfait. Elle a toujours eu un effet très apaisant et rassurant sur moi, et sans doute pour d'autres aussi.

Tante Madeline, what an honour and priviledge to share the name of such a fine human being. I will do my very best to live up to it; if I can be only half of what you were, it would already be an enormous accomplishment.

Love you forever.
— Madeline Redmond Jr, December 1, 2022
Those we love never truly leave us.
Maddy was a unique person with a big heart that showed how really you can reach out to people easly.I can't remember a moment with out seeing her face shining with a big smile and her arms hug you until you feel that warm welcome or goodbyes, always saying that God will watch and take care of any problems just say a little prayer and he will help you.
Rest in peace my dear friend, you were amazing at spreading the love of God to us.
My condolences to the family and friends and until we meet again keep us in your prayers my dear friend Madeline.
— Imtinan Bahjat, November 30, 2022
I have known Maddy for over 20 years; she was one of the few big hearts that received me and my family when I first came here to Canada.
I will always remember those beautiful days with Maddy and Roger at their farm and when she used to be present in many of our family occasions and birthdays.
Maddy was a true friend, I don't remember seeing Maddy without a smile on her face; she will be greatly missed.
Please accept my deepest condolences.

— Duraid Nayef, November 30, 2022
Madeline was a very special person who enriched the lives of all who were lucky enough to know her. Her kindness, her championing of people who needed help, her wisdom and her wonderful sense of humor and understanding was a gift to all. Rest in peace, Madeline
— Ellen Redmond O'Grady, November 30, 2022
Aunt Maddy was an incredible woman. She was such a strong woman and fascinating too. She is one of the reasons I wanted to become a teacher. I remember being a child over at her place for lunch one day looking out of the apartment window high up in the sky. She told me about being a teacher as one always stays in touch with the next generation and how amazing it is to be bilingual as one has more ways to experience the world and other people. She truly sparked my interests in how I see many things now.
Later in life she was always a gracious host to my brother and I as we would play in her basement and go for hikes with uncle Roger in the woods. Memories of swimming in peanut lake, playing with Maggie the cat, fires and wonderful conversations as we got to play her card game "oh shit!" (and we were allowed to use that curse word only then) will forever be with me and shaped our lives in so many ways.
I could write an essay about my Aunt Maddy and how much she meant, but I am just happy to share these few things here. I loved her so much and will always cherish the time we got to spend together.
Rest in peace dear Maddy you will be missed.
— Josh Cresswell, November 30, 2022
There are so many wonderful memories of Aunt Madeline, this site would not hold them all! She was always so full of love and welcomed everyone around her. As a child my brothers Tom and Kevin and I enjoyed many sleep overs and dinners with Maddy. I thoroughly enjoyed spending two weeks with Madeline and Jim when they moved to New Brunswick. We ate so much lobster and enjoyed the beach together! It was wonderful to see her find love again with Uncle Roger where they made such a lovely home together in Conn known as the Perrault B&B. Our boys Joshua and Daniel spend many weekends playing scrabble and a card game called "shit" which they delighted in repeating much to my dismay. Swimming in Peanut Lake with Kenny the duck. A pond that Roger had created to ensure Maddy always lived by the water. They attended Daniel & Kristina's wedding even though Roger was ill. Spending "girl time" sleepovers in her later years is a time I will miss as we talked and laughed away the hours together. We will miss you Maddy for all the love and laughter you brought to us all. Until we meet again....
— Shannon & Gary Cresswell (nee Redmond), November 30, 2022
I must write the story that Maddy reminded me of every time I came to see her in her later years (the last time was October of this year).
I was the stowaway. I was 9 years old and I loved my Aunt Maddy. She had come over to our residence of chaos in Bramalea, my family was a fractured mess and Maddy was one anchor of stability in my life. I'm sure she was coming to check up on us to make sure we were still okay.
Well while she was saying good bye I snuck out and got into the back seat of her car hiding behind the the front seats, I was a pretty small kid, oh yeah I still am small. Well she got into the car and started driving all the way back to her apartment in Port Credit Ontario. I stayed quiet until I figured we were far enough that she couldn't turn back anymore. I must of scared her half to death, but she just laughed and said something like "you little stinker".
Well back at her apartment she proceeded to make the best of it and she made some dinner and then she picked out a movie we could watch. She proceeded to make some popcorn for us, I mean this was being treated like royalty for me. As I sat on the couch relaxing and she brought me a glass of juice I uttered the line she always quoted to me.
"Maddie you sure know how to treat a man."
I thank God often for her and for what she did for our family, she was some stability in an ocean of uncertainty at that time. She has left us lots of wonderful memories. She will missed but I know she is in a far better place now.

Kevin Redmond
— Kevin Redmond, November 29, 2022
We were very sad to hear of Maddie's passing. Words cannot express how much we loved her. She was a bright light. We will miss our chats after church at St. Patrick's in Proton. She was one of the best and will be missed so much. I only wish our Ruby got to see her more often. Rest easy Maddie. Roger was waiting for you. ❤️XO
— Janette, Ed, and Ruby Lynn Terpstra, November 29, 2022
I was saddened to learn of Maddy's passing and extend my thoughts and prayers to her family and friends during this difficult time.
She was a warm and caring friend and neighbour, and will be greatly missed by those whose lives she touched. Hugs and kisses Maddy.
Jill
— Jill Wasylnchuk, November 29, 2022
I will miss Madeline. I will miss all her regular phone calls and the good laughs that we had. .Memories of her will last forever..
RIP Madeline..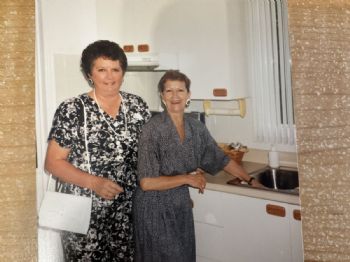 — Margo Montigny Redmond, November 29, 2022
We were deeply saddened by the news of Maddy's passing. Please accept our condolences. We hope our prayers help guide her soul to Heaven and comfort her family.
— Mike & Sharon Noel, November 29, 2022
Deepest condolences to all Maddy's family. She will be thorougly missed by all especially the Catholic faith community of St. Patrick's, Proton. She was so loved there by everyone. Rest In Peace Maddy.
— Anne Peterson, November 29, 2022
Maddy was so very kind and caring and giving. We will miss her very much. Good Bless her love and her life. She was a wonderful Grandmother and all the wonderful stories will be remembered with deep respect and love.
Candace and Jason
— Candace Durance, November 29, 2022
"Tant et aussi longtemps que le cœur se souvient, les êtres que nous aimons y demeurent et y vivent…"
Aunt Madeline will always be in my heart, the memories of time spent with her and our phone conversations are unforgettable.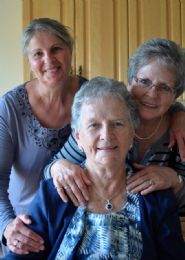 — Jim Redmond, November 28, 2022
We have happy memories of Maddy. She enjoyed life on the farm in West Luther until her second husband died. She moved to Mount Forest at that time. Backing up a bit, we remember when attending the Proton Catholic Church, she would have a pot of coffee on and cookies, mostly for the children who she loved dearly. It was great to have fellowship with the folks attending Mass.
When I talked to her after she moved to Mount Forest, she expressed her happiness to be here. Our Sincere Sympathy to her loved ones. May her soul rest in Peace. Bob and Mary McIntee
— Bob and Mary McIntee, November 28, 2022
Mrs. Redmond will be missed.
She was a truly sincere person and the only nun that liked to ride on a motorcycle we can handily recollect.
We enjoyed having her at Curve Rock.
She will be in good hands for sure now, and proud of herself for a life on earth well lived!

Carolyn and Randy Bye
— Carolyn and Randy Bye, November 28, 2022
I want to convey my sincere condolences to family during this difficult time. 🌹
— Line Pelletier Redmond, November 28, 2022
What an amazing human being Maddy was, and I dare say that she will always hold a very special place in many hearts. We met in Oakville in the early 80's when I was beginning my teaching career, and Maddy was already a gifted educator who impacted in a most positive way the lives of all of her students, and indeed, her colleagues. After 40 years, we never really parted ways. As her family members have already written here, what we will always remember about Maddy is her infectious sense of humour and her optimism, among her other many qualities. She lived her faith every single day of her life.

Maddy was so wise. I am filled with gratitude that God put her on my path as a young "twentysomething", and that our friendship continued into my sixties. Even though 2,000 km. separated us over the past 35 years, we remained close. I will miss our frequent phone calls, but Maddy will forever remain alive in my heart, and no doubt in the hearts of all who loved her. There were many! We know that she has been welcomed with open arms into her heavenly home. On ne t'oubliera jamais, Maddy. Tu resteras toujours dans nos coeurs.

My heartfelt sympathy to her extended family and her friends. She always spoke lovingly of all of you.
— Carolyn Berthelet, November 28, 2022
My deepest sympathy Andrew, Michael and to the many people who held Madeline close to their hearts. Madeline told me more than once that she had 3 wonderful lives: with her parents and siblings in Seven Islands, with the Holy Cross Community, and with her lives with Jim and Roger. She would say "I have been so blest and am so grateful." I will miss our phone calls filled with memories and laughter. Madeline was truly a uniquely gifted woman, generous, kind, dedicated and full of good humour."
— Beverly Redmond, November 28, 2022
Aunt Madeline was a very special person. She was able to make each and everyone of us feel special. Loving, funny and determined that's what come to my mind when I think of her and every time a smile comes along with that thought. She had a full life and enjoyed it completely.
Rest in peace Maddy you earned it. Love you!
All my condolences to the families that were blessed by her presence.

Nancy
— Nancy Redmond, November 28, 2022
I have fond memories of my aunt Maddy,so many from my childhood but the stand out for me and my brother Kevin I'm sure is when she took us to the drive-in to watch Blazing saddles. We laughed so hard and she laughed harder at us laughing. Looking back I can see the joy she took in our happiness. Wish I lived close but always felt close. Love and will miss Maddy.
— Thomas Redmond, November 28, 2022
Maddy lived a full life

Had a heart big enough to include everyone.
She said "when God cant use me anymore it was time to go home" , so she left !!!

God Bless Madeline
— Linda McCleery, November 27, 2022