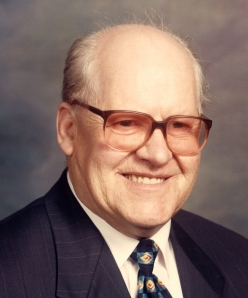 Martin Brouwers
December 2, 2022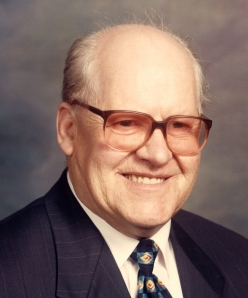 BROUWERS, Martin – Passed away peacefully at Louise Marshall Hospital on Friday, December 2, 2022 in his 91st year. Beloved husband of Anna Brouwers of 56 years. Loving father of Paul (Stephanie) Brouwers, Steve (Crystal) Brouwers and step-father of Martha (John) Motta. Cherished Opa to Bill Brouwers (Deanna Ditner), Shelby Brouwers, Baleigh Brouwers, Abbeygale Brouwers, Ava Brouwers, Cayden Brouwers and Sky Brouwers. Adored Great-Opa to Rhett Brouwers. Dear brother of Dina Vanderhayden. Brother-in-law of Adrian (Sharon) VanGoch, Marlene (Gary) Holland, Pat (Mike) Noonan and Herman Plas. Sadly missed by many nieces and nephews. Predeceased by his parents Johan and Maria Brouwers, brothers Ted (Corrie) Brouwers, Geil (Jaantje) Brouwers, Bill (Nellie) Brouwers, Bert (Riki) Brouwers, Johan (Meike) Brouwers, sisters Gerarda (Marinus) Kuijpers, Truus (Jan) Vanderhayden, Gilia (Hans) Van den Boogaart, Doortje (Piet) Van der Burgt, sister-in-law Joanne Plas and brothers-in-law Al (Madeline) Van Goch and Bill Vanderhayden.
Martin moved to Canada in 1961 and worked for his brother at Sunshine Cleaners. Met Anna the love of his life with whom he married in 1966. Thereafter moved to Moorefield where Plum Broke Farms was established.
Visitation will be held at the England Funeral Home, 294 Main Street South, Mount Forest, on Saturday, December 10, 2022 from 11:00 a.m. – 12:45 p.m. followed by a memorial service at 1:00 p.m. Those wishing to make a donation in memory of Martin are asked to consider Hospice Wellington or Alzheimer Society Waterloo Wellington.
Condolences
Dear Anna, Steve, Crystal and family, my sincerest condolences on the loss of your dear husband and father. I don't think He could not have had a better wife looking after his needs than you Anna. You all are in my thoughts at this difficult time.
— Kathy Russwurm, December 31, 2022
Our deepest condolences on your loss. Our thoughts and prayers are with all of you at this difficult time.
Cor & Christina Opsteen and entire Opsteen Family
— Opsteen Family, December 11, 2022
With deepest sympathy to Anna,Steve, Crystal with the recent passing of your loved one, Martin. May all your memories bring you peace and comfort during these dark days. Sincerely.. Marg Steffler (Crystal's mom)
— Margaret Steffler, December 10, 2022
Heel veel sterkte met het verlies van Martin. Hij zal zeer gemist worden met zijn mooie verhalen. Kijk terug naar de mooie herinneringen en heb steun aan elkaar als familie. Liefs familie uit Holland Sahbi Francis Jemai van Engeland.
— Francis Jemai, December 10, 2022
My prayers and condolences goes out to the Brouwer family and friend ..
Martin was always nice and kind too me ..
He welcomed me with a warm smile ..
He will be missed ..

Again I am sorry for your loss
May Martin Rest in Peace 💙
— Margherita (Rita) Samarelli, December 6, 2022
Aunt Ann, Paul, Steven and Family. We loved our "Kooka" Martin - it was a pet name my sister Brenda and I had for him when we were young. We continued to use it in our adult years and it always brought a smile to his face. He was a loving father, husband, uncle and friend who lived his life fully. We mourn your loss. With love, Angella Brouwers and Robert O'Hoski
— Angella Brouwers, December 6, 2022
Aunt Ann, Steve, Paul & family. We share in your loss of Uncle Martin. He was a kind, loving, gentle soul. I will miss reminiscing with Uncle Martin the time we worked together at Sunshine Window Cleaning Co. We had many laughs together. He lived a long life & has many loved ones to continue the stories. Aunt Ann, take comfort in all your grandkids.
Love Ted & Brenda Brouwers
— Ted & Brenda Brouwers, December 5, 2022
Our condolences to tante Ann, Paul and Steve and the rest of the family. Last year I talked several times with ome Martien. If he could not reach our mom he called me. He was so worried about her, so sweet. He always loved to talk about his childhood in the Netherlands. We are going to miss his stories. We wish you all a lot of strength. Big hugs Monique & Roger.
— Monique van der Burgt, December 5, 2022
This was taken about 3 weeks before Dads passing.. enjoyed lunch and an afternoon of stories. We miss hearing your watch tell the time, we miss the chats about what was going on in the world.. you were the best father in law a girl could ask for. May you rest in peace and keep watch over us.
Crystal& Steve xoxo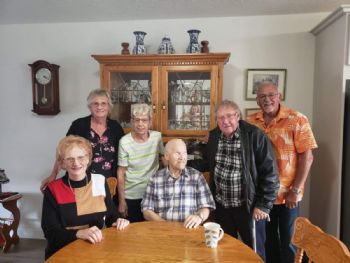 — Crystal Johnson (Steffler), December 5, 2022
Dear Aunt Anne, Paul, Steven and Family:
We wish Martin a peaceful journey. We hope your sadness will be alleviated by the many wonderful memories you have from his long life. We were lucky to have had "Uncle Martin" in our home for an extended time when he first arrived in Canada. He was always kind and helpful to our Mom, Nellie, who took him under her wing and made it her business to help Martin find a soulmate in his new country. We will miss you, Uncle Martin!
— Petra Brouwers and Brian Aikin, December 5, 2022
Gecondoleerd wij leven met jullie mee met het verlies van je vader opa, het was een vredelief persoon die veel heeft doorstaan maar bleef altijd een optimistisch man samen met zijn lieve vrouw Ann die hem ten altijd ondersteunde.
Veel sterker gewenst.

— Carel en Truus Kuijten Kuijpers, December 5, 2022