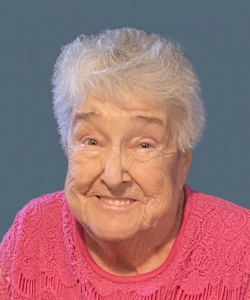 Eileen Edith Morrison
December 26, 2022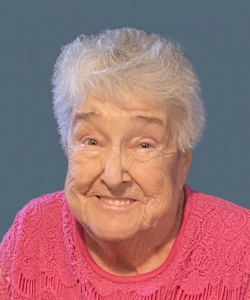 MORRISON, Eileen Edith – Peacefully and with her family at her side at Groves Memorial Hospital, Fergus on Monday, December 26, 2022 in her 86th year. Beloved wife for 42 years of Walter Morrison. Loving mother of David Graham (Eileen) of Niagara Falls, Paul Graham (Terri) of Fergus, Debbie Farrell (Doug) of Arthur, Reg Graham (Sylvia) of Guelph, Susan Renton (Brent) of Durham, and Linda Parks (Shawn) of Wasaga Beach. Dear grandmother of Jamie (Tyler), Jeffery (Bre), Shawn (Kerri), Michael, Bill (Kelli), Nancy, Kelly (Kyle), Tyler (Nicole), Alex, Alysha, Silas, and Kylen. Cherished great-grandmother of Victoria, Madison, Hudson, Violet, Laylah, Kiersten, Charlotte, Isabelle, Owen, Zoe, Claire, and Olivia. Eileen will be missed by her brother Clifford (Kit), her many nieces, nephews, extended family and friends. She is predeceased by her brothers Kenneth Watson (June) and Les Watson.
Eileen was a positive and strong-minded person. She loved children and she operated a home daycare for many years. Her greatest joy was seeing or talking about her grandchildren and great-grandchildren.
Visitation will be held at the England Funeral Home, 294 Main Street South, Mount Forest, on Saturday, January 7, 2023 from 11:00 a.m. – 12:45 p.m. followed by a funeral service at 1:00 p.m. If you are unable to attend the service in-person, you are invited to view livestream, by visiting www.englandfuneralhome.com and click on the link below Eileen's obituary. Those wishing to make a donation in memory of Eileen are asked to consider Cancer Patient Services, Mount Forest or a charity of your choice.
Funeral Service for Eileen Morrison
Condolences
I am so sorry to hear of the passing of Aunt Eileen. You are all in my thoughts and prayers.
Linda ❤️
— Linda Ross, January 14, 2023
Dear Walter and family
I am very sorry to hear of Eileen's passing. We send you our sympathies in the loss of your dear wife, mother, grand mother and great grandmother. What a wonderful legacy she leaves in her beautiful family.
Colleen Reg Riley and Kate
— Colleen Watson, January 8, 2023
we are so sorry for your loss, Ore prayers are with Eileen, God Bless.
— Barbara and Dieter (Buzz) Beier, January 7, 2023
I,m so sorry for your loss Sue and family.. My condolences to all. Aunt Marie.💕💕
— Marie Renton., January 7, 2023
So sorry for your loss. Our thoughts andprayers are with you. Tom Graham and family
— Tom Graham, January 6, 2023
Our children were raised, in part, by Eileen through her loving home daycare. She and Walter were special people in our lives for a long time.
Years later we would still enjoy a quick visit from them to catch up on news, and they always asked after our children.
God Bless her. I simply could not have managed without her when we were both young working parents. Wishing comfort and peace to all the family.
— Blaine and Jeannie Shore, January 3, 2023
I played Euchre with Eileen and Walter many times at the Mount Forest Seniors Group. I really enjoyed her.
She was so pleasant, and warm. She will be missed by her family. Glad I met her.
— Kay Ayres, January 2, 2023
Paul and Terri,
Sorry for your loss
Yvette, Jeff, Sydney and Theo
— Yvette Waterman-Scott, January 2, 2023
My condolences & deepest sympathy to Eileen's family. I got to know Eileen when she transferred to Mount Forest Legion Ladies Auxillary. She was a great lady & will be missed by all.
— Janet Freiburger, January 1, 2023
Our Condolences to Eileen's family, our families grew up in the same neighborhood and my Mom Fran Walser worked with Eileen for many years. Our thoughts and prayers are with you all at this difficult time🙏❤️
— Sharon Walser Bruder, January 1, 2023
We would like to convey our condolences to the whole family. Eileen was a strong member of our sister get-togethers and always a force for positivity and kindness. You will all miss her dearly as will we.
Dianne and Steve Leith
— Dianne and Steve Leith, January 1, 2023
Sorry for your loss Walter, my condolences to you, Eileen and family & friends.
— gerald delbert ward, January 1, 2023
So sorry for your loss. My thoughts and prayers are with your family..
— Terry Shore, December 30, 2022
Sorry for your loss

Tim hortons staff
— Tim hortons staff, December 30, 2022
One of my favorite Aunts, I'm going to miss your surprise visits and our phone chats.
She was very special and always amazed me with her sharp as a tack memory.
R.I.P. Aunt Eileen
— Sheryll, December 29, 2022
— Joan Elaschuk, December 29, 2022