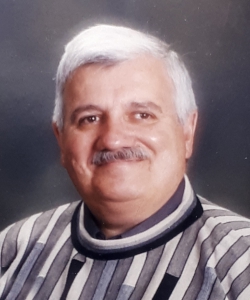 J. Robert "Bob" Plamondon
January 3, 2023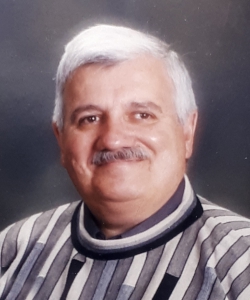 PLAMONDON, J. Robert "Bob" - It is with sadness and heavy hearts that we announce the passing of J. Robert (Bob) Plamondon, aka Bob from London, on Tuesday, January 3rd, 2023. He is predeceased by his two closest feline companions, Angus and Seamus. He will be fondly remembered by his sister Joanne Plamondon and her spouse Cora Lee Bugden. Bob will also be remembered by many for his dedicated community work in Mount Forest; with his church, the Mount Forest Lions Club and Cancer Patient Services. Also for work behind the scenes with countless other organizations as well as for his work with Covenant House in Toronto, and the Good Shephard in Hamilton.

Bob was dedicated to the health care profession for over 40 years. He worked for hospitals and ambulance services in the Perth and Wellington County area, at Waterloo-Wellington/Cambridge CACC (ambulance dispatch) and for the Technical Support Unit of the Ministry of Health.

His boundless compassion, his generosity, his humour, his steadfast resolve in staying true to himself and to his beliefs, the high value which he placed on friendships; all attributes worthy of following.
Bob touched so many lives throughout his 75 years. There have been scores who have not known his name, nor he theirs. They have been recipients of his many random acts of kindness or have received his gentle touch of compassion as he went about his work and his life. Bob was a man who lived his life in the service of others. He was a loyal friend, a confidant, a volunteer and many more things.

In keeping with his wishes, there will be no funeral service or visitation. Bob wanted to keep things simple.

In saying this, if you would like to honour Bob in the form of a donation, Bob was an ardent supporter of the Louise Marshall Hospital Foundation: https://louisemarshallfoundation.ca/

As great a tribute as anything would be remember the act(s) of kindness bestowed upon you by Bob and simply "pay it forward". As well, in a reflective moment, consider your good fortune to have known a man of such character, raise a glass in a toast "Here's to you Bob, good friend. Well done. Cheers!!!"
Condolences
On January 1st, Bob distributed a lovely tribute which so reflects the dear and devoted person he was ... not only to his friends but also for his community. I loved him and he loved me and we showed each other in so many ways our respect for each other. The day before he left this life, he distributed a musical video that contained the following text:

The Train of Life

"Life is like a journey on a train ... with its stations ... with changes of routes... and with accidents!

At birth we boarded the train and met our parents, and we believed they will always travel on our side. However, at some station our parents will step down from the train, leaving us on this journey alone.

As time goes by, other people will board the train; and they will be significant i.e. our siblings, friends, children, and even the love of our life. Many will step down and leave a permanent vacuum.

Others will go so unnoticed that we don't realize that they vacated their seats! Which is very sad when you think about it.

This train ride will be full of joy, sorrow, fantasy, expectations, hellos, goodbyes and farewells.

Success consists of having a good relationship with all the passengers ... requiring that we give the best of ourselves.

The mystery to everyone is: we do not know at which station we ourselves will step down.

So, we must live in the best way ... love, forgive, and offer the best of who we are.

It is important to do this because when the time comes for us to step down and leave our seat empty ... we should leave behind beautiful memories for those who will continue to travel on the train of life.

I wish you a joyful journey this year on the train of life. Reap success and give lots of love. More importantly, give thanks for the journey!

Lastly, I thank you for being one of the passengers on my train!"

He exited life with the grace and generosity that he so lived!

Julie Anne

— Julie Anne Snell, January 11, 2023
I had the pleasure of working with Bob at Mount Forest and District Ambulance when I first started my career and then had the pleasure of having him as a regular ACO (Dispatcher) while working as paramedic. Bob was always ensuring crews were taken care while on duty .
I always enjoyed talking politics with Bob and his quiet sense of humor was incredible and he left his mark on the Paramedic industry in a very positive way . He will be missed .

I raise a cup of coffee and a sour cream glazed donut to you Bob and say Thank you !

RIP Friend

Jim Topham
— Jim Topham, January 11, 2023
Bob Plamondon was the consummate Gentleman and one of the most dedicated, kind, caring and genuine people I have ever known. He was truly one of a kind. I met him during is time as the Technical Representative of the Cambridge CACC later in his career. My sincere condolences to his Family.
— Allan Duffin, January 11, 2023
I am very saddened by the passing of Bob. My condolences to his family and his brother Marc. He will be missed greatly. He was one of the kindest and funniest person I know. Rest in piece. You will be forever in my memories.
— Lori Roefs, January 11, 2023
On behalf of the Listowel Memorial Hospital (LMH) Retirees Breakfast Club, We send our most sincere condolences to the family and friends of Bob Plamondon. He was a valued staff member as an orderly/medical attendant and ambulance driver during his employment at LMH in the late 1970's. We were pleased to learn Bob remained under the "Healthcare Umbrella" in a variety of capacities over the years after leaving LMH, as he obviously still had much to offer the healthcare sector. By reading his obituary and many messages of sympathy, We also noted how invaluable he was in his personal life to his community and friends in many areas/facets outside of the healthcare field. Rest well Bob Plamondon - you have earned it!
— Joyce King, January 11, 2023
Having been friends with Bob or better known as "Bob from London" for many years, we are deeply saddened.
Bob was one of the BEST! He was kind hearted, always giving of his time to those in need, just to mention a few.
If you had the opportunity to know Bob, he always had some words of wisdom for you, young or old. Leaving him a voice mail was time consuming as his voice mail message always had some good advice which was lengthy.
Bob will be missed by his family, his friends and our community.
Cheers to you Bob!
Jim and Ruth Penwarden
— Ruth Penwarden, January 11, 2023
I will miss your calls asking for the Queen of Parkside. I couldn't get a head of you with meals or goodies, as you would return something a few days later. It is going to be hard to see your home each day knowing you are not with us anymore. RIP my friend and I hope your special candy is there.
— Brenda, January 10, 2023
Bob my friend i will miss you always loved our talks and always remember you calling me precious i will miss that for sure, God's speed my friend will see you again. Condolences to all Bob's family and friends.

— Shane and Darlene Rivers, January 10, 2023
What can I say except what a truly kind human being Bob was. I met Bob in the early '70's when he worked up in Timmins on the ambulance service one cold winter night when I was walking the beat, it was -30 and no place to hide to warm up when he pulled up beside me in his ambulance rig putting his window down and saying what did you do to deserve this, the next thing I knew I was warming up in the back of the rig.... that was Bob, always looking out for the other guy.... we quickly became friends, sharing many a meal and many a libation... and we always managed to keep in touch after all these years, and in all those years I never saw Bob put himself before anyone, he always wanted the best for everyone. A true christian, rest easy Bob.
— David Keast, January 9, 2023
I will miss your calls asking for the Queen of Parkside. I couldn't get ahead of you with meals or goodies, as you would return something a few days later. It will be hard to see your house, knowing that you are not with us anymore. RIP my friend and I hope your special candy is there.
— Brenda, January 9, 2023
My deepest sympathies to the family and friends of one of the kindest and generous men I've had the pleasure of knowing. He was a good neighbor and close friend. We had many conversations and laughs while sitting on the deck with a cold beverage. He was a man full of knowledge and was always ready to lend an ear if you needed someone to listen. You will be missed old friend RIP cheers
— Doug Hawkrigg, January 9, 2023
Bob was truly a gentleman to the last. It was an honour to serve as a healthcare professional to him. He was always thinking of us and made sure we knew how much he appreciated our help. I will miss him greatly. He was more than a client. He was truly a friend. Raising a glass to you this evening Bob. Rest easy my friend. - Rv
— Randolph van Vught, January 9, 2023
I was fortunate to know Bob in the EMS profession. We often met at Cambridge CACC or Waterloo EMS. His smile and greeting to me was special ("How you doing today, young man?")! I valued those times with Bob, whether work related or casual conversation, Bob was always there for you. RIP Bob…you will be missed.

Roger
— Roger Mayo, January 9, 2023
I worked along side Bob while he was a Technical Officer at Cambridge CACC (me being in Hamilton). This man could not do enough to accommodate and make welcome, anyone he worked with. He was a fine example of a dedicated civil servant, coworker and friend. Like the old saying goes "when they made him, they broke the mold".

Bob will certainly be missed by all of us who were lucky to have known him. RIP Bob... I'll be sure to have a "Single Malt" in your honor!
— Ken Johnson, January 9, 2023
Bob was a volunteer at the Mount Forest Cancer Patient Services from 2010 to 2018 serving both as a volunteer driver and call taker. He helped many patients finding treatment for their afflictions. I became friends with Bob when I was a volunteer with him.
He will be a great loss to our community and his many friends.
— Bill KREPS, January 9, 2023
Bob was a thorough gentleman, a great human-being full of compassion, integrity and humor. I remember him from my first meeting sometime in 2002 at Cambridge CACC and how Bob took time in making me at ease because I was fairly new to Canada then. He showed me around and explained the ambulance dispatch process at length, took me to a good restaurant for lunch, explained Shepherd's pie that was new to me and then shared where he lived Mt. Forest and how beautiful his town is and all about the Mennonite communities, their culture and beliefs. May your soul rest in peace, Bob !
— Amardeep(AD) Soin, January 9, 2023
Bob was such a great guy. He always had a friendly smile and a positive outlook of life. Condolences to his family and close friends.
— Brad & Cathy Schwindt, January 9, 2023
Anyone meeting Bob from London...never forgot Bob from London...bumping into Bob was always a good day...just a force of sunshine.

Axy, Jaspreet and Sneh.
— Axy Leighl, January 8, 2023
Robert lived his life with integrity, humour and compassion. His support through the years not only to me and my family, but to all who knew him was greatly appreciated and will never be forgotten. He will continue to live in many of our hearts & minds, for years to come. Rest in peace Uncle Bob, you will be missed!
— Jason Benn, January 8, 2023
Looking back over the 35 years that I had the good fortune to get to know Bob, it became clear early on that he was a man who . . . walked the walk. It was all of his simple acts of kindness, thoughtfulness, and generosity that made a huge impact on anyone he crossed paths with. Bob was a good man and a good friend and he will be dearly missed.
— Gloria Hartman, January 8, 2023
What a wonderful tribute! I worked with Bob for many years, starting back at the original CACC at Freeport Hospital, known as Waterloo-Wellington CACC. Bob was always there to help when necessary. Condolences to all of his family, friends & co-workers.
Bob always gave a lot of himself. RIP Bob.

— Lynne Kirkconnell, January 8, 2023
RIP Bob from London He was a great guy. Worked with him at Mount Forest Ambulance.
— Glenn silk, January 8, 2023
We knew Bob through his dedication to St. Mary's Church in Mount Forest. Our daughter worked with him in Kitchener as a dispatcher for a while. We admired his work with the Lion's Club, however we regret that we had not seen him for quite some time and often mentioned his name. Our Sincere Sympathy to his family and friends. May his soul Rest In Peace. Bob and Mary McIntee
— Bob and MaryMcIntee, January 8, 2023
Like a lot of people, we were fortunate to consider Bob a friend for many years. He offered the blessing at the wedding dinners of two of our children. In a recent card, he wrote that he looked " towards 2023 with anticipation for a more peaceful planet". The planet - personal friends, the town and the larger community - has lost a force for peace, selflessness, and good humour. He was a true gentlemen, and he will be fondly remembered.
— Brian and Donna Padfield, January 8, 2023
Goodbye old friend…..I enjoyed emailing with you since leaving Toronto some 17 years ago.



— George Malcolmson, January 8, 2023
Robert Rest In Peace…it was my pleasure to have worked along side Bob for a number of years and he knowledge, humour and love for life touched many. Thoughts and prayers go out to those who carry a heavy heart as a result of his passing and he now can oversee the IT personnel in his beloved heavenly CACc. God bless you my friend .
— Rick Kennedy, January 8, 2023
They forgot to mention his other sister Marcelle and brothers Paul and Marc and one deceased, brother name, Dennis.
1 nephew and 5 nieces
— Marc, January 8, 2023
If you happened to get Bobs voicemail you got his wisdom of slowing down , carrying extra booster cables, and being kind, just a glimpse of the wonderful man Bob was. Always thinking of others, you taught me many lessons Bob. I thank you and will being paying it forward in your memory. Peace to your loved ones.
Leanne Swantko
— Leanne, January 8, 2023
Always a pleasure to have Bob drop by fergus base for a coffee or chat. Great guy, consumate professional on the desk. RIP Bob from London.
— Greg Ballah, January 8, 2023
Bob was a great guy who served his community and his workplace with exemplary dedication
and always with a smile. He was a mentor to many ambulance attendants and a counsellor
to many co-workers before PTSD was well described. And he was a friend to me and so I say
God speed to you and meanwhile you will be missed here.
— Dr Hugh Perrin, January 8, 2023
I had the honour and privilege of having Bob as a friend for almost 45 years. We did our EMCA course together at Conestoga in 1978 and from then on, he was the older brother (with a touch of mother) that we all need. I don't think he ever came by without a gift of some sort (usually food!), and a piece of advice. One of my great memories is being present when he received the Governor General's EMS Exemplary Service Medal with two bars in 2013. Rest gently old friend...
— John Prno, January 7, 2023
I first met Bob in 1995 when I joined the management team at Waterloo-Wellington CACC, later to become Cambridge CACC. Bob was a supervisor, followed by operations manager, who provided unwavering invaluable support to me during my years in dispatch management He was such an impressionable presence in the center, always ready to help out or offer support to his colleagues. Not only was Bob a colleague, he became my friend and a very loyal friend to this day. As generous and selfless he was at helping strangers in need, which was often, he was equally committed to fostering his friendships. You could always count on Bob. It was an honour and a privilege to know him. I will miss him so and remember him fondly.... his wit, wisdom, and the many inspirational messages and experiences he imparted on me along the way. Never forgotten dear friend.
— Christine Barber, January 7, 2023
Bob was as selfless as they come. His passion and generosity was unmatched. He will be missed by so many.
— Aaron McMillan, January 7, 2023
RIP Bob. You always brought a smile to my face when you shopped and went through my till.
— Karen (Jarvis) Switzer., January 7, 2023
Bob was my supervisor when I first arrived at what was then, the Waterloo-Wellington ambulance dispatch centre. What I remember most about Bob is that he took time for people, would welcome them, offer tea and cookies (or pepperoni or a slice of salami - whatever he had in his stash at the moment). In our emergency world where time is so often counted in seconds, Bob would make room, as if he had all the time in the world for you. Later, during crises situations in the control room, I often found Bob came alongside in his capacity as a tech officer, supporting good ideas and decisions no matter where they originated. He would cajole others into putting forth extra effort. He would sometimes shake his head and smile out of the corner of his mouth. Over the years, I have received, as some of you have, an encouraging letter or card from Bob. Kind, thoughtful, a good man. RIP.
— Dot Kohler, January 7, 2023
My condolences to Bob's family, I worked with Bob when he was a tech officer at Cambridge CACC. I have very fond memories of Bob and enjoyed his sense of humour. RIP my friend
— Matt Landry, January 7, 2023
My condolences to Bob's family and friends.
Sad news, I am proud to have known him during years of work at EHS and in Cambridge, I learned a great deal from Bob such as kindness and humanity, he always surprised me, I always felt enlightened and walked away in a better mood. I often recall our interactions, I remember Bob as always very real, down to earth and would watch him engage everyone with kindness, professionalism, confidence, and wit.

— Tom Kendrick, January 7, 2023
We both had the pleasure of working with Bob, many years ago. Such a well respected man. Bob knew everyone when we on calls. We also had the pleasure of Bob being the MC for our wedding. Bob will be missed. Our condolences to his family.

Gail and Derek
— Derek Bridgwater, January 7, 2023
After our retirement, Bob regularly shared with us stories and great videos on a variety of subjects. Bob provided us with his perspective on new technology, memories of years-gone-by, as well as current events in the EHS and ambulance sector. Bob stimulated us to think about the world and we were always happy to see a message from Bob.
We shall miss Bob and the knowledge that he provided.
— Malcolm Bates, January 7, 2023
Bob truly was one of a kind. He will be missed by many.
— Joanne Stewart, January 7, 2023
I had the privilege of working with Bob for many years at CACC. Bob was a true gentleman, a great leader, the best Tech Officer, but most importantly a good friend to many.
I am so happy that we were able to have a short visit in November, It was so nice to see his smiling face and to receive a hug.
Deepest condolences to his family and closest friends. R.I.P. Bob.
Sherry Burr

— Sherry Burr, January 7, 2023
Bob was a truly kind soul, gentle and funny. The world was a much better place with him in it. He will be missed.
— Bob and Donna McFarlane, January 7, 2023
A beautiful tribute to Bob. He was one of a kind and will always have a place in my heart.
— Elaine Williamson, January 7, 2023