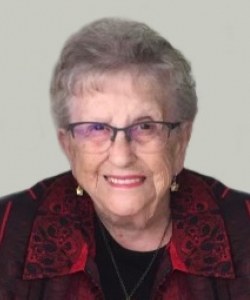 Helen Florence Marian McLean
June 18, 2023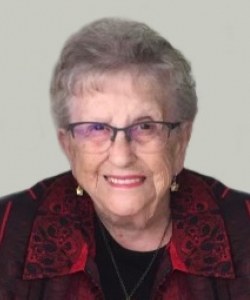 McLEAN, Helen Florence Marian (née Renwick) - Began her journey through life January 1, 1934, daughter of Nellie and Wilfred Renwick of Dromore, Ontario. Her earthly journey ended Sunday, June 18, 2023.
Predeceased by her beloved husband Carl. Cherished mother of Dan (Jane), Doug (Wilma), Mary-Lynn Fiest (Dietrich), and Pat (Patsy Kelly). Loving grandmother of Stacey, Bridget, Terry, Andrew, Corry, Kyndall, Micah, Tyson, Mark, and Eric; and great-grandmother of 16. All whom she loved very much.
Helen grew up in the Dromore area and married Carl E. McLean on June 28, 1951. She lived different places with her family due to Carl being in the Armed Forces. She returned to Mount Forest in 1964 and remained there. Throughout this time, she enjoyed greeting the public. Starting with Mount Forest 5c to $1.00 Store, to across the street in a small dress shop 'Evelyn's Shop'. Next was L & M Variety, Triangle Discount, finishing at Hoehns Shoes. Helen's family will miss her very much, but know that she is now at rest.
The family would also like to take this time to say thank you so much to Dr. J. Weinstein; all of the nurses at the Louise Marshall Hospital, especially Gay; and Birmingham Retirement Community, particularly Helen.
A come-and-go celebration of Helen's life will be held at the Royal Canadian Legion, Mount Forest Branch 134, 140 King Street West, Mount Forest, on Saturday, September 2, 2023 from 2:00 – 4:00 p.m. Those wishing to make a donation in memory of Helen are asked to consider Diabetes Canada, or a charity of your choice. Arrangements entrusted to the England Funeral Home, Mount Forest.
Condolences
So sorry to hear of Helen's passing. My condolences to Dan and his family, and to Doug and Wilma and family.
— Paddy (O'Brecht) O'Brien, September 3, 2023
I am so sorry to hear of the passing of Helen. She was the most caring and cheerful woman I have had the pleasure of knowing. My thoughts and prayers are with the family.
— Helen Jones, September 3, 2023
I am very sadden of the passing of your mother. She was great lady.

Condolences to Mary Lynn and Family and Pat & Patsy Kelly.

May she rest in peace.

— Lori Roefs, July 10, 2023
Dan, Doug, Mary Lynn. My deepest heartfelt condolences in the loss of your mother.
She was a caring person with a big heart and will be forever missed.
Rest in peace dear Helen.

— Russ Kelly, June 29, 2023
Dan Doug and Mary Lynn and families
Sorry for the loss of your mother Our thoughts are with you

Ron and Rose
— Ron and Rose Grimes, June 28, 2023
My deepest sympathy to Helen's family and friends. I have childhood memories of her when my family would come up from Toronto every weekend to our L'ill Red School house. We never missed a Saturday visit with our allowance to the 5 to a dollar store where Helen worked. She was always so happy to see all of us kids come in to get our treats. She made us feel welcome to Mount Forest as newcomers in 1968. If you find a orange ringlet of hair amongst Helen's belongings, it was a gift from my sister Susan. Helen loved her hair & always made a fuss over her. She used to say she was going to get one of those curls one day & she did. A gift from 3 year old Sue. I will cherish my memories of Helen as a special gift she gave me & may all of you find peace & healing in your memories too.
— Joan Stevens, June 28, 2023
We send our deepest sympathy. – Barry & Thelma Rawn
— Barry & Thelma Rawn, June 26, 2023
Dan, Doug and Mary Lynn .so sorry to hear of your mother's passing. Our thoughts and prayers are with you and your families at this time. Remember the memories you made over the years. I am sure Helen will be missed.
— Joan and Ross Johnson/, June 25, 2023
So sorry Doug, Wilma and family on your loss. You are in our thoughts.
— Ralph and Dianne Watson, June 25, 2023
Sending our sympathy to Helen's family and friends.
Sincerely Leonard Seifried Bill & Diane Dineen
— Diane Dineen, June 25, 2023
Our condolences to the entire family. Helen was the sweetest lady. I always enjoyed chatting with Helen and Theresa downtown after they were out getting their hair done each week.


— Joan and Lloyd Aitken, June 24, 2023
My condolences to Doug,Wilma and all of the McLean families. I remember when she lived across the street from my Grandmother Rose Gilmartin and that is how I met Doug and became good friends as kids.
I am sure she will be greatly missed by all.
— Paddy (O'Brecht) O'Brien, June 24, 2023
Your mother blessed so many people with her kindness. Cherish the memories that you hold close to your heart. Sending sympathy to all.
— Lynn Reeves, June 24, 2023
McLean family our condolences in Helen's passing. She was a very nice lady who always asked about us and we would share lots of laughs whenever we chatted. RIP Helen
— John&Patti Weber, June 24, 2023
Helen was a wonderful lady with lots of ambition, working with the Presbyterian Church and the Mount Forest Legion Ladies Auxiliary. Helen and I had a great friendship and I cleaned her apartment for about nine years. I will miss her dearly. To Helen's family my sincere sympathy and keep your memories of Helen close to your heart!🙏
— Patti Young, June 23, 2023
TO THE McLEAN FAMILY SO SORRY FOR YOUR LOSS HELEN WAS SUCH A GREAT LADY, FRIEND AND MOST OF ALL A GREAT EMOLOYEE WE HAD SO MANY GOOD TIMES IN THE STORE AND MADE GOING TO WORK FUN SHE WAS SO GOOD TO THE CUSTOMERS .YOU WILL BE MISSED MY FRIEND
DIANNE AND FRED
— FRED AND DIANNE HOEHN, June 23, 2023
I am so sorry to hear of Helens passing.
We had a lot of great talks and laughs when she was my neighbor on the 3rd floor and also when she moved to the retirement side.
I miss you dearly Helen.
Rest in peace. . Linda. Xx.
— Linda Taylor., June 23, 2023
Posting this message for Theresa Wells.
Condolences to all on the Loss of Helen. She will be sorely missed. Helen was my best friend for many years. We would go to church suppers and short trips and always had a great time. Rest in peace my friend.

— Theresa Wells, June 23, 2023
Deepest sympathy to family and friends of Helen. May you find comfort in knowing she is now at Peace. Helen will be dearly missed and fondly remembered by all residents and staff at Birmingham Retirement Community. Rest in Peace, Helen.
The residents and staff of Birmingham Retirement Community
— Debra Wollis, June 23, 2023
Our sincere condolences to Helen's family…
— Ken & Karen Thompson, June 23, 2023
Our sincere condolences to the McLean Family on the passing of your Mother and Grandmother. Helen was a lovely lady!
— Joe and Faye Meulensteen, June 22, 2023
My deepest condolences to Pat, Patsy, Doug, Wilma and all the rest of the family on the loss of your mom, grandmother and great-grandmother.
— Kathleen Scott, June 22, 2023
Our sincere sympathies to the McLean family. Helen was an important part of our extended family and was Gramma McLean to all of us.
— Joanne and Glen Alexander, June 22, 2023
Sending my heartfelt condolences to the family. I remember your mom's smile and laugh, she was a fun lady.
May she rest in peace. 💕
— Beth Dodds, June 22, 2023
My sincere condolences to the family. I knew Helen most of my life. I remember her working at the difference places but mostly at Stedmens 1st red store is what we call it lol at the corner of Main and Wellington. And at Hoehns Shoe store. I worked at my dad store next to Hoehns so Helen and I saw each other everyday. My she rest in peace. 🌹

— Sheri Johnson, June 22, 2023
Our condolences to all of Helen's family..we bought our first house on Fergus Street from her..she was a great friend, neighbour and person.
Sorry for your loss...Rest in peace Helen..
Tom and Lee Matthieu
— Lee Matthieu, June 22, 2023