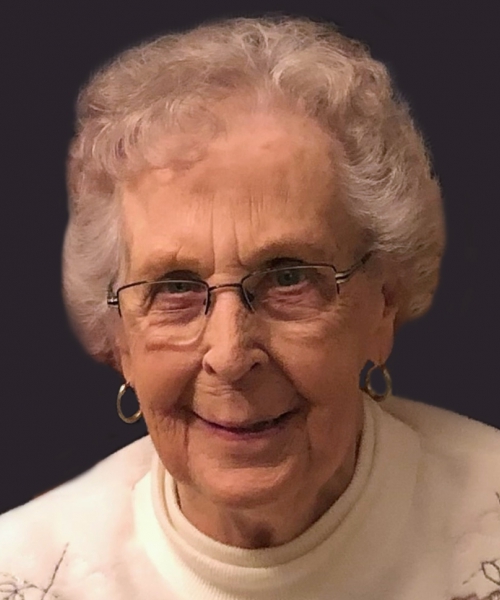 Alice Elfreda "Ellie" Rae
July 4, 2023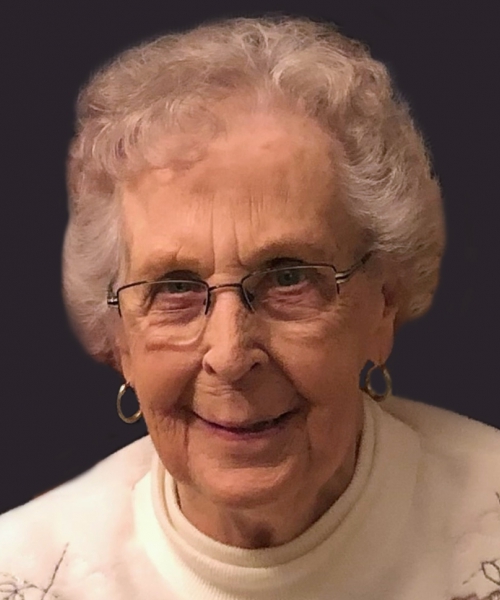 RAE, Alice Elfreda "Ellie" – Peacefully on Tuesday, July 4, 2023 at the Louise Marshall Hospital in her 94th year. Beloved wife of the late Murray Rae (2007). Loving mother of Peter Rae and his partner Marlene Stern of Winnipeg, MB, Jane Diebold and her husband Don of Kitchener, and Paul Rae and his partner Judy Forbes of Whistler, BC. Dear grandmother of Robyn Rae Reid (Rick), and Jessica Rae Forbes. Ellie is predeceased by her sisters Beatrice Bond (Ernest), Vivien Herdman (Bruce), Ida Padfield (Edgar), Jean Tott (Austin), Gertie Broughton (Ted), Muriel Greenwood (Harold) and by her brother George Klein. Ellie will be missed by her children, nieces, nephews, extended family, friends and by her Bridge girls.
Ellie was a lifelong resident of Mount Forest. She grew up on a farm in Egremont Township. She continued farming after her marriage, where she and Murray spent many years owning and running their chicken farm on Wellington Street. She had an incredible work ethic, not only working hard, but very fast. Following the sale of the farm, they spent 20 happy years living on Clyde Street. Ellie and Murray enjoyed countless drives around the countyside. Family trips with the kids to places including Ottawa and New York City were highlights. They had a memorable trip visiting some of Murray's old wartime haunts in London England and then onward to visit Peter in Nigeria. Ellie enjoyed her bridge games, loved her flowers and the Toronto Blue Jays. But above all, she loved her family. She was the last of her siblings, whom she was very close to, and will be laid to rest next to Murray and close to her six sisters and their husbands.
Visitation will be held at the England Funeral Home, 294 Main Street South, Mount Forest, on Monday, July 10th from 3:00 – 5:00 p.m., where the funeral service will be conducted on Tuesday, July 11th at 12:00 p.m. with visitation from 11:00 – 11:45 a.m. Interment to follow at Mount Forest Cemetery. If you are unable to attend the service in person, you are invited to view the livestream by visiting www.englandfuneralhome.com and clicking on the link below Ellie's obituary. Those wishing to make a donation in Ellie's memory are asked to consider the Louise Marshall Hospital Foundation or to the charity of your choice.
Funeral Service for Alice Elfreda "Ellie" Rae
Condolences
My condolences to Peter, Jane, Paul and your families. I just learned of your mom's passing. I have vivid memories of your parent's house and broiler farm as they played euchre and I'd watch tv until it was time to go home. And then they'd bring Paul to Moorefield in the 70s. My mom Anne learned to play bridge from Ellie when she was having Paul. My dad Gord thought highly of Murray as a good friend. I always thought they were such a wonderful couple. May you hold onto your own dear memories of Ellie.
— Julie Barnard Prusila, August 16, 2023
Murray (my first cousin) and Ellie lived across the road from Grandma Boylan so I played with Peter and Jane (Paul came later) in the summers - that is when Peter wasn't reading the encyclopedia. They were a hard-working couple and amusing to talk with. I always got a kick out of Ellie and Sammy. I remember when the old barn at the driveway was torn down and a cat jumped from the upper story just in time and ran for dear life. My thoughts are with you.
— Joan (Long) Albright, July 11, 2023
I will miss Ellie. She was my source of information about everyone in the family. Growing up in Mount Forest she was always there. When I was young the Rae's was always the place my parents sent me when baby sitting was required. She became like a second mother to me. She was for sure my favorite aunt.
I am under the weather and will not be able to attend the funeral today. My apologizes to all.

Bruce.....
— Bruce Padfield, July 11, 2023
Ellie, I remember your winning smile, your love of a good chat and your caring so much of others.
Pete, Jane and Paul and their families are a tribute to both you and Murray and your legacy.

The Klein girls and their brother were a formidable team and now an era has ended.
Much love to all, Judy
— Judy Padfield, Kitchener ON, July 10, 2023
We send our love and thoughts to all Ellies friends and family. We will cherish all our visits and fun chats while cleaning throughout the years. She was a lovely lady
— Kim ferrier and Tracy leblanc, July 10, 2023
Condolences to Ellie,s family at this difficult time. Florence got to know her thru Bea and enjoyed the conversations with her in person and by phone.
Carm & Florence Noble
— Carman Noble, July 9, 2023
Our condolences on the loss of your mother ,She was a great lady


— Kevin, July 8, 2023
Our Heartfelt Condolences are with you at this difficult time.

— Ben and Wilma Farlow, July 6, 2023
It is so appropriate that Ellie's funeral will be on Tuesday, our bridge day. We all miss her
— Shirley Martin, July 6, 2023
So sorry to read of Ellie's passing. She was a wonderful lady who always left a happy feeling with you after a conversation. Condolences to the family.
Dave Sparrow & Arlene Muckart
— Arlene Muckart, July 6, 2023
Sorry to hear of Ellie's passing. We were neighbours when Ellie and Murray lived on Clyde Street and enjoyed visiting or just a chat at the end of the driveway. She was a great lady. Sorry for your loss.
— Brad and Cathy Schwindt, July 6, 2023
Tom and I are saddened to learn of Ellie's passing and offer heartfelt condolences to her family. Ellie was a wonderful and kind soul. We had many laughs together and we really enjoyed her as a neighbor and friend. Ellie will be missed but never forgotten. RIP Ellie, Tom and I just loved you!


— Marion & Tom Donnelly, July 5, 2023
We first met Ellie when we moved into the condo next to her. We quickly became close friends with Ellie due to her welcoming and outgoing personality. We will greatly miss our visits with her. She had a great sense of humour and wit. Rest in peace, Ellie.
We extend our sincere sympathy to Peter, Jane, Paul and families.
— Verne and Pauline Mills, July 5, 2023
I am very sad to hear about dear Ellie passing. She was a great client and friend of my Mom (Gerri Burt ) and myself for many years at our Salon. We shared many stories and laughs over our years of friendship doing her hair. It was always a pleasure to have her come to the Salon and more recently I would come to her home and we enjoyed a good visit during her appointments. I will truly miss her kindness and wit and feel blessed to have know such a wonderful lady. Our sincere condolences to all of you. Kathy Debb and Gerri, Gerri's Beauty Salon
— Kathy Russwurm, July 5, 2023
So sorry to hear of Ellies passing. She said she was living the dream with Judy there. We spoke Saturday before Father's day on the phone. Never expected that to be our last chat. She endured much loss of late. I very much enjoyed her company.
Kelley Eves
— Kelley Eves, July 5, 2023