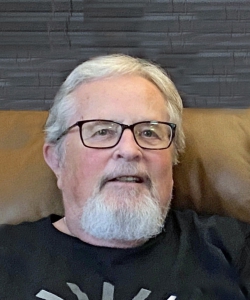 Barry Lloyd McCloskey
July 24, 2023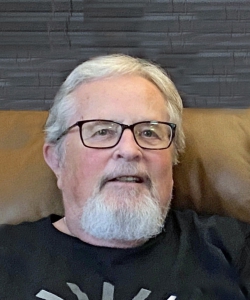 McCLOSKEY, Barry Lloyd – Passed away peacefully at home on Monday, July 24, 2023 in his 71st year. Beloved husband for almost 30 years to Carmelle Noël-McCloskey. Loving father of Bryan McCloskey (Katherine) and grandfather to their children Edyth and Birdie of Carleton Place; step-father of Eric Guy (Andrée Bédard) and their son Maurice of Sudbury; and Kevin Guy of Edmonton, AB. Barry will be sadly missed by his sister Cathy Oakes (Chris), niece Terri McCloskey (Bill Morris), great-nephew Max, nephew Marc McCloskey (Tammy Stack), great-niece Ireland, mother-in-law Marguerite Noël, sisters-in-law Debbie Noël and Lois McCloskey, and by his brother-in-law Daniel Noël. Barry is predeceased by his parents Lloyd and Margaret McCloskey, his brother Peter McCloskey, and his father-in-law Lorenzo Noël.
Barry was born in Barrie, ON. As a child he enjoyed playing hockey and baseball. He had a few careers over his working life. He started as an Orderly at Royal Victoria Hospital, moving on to become a Certified Ambulance Attendant at the same hospital. He then moved on to become a Training Officer at Emergency Health Services, Eastern Ontario Regional Office in Ottawa. He then accepted a transfer to become the Training Officer at the Northeastern Ontario Regional Office in Sudbury, where he helped establish, train, and support many Volunteer Emergency First Response Teams in remote areas. Barry later became the Assistant Regional Manager followed by a promotion as the Regional Manager for the Northeastern office. Barry then moved on to the Ministry of the Attorney General, Court Services Division, becoming Manager of Court Operations for the Owen Sound, Walkerton, and Goderich courthouses. He later accepted the position of Manager of Accommodations for the Court Services Division, West Region. He managed several construction projects for new courthouses in the region.
After retirement, Barry and Carmelle enjoyed seven years of wintering in Gold Canyon, near Phoenix, Arizona. His family would like to thank the North Wellington Palliative Care Team for their care and compassion.
A Celebration of Barry's Life will be held on Friday, August 18, 2023 from 2:30 – 4:30 p.m., with memories being shared at 2:30 p.m., at the Mount Forest Legion, 140 King Street West, Mount Forest. Those wishing to make a donation in memory of Barry are asked to consider Cancer Patient Services, Mount Forest, or the Royal Canadian Legion, Branch 134, Mount Forest. England Funeral Home entrusted with arrangements.
Condolences
My deepest condolences to Carmelle and family. I had the honour to have worked with Barry, when travelling the northern regions of Ontario with the Ministry of Health. His insight and guidance helped me when meeting the various services in his Region. He was also a valued member of our MOH baseball team who competed during some great weekends. Our thoughts and prayers are with you all…John & Julie
— John Pereira, August 18, 2023
I am so sorry to hear of Barry's passing. We worked together at the Ministry of Health for many years. although we both started out at the RVH service in Barrie. He was a good friend and colleague. Condolences to Carmelle and family. Tony Campeau
— Tony Campeau, August 2, 2023
So sorry for your loss Carmelle, Cathy and families.
Please accept our deepest condolences.
May Barry rest in peace.🙏

— Anne-Marie and Keith, July 29, 2023
Our condolences to you Carmelle and the family. So sorry for your loss! Barry now has his wings and is free from all pain.

Gabie & Len Crocco
— Gabie & Len Crocco, July 28, 2023
Sending my deepest condolences to you Carmel and your family. Thinking of you in the difficult days ahead.
— Joan Woods, July 28, 2023
Our deepest condolences Carm Don and Marion
— Don and Marion, July 27, 2023
Dear Karm, Tears of sadness yet tears of such thankfulness for a special man who helped me during my brother's sudden passing. Michael and Barry were good high school friends. Barry's very very kind words and prayers and spirituality, I will carry with me forever. Peace be with you Barry.
— Kathe O'Neill, July 27, 2023
So very sorry for your loss Carm and family, Cathy and family. Hope Barry and Frankie are having a fine reunion ❤ Hugs to all,
Debbie and Shaun
— Debbie wright, July 27, 2023
I will always remember Barry on his scooter walking Frankie. They are together again.
— Daphne Taylor, July 26, 2023
Our deepest condolences to Carm and family. Barry's quick wit and sense of humor will truly be missed.
— Tammy & Peter Foster, July 26, 2023
Our deepest condolences to Carmelle and Barry's family. Barry was a trusted colleague at the Ministry of Health and his efforts to improve the emergency health system were very much appreciated.
— Malcolm Bates, July 26, 2023
We are thinking of you Carmelle ! Both of you on the many trips around Fairway. Tom and Helen Quinn
— Tom and Helen Quinn, July 26, 2023
So sorry to hear of Barry's passing. Carmelle and Family, My Sincere Condolences for your loss. My thoughts and prayers are with you all
— Frank Payette, July 26, 2023
Sending you our deepest sympathies and condolences. Barry was always kind and had a smile on his face anytime I seen him over the years. He will be missed but by no one more than you. Always remember the good times and his beautiful smile. Sending big hugs. Gwendolyn & Carl Leeder
— Gwendolyn Leeder, July 26, 2023
My sincere condolences carmelle. My thoughts and prayers are with you in this difficult times. Barry will be missed .
— Jean Guy Belzile, July 26, 2023