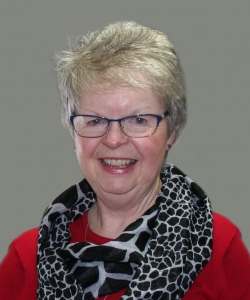 Myrna Kathleen Vermeulen
September 6, 2023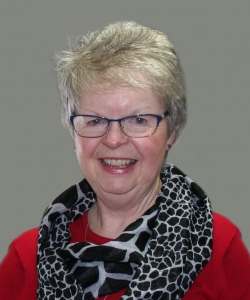 VERMEULEN, Myrna Kathleen – Died peacefully at Joseph Brant Hospital, Burlington, on Wednesday, September 6, 2023 in her 75th year. Predeceased by her life partner Don McEwen. Lovingly remembered by her sister Joan (Doug) Woods of Mount Forest, stepson Dave McEwen of Ottawa, sister-in-law Dianne Culp of Kitchener, and brother-in-law Ray Eaton of Cambridge. Survived by seven nieces and nephews, and four great-nieces and nephews. Predeceased by her father Elgin Culp, mother Gertrude Mader, stepfather Hubert Mader, brother Bruce Culp, and sister Dianne Eaton.
Myrna spent most of her working career with Halton Region and retired there. She faced many obstacles in her life, and did so with a positive attitude, grace and courage. She always put everyone else's needs above her own. Myrna met her life partner, Don, in the mid 70's. Together, they enjoyed helping friends and neighbours, taking trips to the casinos and buying lottery tickets, collecting Elvis memorabilia, coffee with friends, and quality time with family.
The family would like to thank Myrna's many friends in Burlington who helped and supported her. A special thank you to Lily who graciously assisted with transportation to appointments and errands - your kindness will never be forgotten. Appreciation is also extended to the staff of 6th Floor South at Joseph Brant Hospital for their care and compassion. Thank you also to the staff of the England Funeral Home for their professionalism and guidance.
Cremation has taken place. A come-and-go celebration of Myrna's life will be held in the Lower Leisure Hall at the Mount Forest & District Sports Complex, 850 Princess Street, Mount Forest, on Saturday, September 23rd from 2:00-4:00 p.m. Private interment will be held at Mount Forest Cemetery. Those wishing to make a donation in memory of Myrna are asked to consider the Joseph Brant Hospital Foundation or the Heart & Stroke Foundation. Arrangements entrusted to the England Funeral Home, Mount Forest.
Condolences
To alll Myrna's family and friends our sincere condolences. Myrna was such a good and supportive friend . Mornings were not the same when Myrna was missing from the Tim's gang. It has been a joy and a privilege to call her friend. Sorely missed by all who knew her.

— Marie and Colin Smith, October 3, 2023
Myrna was a valued and joyful friend.She will be missed.
— Dan and Janet Crouse, September 11, 2023
We are sadden to hear of Myrna's passing she was a great friend for the last 27 years. We shared lots for fun time with her and Don. She will be missed by many. love Barb and Bill
— Barb and Bill Shillingford, September 11, 2023
The passing of any family member is distressing.

With sympathy,

Mary Jane Cantlon
— Mary Jane C a n t l o n, September 11, 2023
Very sorry for your loss and ours
Myrna was great friend of all the family at Tim's
— Terry Ball, September 11, 2023
Our heartfelt condolences to you Joan, Doug and family as you grieve the loss of your dear sister Myrna.
Praying for comfort and peace that goes beyond our understanding.

— Murray & Brenda Calder, September 10, 2023
So sorry to hear of your sister's passing. Our thoughts are with you and Doug at this difficult time.

Chere and Jim
— Chere and Jim Ramore, September 10, 2023
Dear Joan & Doug,& Family,
Joan….I know first hand that nothing can truly heal the loss of a sister. Myrna always had such wonderful thoughts of you, and all those beautiful memories that will never go away. She was a lovely person , but ,you already know that. I'm happy to have had the privilege of knowing her. She was a very good person.
There is absolutely nothing that I could say that would console your loss except time & a quiet prayer to get you through this sad time.
Sincerely Bonnie🙏✝️
— Bonnie, September 10, 2023
Joan, Doug & family: So sorry for your loss. Thoughts and prayers are with you at this sad time.
— Doris Carmount, September 10, 2023
So very sorry for your loss. Myrna was a kind hearted person. She will be missed by many. She is now at peace and is not suffering anymore.

My Deepest Sympathy
Marlene Malison (mother Jacki Culp)
— Marlene Malison, September 10, 2023
To Joan, Doug & Family, I wish to express my sincere condolences . May your memories sustain you through this sad time. My prayers and sympathy are with you.
Sincerely, Marlyn Howard
— Marlyn, September 9, 2023
To Joan and Doug and Family,
My deepest condolences to you in the passing of a dear sister.
May you often remember the good times you shared in life with her, as well as difficult times, that are a part of our human existence.
My thoughts and prayers are with you, Joan and Doug, and your daughter.
Most sincerely,
Pauline Brown
— Pauline Brown, September 9, 2023
Joan and Family Sincere condolences to everyone. Our thoughts and prayers are with you. It is hard to say goodbye but she is at peace. Hugs. Wayne and Sandra
— Wayne and Sandra Lytle, September 8, 2023