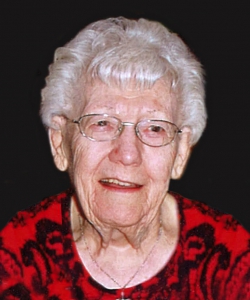 Mary Ruberta Reeves
October 14, 2023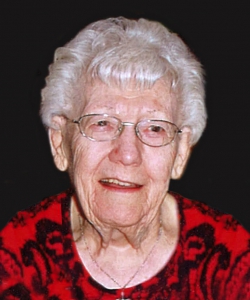 REEVES, Mary Ruberta – A resident of Arthur and formerly of Mount Forest, passed away peacefully surrounded by family at Groves Memorial Community Hospital, Fergus, on Saturday, October 14, 2023 in her 97th year. Beloved wife of the late Mervyne 'Merv' Reeves (2010). Loving mother of Joyce Golem of Guelph, Elaine Laughlin (Les) of Fergus, Connie Reeves-Bolger (Tim) of Ariss; and mother-in-law of Brian Liesemer of Ayton. Predeceased by her daughter Kathy Liesemer (2023), son Phil (2013), and son-in-law Ken Golem (1997). Cherished grandmother of Janessa, Jeremy (Michelle), Mark (Kyla), Bethany (Adam), Amber (Greg), Salina and Chantel (Kyle); and great-grandmother of Ryder, Taxen, Harper and Breyer. Survived by many nieces, nephews and their families.
The memorial service will be held at Mount Forest United Church, 175 Queen Street East, Mount Forest, on Friday, October 20th at 1:00 p.m. Private interment will take place at Mount Forest Cemetery. Those wishing to make a donation in memory of Mary are asked to consider Hayden's Hope Foundation, Cancer Patient Services or Diabetes Canada. Arrangements entrusted to the England Funeral Home, Mount Forest.
Condolences
To Joyce and Connie, I was very sad to hear of your loss. Please accept my most heartfelt sympathies to you both and your families.
— Robert Landry, October 23, 2023
Sharing my condolences to the family. May you find comfort in the memories shared in the days and weeks to come. Michelle Klis
— Michelle Byers Kis, October 23, 2023
So sorry to hear about the passing of your mother. She was a great lady, always so jolly about everything.
I met both Mary and Merv when there would be school functions in Arthur Township. You will miss them but there will always be the wonderful memories.
Pauline Brown
— Pauline Brown, October 20, 2023
Sincere condolences to the family. Mary was a very kind, caring woman.

— Susan Nevills and Liz Upham, October 20, 2023
Mary was my 4H Homemaking Club leader for several years. Remembering her fondly. Condolences to all her family.
— Dorothy Cook, October 20, 2023
Sending our sincere condolences to everyone with Mary's Passing. Elaine and Les, Connie and Tim, Joyce. Brian Liesemer and Families. Honoured to have been able to meet your parents and to have enjoyed some good times with them. Thinking of everyone. Bill Macdonald and Lisa Morrison.
— Bill Macdonald, October 19, 2023
Our condolences to Marys family at this sad time . Mary and Merv spent evenings with my parents and family Love to all . Murray and Darlene ( Lamont ) Runhart and Famillies .
— Darlene Runhart, October 19, 2023
Sincere condolences to the whole family. I remember many visits with my grandparents that Mary and Merv were there. Remember the good times. Hugs to all

— Mark and Joanne Byers and family, October 19, 2023
I am so sorry to hear of Mary's passing. She was a wonderful woman.
— Helene Jones, October 18, 2023
Our sincere condolences to your families at this sad time.
Jim and Kathy Armstrong
— Jim and Kathy Armstrong, October 17, 2023
I've known Mary and her family for many years, my parents where friends of Merv and Mary, and I can still see them dancing and enjoying themselves, at the dances mom played at. I grew up with her girls, such a good family.
Our sincere condolences at this sad time.
— Ruth-Anne and Wayne Rawn, October 17, 2023
So sorry for your loss Mary was a great person thinking of all of you .


— Lois Seguss, October 16, 2023
I am so sorry to hear of Mary's passing i remember the day your mom and dad came for a tour.Then moved in, she was a lovely lady i will miss her.Hugs too you all xo
— vicky woods, October 16, 2023
Sincere condolences to all the family…Our mothers were very close over the years. I remember as a child going to Mary and Mervyn's to visit and also staying for a holiday one time. I got my first cat Topsy from the Reeves farm. Great memories to cherish. Thinking of you in this sad time. Mary was a kind caring woman.
— Shirley McCulloch (Eccles), October 16, 2023