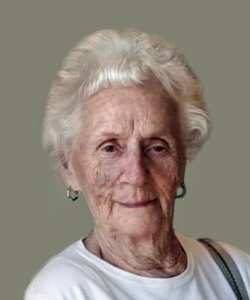 Audrey Doreen MacGregor
October 16, 2023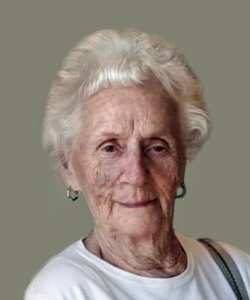 Audrey Doreen MacGregor (née MacMillan)
November 5, 1927 – October 16, 2023
It is with heavy hearts that we announce the passing of Audrey Doreen MacGregor (née MacMillan) on Monday, October 16, 2023 at the age of 95. Beloved mother of Gary (Sharon) of Elmira and Sandy (Heidi) of Mount Forest. Audrey was predeceased by her parents, Theron Freeman MacMillan and Pearl Kathleen (née Wright), her eldest son, Darryl, and her eight sisters and two brothers. Audrey was the cherished grandmother of Andrew, Timothy, Rachel, and Christine, and the proud great-grandmother of Maggie, Robert, Paisley, Ethan, Pearl, Logan, and Cade. Audrey will be greatly missed by many extended family members and dear friends.
Audrey was born on November 5, 1927 in Havelock, ON. Audrey spent her childhood years in the Peterborough area, later moving to Kitchener-Waterloo for 68 years. She retired from Grand River Hospital and then spent many years caring for anyone in need and enjoying her family. After a short season of illness, she was moved to Strathcona Long Term Care in Mount Forest. She was a faithful Christian and an active member of her church. Her encouragement and kindness were magnetic and she was loved by all who knew her.
A heartfelt thanks to all the staff at Strathcona Long Term Care who cared for her with compassion for the past seven months. Your kindness will not be forgotten.
A memorial service will be held at Mount Forest Pentecostal Church, 259 Fergus Street South, Mount Forest, on Wednesday, October 25, 2023, at 10:30 a.m. The family welcomes donations to Ramoth House as an expression of sympathy. Arrangements entrusted to the England Funeral Home, Mount Forest.
Condolences
Miss you Grandma Audrey I was actually thinking of you on Oct 20th. Go bug my Grandpa's for me 💜
— Jessica Calinao, October 24, 2023
My condolences on the loss of your mother. I appreciated her friendly Christian attitude. She usually had a smile and could have fun. She will be missed.
— Ron W Shram, October 23, 2023
I would like to extend my heartfelt condolences to Audrey's family. My Thoughts and Prayers are with you.
Audrey was such a great friend who loved the Lord with all her heart. She was truly a "Special Person" with a real sense of humour. We had many, many great times together and I will miss her so very much.
— KAREN LEWIS, October 23, 2023
Audrey was such a wonderful woman. Always saying a word of prayer to everyone she met. We really miss you alot but we take solace in the fact that you left a lasting legacy in the minds of your loved ones before going to meet the Lord. May your gentle soul rest in perfect peace as the Lord gives all those you left behind the fortitude to bear the loss, Amen.
— Samuel Idire, October 23, 2023
My deepest sympathy for your loss
— Brenda Tubman, October 20, 2023
Sincere sympathy to all. She was a great lady and had a huge heart.
— Eileen Pirkl, October 20, 2023
Deepest sympathy Sandy and Heidi.
— Lois Scott, October 20, 2023
Sandy and Heidi, I am sorry to hear of her passing.
— Barb Leigh, October 20, 2023