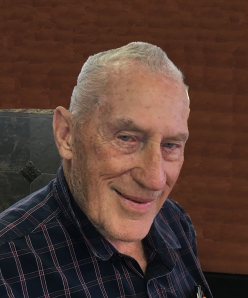 Ivan James Barber
October 21, 2023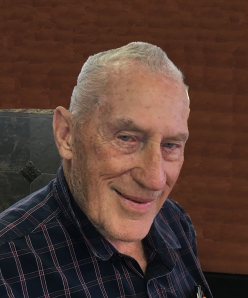 BARBER, Ivan James - Peacefully at Mississauga Hospital on Saturday, October 21, 2023 in his 98th year. Beloved husband of the late Nellie Barber (2016). Loving father of William "Bill" Barber and his wife Gail of Mississauga, and Patricia "Pat" Cater and her husband Murray of Brampton. Cherished grandfather of Christal Narday (Kevin) of Bolton, Robert Barber (Emily) of Georgetown, James Barber (Janice) of St. George and Matthew Barber (Jessie) of Mississauga and great-grandfather to 10 great-grandchildren.
Ivan was born in Drayton, and grew up in Mount Forest. He moved to Toronto in his 20's for work. He married, and together they raised their family in Toronto.
A service to Celebrate Ivan's life will be held at City Centre Church, 1075 Eglington Avenue West, Mississauga on Friday, October 27, 2023 at 2:00 p.m. Private Interment at Mount Pleasant Cemetery, Normanby Township, ON. In lieu of flowers, those wishing to make a donation in memory of Ivan are asked to consider the Slavic Gospel Association. England Funeral Home entrusted with arrangements.
Condolences
Ivan had a significant impact on my father and uncle starting in their teen years, growing up in Normanby Township, especially spiritually. Condolences to all the family.
— Blaine Witherow, October 31, 2023
Ivan was a trailblazer in our industry and life long contributor. He will be missed.
— Kati & John Pierce, October 27, 2023
"He Accomplished a Lot, He Made a Difference!!"
Although I have only known MR. Ivan BARBER for a little over 4 years, I have heard a lot about his talents and accomplishments. When we met and he heard my surname, he immediately told me about a friend in Brantford, with the same name.
Then, it did not take long for Ivan to enquire about my spiritual well being. I could confidently report that I was also a "God Believer". It turned out that we knew some of the same people within church communities. He was interested in, and would ask me about the progress of my church's redevelopment project in Weston.
I had the opportunity to visit him at Beechwood Home a few days before Christmas 2022, and he told me some of the fascinating stories of his life. Ivan lived well and finished well, leaving a strong legacy for his family to continue and enhance.
To the Barber Family, my sincere condolences, continue the race.
There's a Brand New Star up in Heaven now; Enjoy Eternity Ivan...
Until we meet again.

Dave Bolender
— Dave Bolender, October 27, 2023
Bill
I am so sorry to hear about Ivans passing. I loved spending time with him every time I had the chance. He was one of the last ICONS of our industry. I will miss seeing him, as most people in our industry wouldn't understand some of the we talked about.

Stay strong.
— anthony analetto, October 26, 2023
I wanted to express my deepest condolences. I didn't have the opportunity to know Ivan very long, but we would often chat on the phone about business. He was a pleasure to talk with and I know he will be missed.
— Samantha Tascione, October 26, 2023
To the Barber and extended family:
Ivan's priority was to live a God centered life. He was a walking history book of experiences over several generations. It was always such a pleasure to hear the stories from the different eras of his life. Hope the great memories and legacy of Ivan gives you comfort.
May you find strength in family and friends as you go through this difficult time.
— Angela Alexander, October 25, 2023
We are deeply saddened to hear about the passing of Ivan James Barber. He was a respected and admired within the industry. He had a positive impact on everyone he met, and he will be greatly missed. Please accept our heartfelt condolences during this difficult time.
Maple Brook Investments
— Maple Brook Investments (Andrew), October 25, 2023
I am so sorry to hear of Ivan's passing. Sending condolences and kind thoughts to all of the Barber Family.
— Deb Scott, October 25, 2023
Condolences to the Barber family ,wishing you all strength during this difficult time.


— Maurice Rose, October 25, 2023
Bill and Pat -
Very saddened to learn of your father's passing .
Had many years working with him .
Our thoughts and prayers are with you at this time .
' Absent from the body - present with the Lord ' .

Jeff and Annie Whitehead
— JG Whitehead, October 24, 2023
One of my favourite memories of Ivan is the laugh he got when he saw a mouse jump out of the dashboard of the old Kaiser Manhattan he had loaned to us the day before for our wedding! He got such a good chuckle out of that, thinking of what would have happened if that had been while Bill was driving us on our wedding day. He was quite the character. I am sure your family has many many stories of Ivan. thinking of you all as you gather, remember, mourn and celebrate his life. Warmly, Marian.
— Marian Boyd, October 24, 2023
Bill and Pat, I am very sorry to hear of your father's passing. I know this is a hard time for you all. May you know the comfort of the Holy Spirit in your grief.
Pat
— Patrick Delemere, October 23, 2023