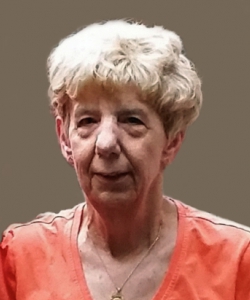 Anna Brouwers
November 5, 2023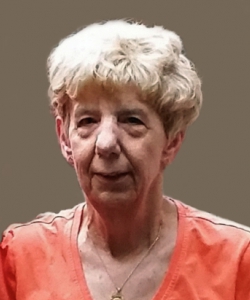 BROUWERS, Anna (née Van Goch) – Passed away peacefully at home on Sunday, November 5, 2023 in her 80th year. Predeceased by her husband Martin Brouwers of 56 years. Loving mother of Paul (Stephanie) Brouwers, Steve (Crystal) Brouwers, and Martha (John) Motta. Cherished Oma to Bill (Deanna Ditner), Shelby, Baleigh, Abbeygale, Ava, Cayden and Skye. Adored great-Oma to Rhett. Dear sister of Adrian (Sharon) Van Goch, Marlene (Gary) Holland, Pat (Mike) Noonan; and sister-in-law of Dina Vanderheyden, Corrie Brouwers and Herman (Barbara) Plas. Sadly missed by many nieces and nephews. Predeceased by her parents Catharina (Toos) and Lenard; siblings: Joanna Plas and Al (Madeline) Van Goch; in-laws Johan and Maria Brouwers; brothers- and sisters-in-law: Ted Brouwers, Geil (Jaantje) Brouwers, Bill (Nellie) Brouwers, Bert (Riki) Brouwers, Johan (Meike) Brouwers, Gerarda (Marinus) Kuijpers, Truus (Jan) Vanderheyden, Gilia (Hans) Van den Boogaart, Doortje (Piet) Vander Burgt.
The family would like to extend a special thank you to Kathy Renton-McLeod and the Bayshore Palliative Team for their comfort and compassion.
Visitation will be held at the England Funeral Home, 294 Main Street South, Mount Forest, on Tuesday, November 14th from 12:00-12:45 p.m. followed by a memorial service at 1:00 p.m. A private family inurnment will be held at Bethesda Cemetery, Moorefield. As an expression of sympathy, donations may be made to the Heart & Stroke Foundation or the Louise Marshall Hospital Foundation.
Condolences
Our condolences from the Groshaw and Cosens families. Martin and Anna were kind, caring and humble and will be kept in our hearts.
Deepest sympathy to you all.
Groshaws and Cosens
— Dwayne and Katy Groshaw, November 18, 2023
My sincere condolences to Anna's family with her recent passing. She had a real sense of humor,and made you feel welcome. May your memories bring you all,peace and comfort, knowing she is reunited with Martin. Rest in peace Anna. Sincerely Crystals mom♥️♥️♥️♥️♥️🌹🌹🌹🌹
— Margaret Forester, November 10, 2023
I remember Aubt Anne and uncle Martin's wedding. It was my first wedding and Aunt Anne looked so beautiful and so happy. She was often quiet but when she spoke to you she filled you with love and attention. She was a wonderful woman. I'm glad Steven and Paul will have many wonderful memories to help them in their grief.
Love cousin Brenda
— Brenda Brouwers, November 10, 2023
Steve and family. Your Mother was the sweetest little thing. (Steve you should be more like her). ;) We are SO sorry to hear about your Mom's passing. Our thoughts and prayers are with you. Be strong, and remember she'll always be with you. LISTEN to her. ;) Deep condolences to you all.......... Jason and Amber Oakes
— Jason Oakes, November 9, 2023
Dear Steve and Crystal and families, we are so sad to hear of Anna's passing. She was such a good friend and client and we enjoyed many visits and laughs with her over the years we have known her and we felt so bad when she could no longer climb our stairs that she had climbed for so many years like a trooper dispite having to bring her oxygen along. We missed our weekly visits with this kind hearted lady. She had a great sense of humor and great love for her family. ❤ our sincerest condolences 🙏 Kathy Debb and Gerri at Gerri's Beauty Salon
— Kathy Russwurm, November 8, 2023
Dear Paul and Steven
I am so sorry for your loss! Aunt Ann was a presence in my life since I was a young girl and her and Uncle Martin lived on Martha St in Burlington. She was such a good aunt, friend to our parents, wife and mother. Her strength was a valuable asset to her family and I know she will be missed.
All of a sudden you are without parents and I know how hard that is to get used to. They will both always be in your hearts however so you will never be alone.
Love Angella

— Angella Brouwers, November 8, 2023
The earliest memory was from Jeremy cres. I had been wondering about wooden shoes.. you got them out of the closet and I tried them on..they aren't easy to walk in. We've had lots of laughs and have shed a few tears. I'm so glad I was able to be a part of your life, right till the end.. I will always remember you…love you and miss you 💔💔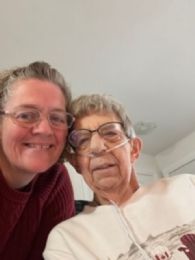 — Crystal Steffler, November 7, 2023
I am so sorry to hear about Anna's passing. Thinking of her family.
— Barb Leigh, November 7, 2023