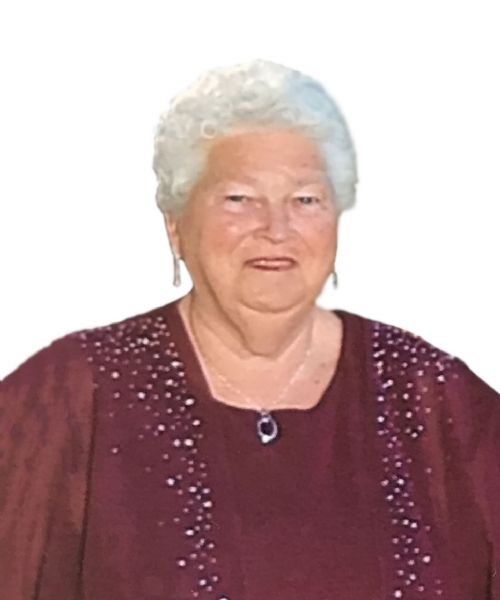 June Holliday-Wendon
December 22, 2019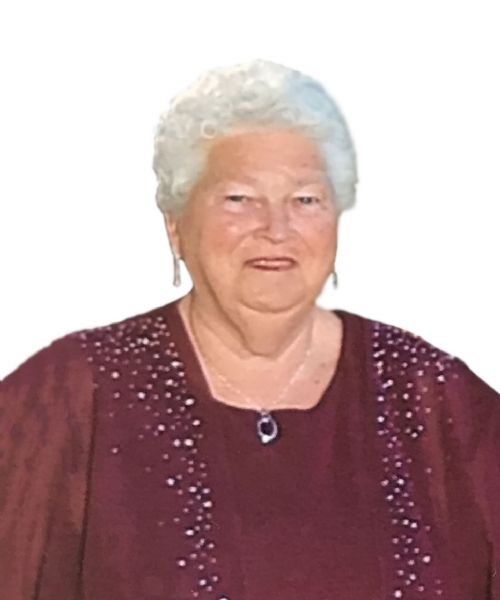 June Margaret Kathleen Holliday-Wendon (nee Mulligan), of Mount Forest, passed away with her family by her side at Caressant Care, Harriston on Sunday, December 22nd, 2019 in her 85th year.  Beloved wife of the late Lloyd Holliday and the late Terry Wendon.  Loving mother of Ruth-Anne and Wayne Rawn of Mount Forest, David and Brenda Holliday of Mount Forest and Julie Holliday and Chris Broomer of Grand Bend.  Fondly remembered by her grandchildren Jodie Rawn, Lindsay (Jon) Foulon, Ryan (Caroline) Holliday, Ben (Sarah) Holliday and Leah Holliday (Jay Gauci) and great-grandchildren Harlow Foulon, Mya and Max Holliday, Shae and Callum Darroch, and Adrienne Gauci.  Dear sister of Ken Beckner and his wife Sheila, Mary and her husband Norm Ashley, Dorothy and her husband Glen Bender, and Barry Beckner.  Predeceased by her great-granddaughter Hayden Foulon.  A private family service will be held at the England Funeral Home.  Spring interment at Mount Forest Cemetery.  As an expression of sympathy memorial donations to Hayden's Hope Foundation, Louise Marshall Hospital Foundation or the charity of your choice would be appreciated by the family.
Condolences
My sincere condolences to the family. June was a special person to many, most certainly to the Hrycajczuk family. Christine Orr
— Christine Orr, February 4, 2020
So very sorry for your loss. June was a lovely lady. Tina &Laura
— Tina Bremmers, January 5, 2020
June always had a great big smile and she always took the time to stop and chat and truly cared for and about all the people that surrounded her. "Man could she play the piano". Hum a tune and she knew the chords. She left us all funny and happy memories to call upon. Our thoughts are with your families during this sad time. Mount Forest has lost a "Grand old Dame"!
— Cheryl and Edward Murphy, December 30, 2019
So sorry to hear of your mothers passing, she was a lovely person always so friendly. Thinking of you all, Kim Janzen ( Cottell )
— Kim Janzen, December 26, 2019
I have a lot of memories of June from years ago, like her playing the piano for our wedding. She will be missed. Hugs to all.
— Barb and Dave Ritchie, December 24, 2019
Please accept our deepest sympathies, June was truly a Great lady with a huge heart, she will be missed, may she Rest In Peace, Jerry, Valerie and Family
— Valerie Arthur, December 24, 2019
Dear Ruth Anne and David, our sincere condolences to you and your families. Your Mom brought joy to many through her kindness and her music. May your memories bring you comfort at this most difficult time. Sincerely Patti-Jo McLellan Shaw
— PJ McLellan Shaw, December 24, 2019
We send our deepest sympathy to June's family.
— Barry & Thelma Rawn, December 24, 2019
Sending our sympathy to all June's family and friends. Treasure all your memories. Diane & Bill Dineen and Leonard Seifried
— Diane Dineen, December 24, 2019
You all have our deepest sympathy, Our thoughts and prayers are with you.
— Gord and Kathy Calder, December 23, 2019
Our thoughts are with all of the Holliday family. From the Farrow Family
— pam farrow, December 23, 2019
I am saddened to hear of June's passing. I remember her as a cheerful bus driver and a fellow musician of my moms when I was a child right up until she played at Letterbreen where my grandparents attended. My thought and prayers are with her family and may the great memories carry you through. Melissa Gissing ne: Patterson (daughter of Howard and Bonnie)
— Melissa Gissing, December 23, 2019
I AM SO SORRY TO HEAR OF THE PASSING OF JUNE-I WENT TO HIGH SCHOOL WITH HER IN MT FOREST- MARGE PETERS NEE MCINTOSH=SARNIA ONT.
— MARGE, December 23, 2019