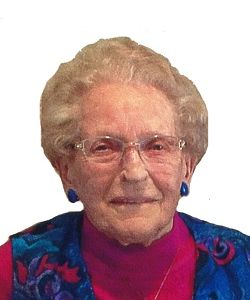 Olive Aitken
August 6, 2019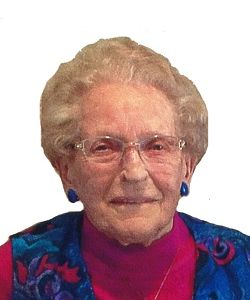 Mary Olive Elizabeth Aitken (nee Morrison), of Holstein, passed away at Louise Marshall Hospital, Mount Forest on Tuesday, August 6th, 2019 in her 99th year. Beloved wife of the late Walter Aitken. Loving mother of Muriel Fettes and her husband Bob of Port Dover, and Morley Aitken and his wife Bonnie of Holstein. Fondly remembered by her 6 grandchildren and 10 great-grandchildren. Dear sister of Inez Pratt, Jean Bovingdon and her husband Tom, Raymond Morrison and his wife Karen, and sister-in-law of Velma Morrison, Isobel Morrison, and Beulah Aitken.  Predeceased by her daughter Marlene, her son Morris, her siblings Royden Morrison, Vera Aitken, Lloyd Morrison, Hazel Northey, and Roy Morrison, her brothers-in-law Murray Aitken, Walter Northey, Newman Pratt, Harry Aitken, and Art Haas, and her sister-in-law Elizabeth Haas.  Friends may call at the England Funeral Home, 294 Main Street South, Mount Forest on Friday, August 9th from 5 – 8 p.m.  A funeral service celebrating Olive's life will be held at the Funeral Home on Saturday, August 10th at 11 a.m. with visitation being held prior to the service from 10 – 10:45 a.m.  Interment at Mount Forest Cemetery.  As an expression of sympathy, memorial donations to Cancer Patient Services or Parkinson Canada would be appreciated by the family.
Condolences
Many a time on a Sunday afternoon drive, I found myself at an Aitken farmyard with my parents (Harry and Janet Mather). They held onto their Holstein connections with great affection. I always had trouble keeping the families straight! Art and Elizabeth's visits were always a highlight and they were most kind to me while I was a student in London. Small world situation: I met Beth's maid of honour at a social event while I was living in Saint John. My condolences to Olive's extended family. She was a lovely lady!
— Ruth Mather Halford, August 15, 2019
Thinking of you. I enjoyed visiting with Olive when I would deliver bulletins to her. She was always so gracious and ready to talk. Paula
— Paula Solway, August 12, 2019
Hello Morley, Bonnie and families. So sad to hear of Olive's passing. Sending you my deepest condolences. Glad to have met her over the years and will be thinking of all of you at this time.
— Bill Macdonald, August 10, 2019
We are all so grateful for the years spent together with Olive and Walter. Together through good times and bad. Farming, laughing, praying, singing. We are especially grateful for the last five months: Olive and Beulah living beside each other: Blest Be The Ties That Bind. Beulah's family.
— Neil Aitken, August 9, 2019
It is with our deepest sympathy that we send our condolences to all the immediate family upon learning of Olive's passing. Stan & Carolyn Lytle
— Stan & Carolyn Lytle, August 9, 2019
Our condolences to the Aitken and Morrison families in the loss of a wonderful lady. I have many fond memories of Walter and Olive when I lived with them while working in the Mount Forest area. Norm and Janette (Patterson) McIntosh.
— Norm and Janette McIntosh, August 8, 2019
Morley and Bonnie and family we are sorry to hear of your loss. Our thoughts are with you at this difficult time . Wendy & Carl Abbott
— Wendy & Carl Abbott, August 8, 2019
A life lived to the fullest. She will be sorely missed. Thinking of you in your time of sorrow. Ray & Donna Clark
— Ray & Donna Clark, August 7, 2019
Our sincere condolences to all of Olive's family. She was such a wonderful lady, and we were so fortunate to have her live at Hapfield for many years. She was kind and very thoughtful to my in-laws, Ross and Jean, when they were neighbours. The Christmas tree buns that Olive shared every year were a special treat for Ross and Jean and those of us lucky enough to share one of Olive's excellent home made treats. Her dedication to her Holstein community and the hundreds of pies and desserts she baked over the years for the various community events reflects her generosity and community spirit. We enjoyed staying in touch with Olive since her move from Hapfield - she was always a delight to chat with and quietly inspiring. We hope your family memories of Olive will bring you joy as you celebrate a life well lived. She will be missed. A donation to Cancer Patient Services has been made in memory of Olive, Sincerely, Patti-Jo McLellan Shaw & Jim Shaw, Mary McLellan Beck and the Hapfield team.
— PJ McLellan Shaw, August 7, 2019
Our deepest condolences to Muriel and Bob and family. She will be greatly missed. Muriel, the support you gave your mom was tremendous. May she Rest In Peace.
— Steve and Trish Storey, August 7, 2019
So very sorry for your loss, Olive was a wonderful lady. God Bless Bill & Judy
— Bill & Judy Gerber, August 7, 2019
Sending our sympathy to all Olive's family and friends. Sincerely Diane & Bill Dineen and Leonard Seifried
— Diane Dineen, August 7, 2019
My deepest condolences to the families of Olive, Treasure the memories, they are great
— Karen Switzer, August 6, 2019
Photo Album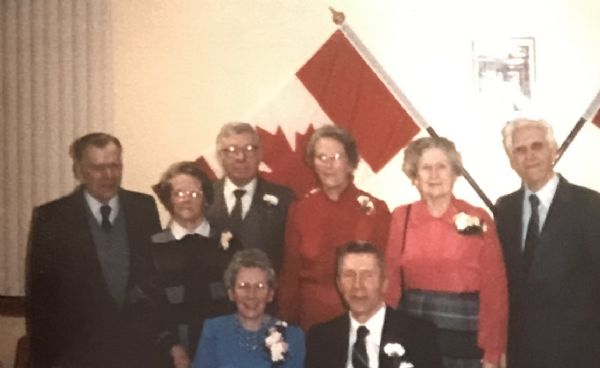 Here is Walter and Olive and the Alex and Belle Aitken children. Maybe 1985. All wonderful roll models and community leaders. Olive and Walter were always with me: church choir, baseball park, General Store, farm tours.