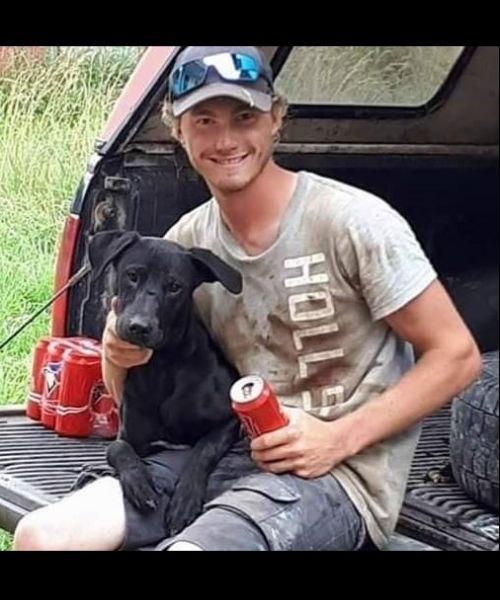 Jesse Robinson
July 29, 2019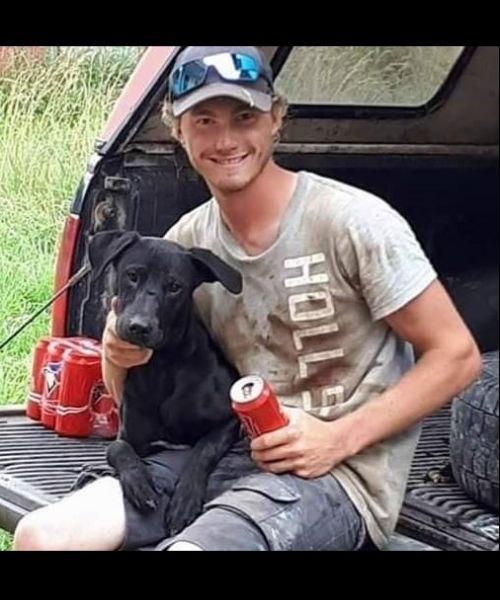 Tragically as the result of an automobile accident on Monday July 29th, 2019, in his 22nd year. Beloved boyfriend of Natasha Kiziak. Cherished son of Linda Robinson of Mount Forest, and Wayne and Miranda Robinson of Mount Forest. Adored brother of Jordan, Clara, Marshall, and Levi Robinson, all of Mount Forest. Loved grandson of Tom and Marilyn Robinson of Sydney, Nova Scotia, and Ada McQueen of Louisburg, Nova Scotia. Jesse's playful spirit will be missed by his aunts and uncles, Sandra Robinson, Billy Miller, Stephen and Fatima Hoy, Susan Hoy, Heather Watterworth and Adam Blahut, Maggie VanLingen, Lynn and Brian Langford, Ann and Jamie Dunn, Diane Pearl and Sean Lewis, Robert Pearl and Cody McCardle. Jesse will also be missed by Tanya Kiziak, Stephen Robertson, and extended family of great aunts and uncles, as well as many cousins. Also left to mourn are Jesse's chosen family – his many close friends, and especially the Johnson family. Predeceased by godfather Jon Hynes, grandparents Jim and Joyce Watterworth, uncle Kevin Hoy, aunt Cathy Miller, special great aunt Margie Hynes, grandfather Parker McQueen, and now resting easy with Mack McGlynn. Jesse found his greatest enjoyment outside and using his hands, from concrete and chainsaws, to fishing, hockey, baseball, and music. Cremation has taken place. Family and friends are invited to share their love and fond memories of Jesse at the England Funeral Home, 294 Main Street South, Mount Forest on Tuesday, August 6th from 2 – 4 and 7 – 9 p.m. A private family graveside service will take place at a later date. As an expression of sympathy, memorial donations to Mount Forest Minor Hockey Association or the Mount Forest Splash Pad (cheques payable to Township of Wellington North – Splash Pad) would be appreciated by the family.
Condolences
Linda, Wayne and family, our deepest sympathies over the tragic loss of your beloved son. Please know that you are in our prayers and hope that you are able to find some measure of peace in your grief.
— Samantha Gravelle, August 13, 2019
Linda & Family, Myself and Lori are heartbroken to hear of the sudden loss of your son Jesse. We are thinking of you and we are praying for you to be strong during this tragedy. Peter & lori Wells
— Peter Wells, August 8, 2019
To Jesse 's family and friends We are sending our sincere sympathy. May you treasure all your memories, Clayton will always remember Jesse as a classmate Sincerely Diane, Bill Grant, Clayton & Allison
— Diane Dineen, August 7, 2019
My deepest sympathy to you at this difficult time. I was saddened to hear this tragic news. I got to know Jesse while he was in high school and he always had a hello when passing in the halls. Even years later when I would see him he always had time for a chat. I'm so sorry for your loss and may the love of friends and family surround you.
— Rhonda Watt, August 7, 2019
Wayne, Miranda and Family. I am so sorry for your loss. I am praying for comfort and strength for your family at this time and as you move forward. Jesse always loved to have fun and joke around. He had a great smile. He will be missed by many.
— Michele Kleinsteuber, August 7, 2019
Linda and Jordan, I am so sorry for your loss. Jesse had a great smile and always loved to have fun. He will be missed. Praying for comfort and strength for you both during this difficult time and in the days ahead.
— Michele Kleinsteuber, August 7, 2019
Wayne, Miranda and family, Deepest condolences to you and your family. You are all in our thoughts and prayers.
— Kim & Andrew, August 6, 2019
Linda and family, I am so sorry to read about this terrible tragedy. I cannot imagine what you all are feeling but you are certainly in the thoughts of many in Cape Breton. Take care of each other.
— Treena MacNevin & Family, August 6, 2019
So very sorry for your loss. Condolences to the whole family.
— Marilynne, August 5, 2019
Dear Robinson Family, please accept our heartfelt condolences for your loss of Jesse, as we can't even phantom what this must be like, we keep you in our thoughts and wish you all the strength to face the future without him, also to hopefully be one day able to smile of the memories you all shared. Walther, Ingrid and Gillian van der Meer
— Fam. van der Meer, August 5, 2019
Wayne Miranda and Family I am saddened to here this news You are in my thoughts and prayers Leona Creber
— Leona Ceber, August 4, 2019
Wayne, Miranda and family We are so saddened to hear this news. You are in our thoughts and prayers Brian and Laura Kennedy
— Brian and Laura Kennedy, August 3, 2019
So heartbroken he was such a beautiful young man i am so sorry to you all love Eileen wish I could be with you guys
— Eileen, August 3, 2019
Sad not to have met you. From knowing your Dad I can only imagine what a fine man you would have been. Deepest sympathies.
— Tim, August 2, 2019