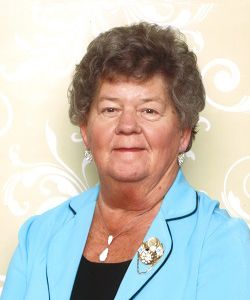 Dorothy Ferguson
July 31, 2019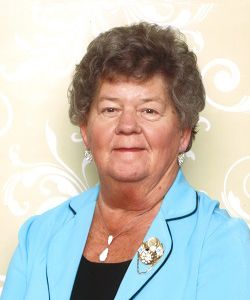 Dorothy Ilene Ferguson (nee Rae), of Mount Forest, passed away at Grand River Hospital, Kitchener, on Wednesday, July 31st, 2019 in her 75th year. Remembered by her children, grandchildren, great-grandchildren, siblings, extended family and friends. A funeral service celebrating Dorothy's life will be held at Mount Forest Pentecostal Church, 259 Fergus Street North, Mount Forest on Saturday, August 3rd at 11 a.m. with visitation prior to the service from 10 – 10:45 a.m.  Private family interment to take place at Cochrane Cemetery. As an expression of sympathy, memorial donations to Cancer Patient Services, Grand River Hospital Foundation, Diabetes Canada or Mount Forest Pentecostal Church would be appreciated by the family. Arrangements entrusted to the England Funeral Home, Mount Forest.
Condolences
We send our condolences to all in the family. Dorothy and I had fond memories of our early morning coffee at a women's weekend retreat some years ago. We would remind each other whenever we met. Love to you all from Aletha and Bob
— Aletha and Bob McArthur, August 5, 2019
So sorry to learn of Dorothy's passing, Please accept our deepest sympathies , Jerry, Valerie and Family
— Valerie Arthur, August 5, 2019
Very saddened to hear the loss of Dorothy. Was always a pleasure to stop and have a chat whether it be in Tim Horton's or downtown. Our deepest condolences to the Ferguson and Rae Families. Our thoughts and prayers are with you during this difficult time. Ken and Joan Hayward
— Ken Hayward, August 4, 2019
My deepest sympathy to the Ferguson and the Rae Family. I am so grateful for the wonderful times we had together. The visits and talks were priceless. I will miss Dorothy. Thank you Janice for taking me down to the hospital to visit with your Mother. Memories are forever.
— Isabel (Black) Primmer, August 3, 2019
Our thoughts and prayers are with the family Gary and Sheila MacEachern
— Gary & Sheila MacEachern, August 2, 2019
Our condolence to the Ferguson and Rae families. Our families share a long history of memories.
— John & Janet Moore, August 2, 2019
Oh Dorothy, such a good loving person to have as a model growing up. I will miss your smile, our quick chats at Tim Horton's on my way through town. Sorry to hear of your loved ones feeling now the pain of your loss. So blessed to know you are with Jesus, & your Heavenly Father. Thank you for being who you were to me. I'll miss you. Love Janifer To Dorothy's Family and Eddie...biggest hugs. I am so sorry for your loss. I pray for your comfort as your hearts process this pain.
— Janifer Meek (Leibold), August 2, 2019
Dear Ferguson family- sending our condolences to you. Debbie, Kim and Tara .
— Debbie Donald, August 2, 2019
Our sympathy to Dorothy's family and friends. We will miss seeing her around town at various events. Sincerely Diane & Bill & Leonard Seifried
— Diane Dineen, August 2, 2019
I met Dorothy through my friends Ruth & David Rae. I will always remember her being so faithful driving school buses and her cheerful smile whenever she saw me. I will miss seeing you Dorothy.
— Barbara Dawson, August 2, 2019
Thinking of you at this difficult time.
— David and Diane Corley, August 2, 2019
Our heartfelt sympathy to the Ferguson & Rae families.
— Norm & Janet Freiburger, August 1, 2019
I've been friends with Dorothy since we attended Mount Forest High School and rode the school bus together. Our family will never forget the many kindnesses she extended to our mother, Josephine Feairs. We are saddened by Dorothy's death and send sympathy to all of the Ferguson family.
— Eleanor Mueller, August 1, 2019
First of all big hugs to all of you who lost a great Lady! Memories are mean't to be kept alive by talking often of your Loved One. We will definitely miss Dorothy and our coffee times at Timmies. xoxo Ken & Debbie Reid
— Ken & Debbie Reid, August 1, 2019
Our deepest sympathy to all your family. You're in our thoughts and prayers. LLoyd (Shirley) Brown, Shirley-Anne, Pam, Winston, Tim and families.
— Pam Prokop, August 1, 2019
My heart goes out to all of you. You mom was a dear friend to my mom and I am thankful for their friendship. I remember going to the farm house and being so excited to hang out with you guys. Your mom was also so good to us. Hugs from all the McKeown girls!
— Joanne McKeown, August 1, 2019
I know words can't take away the hurt your family is feeling,our deepest sympathy to the Ferguson Family. Sending you love and strength in this time of loss. Greg and Julie MacEachern
— Julie MacEachern, July 31, 2019