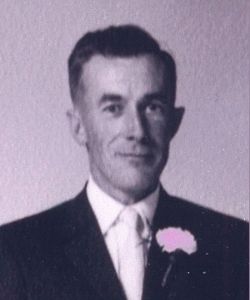 John Mulhall
April 28, 2019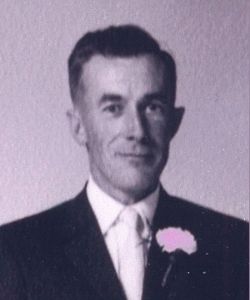 John Ignatius Mulhall, of Conn, passed away at St. Joseph's Health Centre, Guelph on Sunday, April 28th, 2019 in his 89th year.  Beloved husband of the late Elisabeth Mulhall (nee Broering).  Loving father of John Robert Mulhall and his wife Pam of Halton Hills, and Catherine and her husband Peter Yake of Acton.  Loving grandfather of Patrick and Isaac Mulhall, and Lindsey and Michael Yake.  Dear brother of C Blanche Mulhall.  Predeceased by his brother Eugene Mulhall.  Friends may call at the England Funeral Home, Mount Forest on Friday, May 3rd from 3 – 5 and 7 – 9 p.m., where a vigil prayer service will be held at 6:45 p.m.  Mass of Christian Burial will be held at St. Patrick's Catholic Church, 046045 Southgate Road 4, Conn on Saturday at 11 a.m.  Interment at St. Patrick's Catholic Cemetery.  As an expression of sympathy, memorial donations to Alzheimer Society, Louise Marshall Hospital Foundation, or VON would be appreciated by the family.
Condolences
Dear Catherine, dear John, we would like to express our sincere condolences. We are sorry to hear of your great loss. We will allways remenber your father. In loving memory Bernadette, Herbert, Johannes, Michael.
— Bernadette Bröring-Wolf, May 12, 2019
John and Catherine, I only just now found out about the passing of your Dad...Another major figure of St. Pat's has left us! We will certainly have a mass said! My condolences to you and yours. Jacqueline Pickett.
— Jacqueline Pickett, May 6, 2019
John, Catherine & families - My sincerest condolences on the passing of your father
— Robin Pickett, May 5, 2019
Dear Catherine, I am deeply saddened by the news of your loss. My sympathies to you, your brother and the rest of your family. Christine
— Christine Riddell, May 3, 2019
Dear Catherine and John, The light of love shines brighter than the shadow of death! We will always keep your father in good memory. Sincerely Elmar and Gabi
— Elmar Broering, May 2, 2019
Dear John & Pam, Catherine & Peter, Years ago John and I became friends, he invited me to the farm occasionally and we shared good conversations. Then I got married, bought a farm for a hobby, and my spare time vanished. I will always remember him as a well-mannered gentleman who showed particular kindness to me years ago. You can be proud of your memories. Brian Padfield
— Brian Padfield, May 2, 2019
John and Catherine - It is difficult to lose one's parents. May your memories bring you peace and comfort. Sincerely, Dan and Gertrude Rice family - Dianne & Colin Reesor, Linda & Richard Ruff and Mary Jane Cantlon
— Mary Jane Cantlon, April 30, 2019