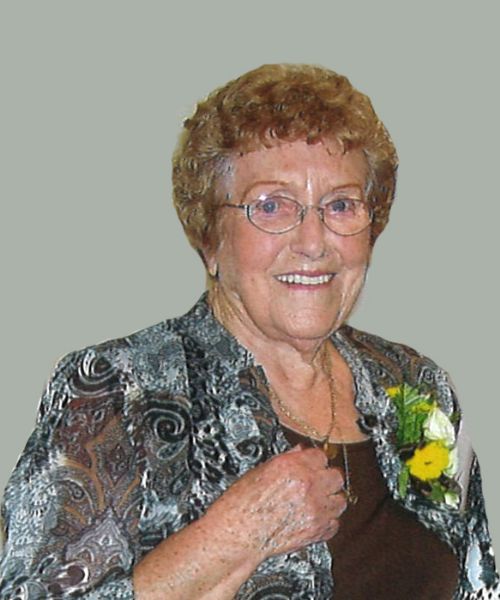 Audrey Donald
March 3, 2019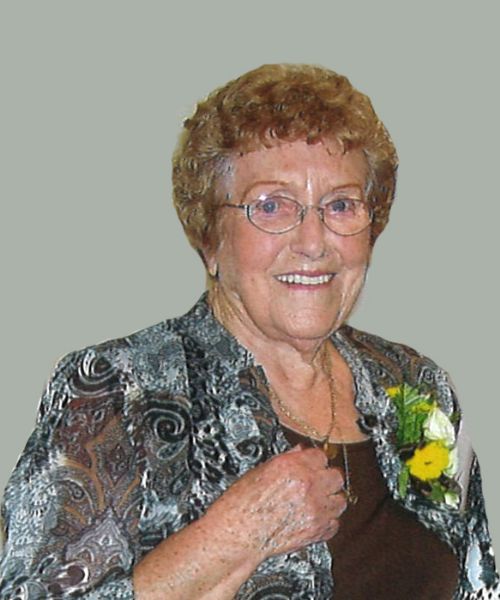 Hilda Audrey Donald (nee Watt), of Mount Forest, passed away at Guelph General Hospital, Guelph, on Sunday, March 3rd, 2019 in her 96th year. Beloved wife of the late Lloyd Donald.  Loving mother of Sandra Lytle and her husband Wayne, Brenda Leibold and her husband Brian and Linda Donald. Cherished grandmother of Jeff Lytle and his wife Trina, Rick Lytle and his wife Lynne, Angie Irvine and her husband Don, Shawn Leibold and his wife Sherry and Mike Leibold and his partner Theresa. Great-grandmother of Amber and her partner T.J., Clarissa, Grayson, Cameron, Nicole, Abby, Rylan, Connor, Paige and great-great-grandmother of Blair. Predeceased by 5 brothers and 2 sisters. Audrey was a member of the Louise Marshall Hospital Auxiliary for over 60 years, and was an active member of St. Andrew's Presbyterian Church. Friends may call at the England Funeral Home, Mount Forest, on Thursday, March 7th from 2 – 4 and 7 – 9 p.m.  A funeral service celebrating Audrey's life will be held at St. Andrew's Presbyterian Church, 196 Birmingham Street East, Mount Forest, on Friday at 2 p.m.  Spring interment at Mount Forest Cemetery.  As an expression of sympathy, memorial donations to St. Andrew's Presbyterian Church, Cancer Patient Services, or Louise Marshall Hospital Foundation would be appreciated by the family.
Condolences
Jeanette, John and Family, Sorry to hear about the passing of your Aunt Audrey, Our prayers and thoughts are with you at this time! Sincerely , Art & Jeanette Roelofsen
— Jeanette & Art Roelofsen, March 16, 2019
Our sincere condolences to all of you. Audrey was a lovely lady who contributed greatly to her community. Mount Forest was fortunate to have such a giving and kind resident. May your good memories help you through this difficult time.
— Patti-Jo McLellan Shaw, March 9, 2019
We are so sorry to hear of Audrey's passing. She was a lovely person and will be missed. Ray and Marion Parker
— Marion, March 8, 2019
To Audrey's family: Please accept our deepest sympathy on the passing of a special lady. She was a wonderful friend to our Mom, Margaret Gillies. Sincerely Betty and Larry Henry
— Betty Henry, March 8, 2019
Sandra, Wayne & Family: We extend to you our deepest sympathy on the passing of your mother. Fond memories of Audrey will always be with us. God Bless. Murray & Irene
— , March 8, 2019
Our heartfelt sympathy to you Sandra , Wayne & the Family. Your Mom was such a wonderful model for an Avon Rep. She will be sadly missed by all.
— KAYE & MIKE, March 7, 2019
To the families of Audrey Donald we send our sincerest condolences to all. Audrey was such a kind, thoughtful, and friendly lady who we saw often in the Condo building where my mother, Laura lived. She was certainly active in lots of organizations and will be missed everywhere. I'm sure Avon will never be the same either. Lots of good memories for you all. Mel and Myrna
— Mel & Myrna Penney, March 7, 2019
It has been a great pleasure knowing Audrey, she was a strong and kind person. I will miss seeing her. My condolences to her family.
— Anne Moore, March 6, 2019
Audrey will be sadly missed as a faithful volunteer at Louise Marshall Hospital. She had been an auxiliary member since 1951. We will miss her.
— Jane Ford, March 6, 2019
Sandra and Wayne, Brenda and Brian, Linda and families...I have many memories of your Mom, all of which I will treasure. You are in our thoughts.
— Kathy Calder, March 5, 2019
Dear Brenda and family so sorry to hear of your Mother's passing. She was such a lovely lady.
— donna.rob@hotmail.com, March 5, 2019
Sandra and family, our sincere sympathy on your loss. Our thoughts and prayers are with you. - Joe & Katheryn Meyer
— Joe & Katheryn Meyer, March 5, 2019
Dear Sandra & Wayne, Brenda & Brian, Linda, & families: Our sincere condolences at your loss...Audrey was a lovely lady & will be missed by many. with our caring & prayers, Gary & Gwynne
— Gary and Gwynne Smith, March 5, 2019
Our deepest condolences to the entire family and to the congregation of St Andrew's. It was my great fortune to get to know Audrey during my time in Mount Forest. I never had to worry what Audrey was thinking because she would tell me...sometimes we agreed, sometimes we disagreed but we were always able to talk and to laugh. I know how much she loved her family and her church and her community and how much she will be missed.
— Mike and Debbie Burns, March 4, 2019
Sandra,Brenda, Linda and families, we are sorry to hear about Audrey's passing.We will be thinking of you all in this difficult time.Deepest condolences John & Patti Weber
— John & Patti Weber, March 4, 2019
Dear Sandra, Brenda, Linda and families We were sadden to hear this news, We have so many great memories of Audrey ( one of the best Avon Ladies ever) to all the parties she hosted and so many more memories. She will be missed by many. Rest in Peace Audrey Sincerely Diane & Bill and Leonard
— diane dineen, March 4, 2019