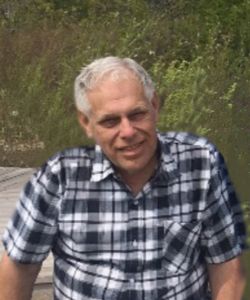 Murray Goold
February 28, 2019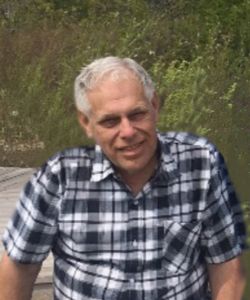 Murray Keith Goold, of Mount Forest, passed away at Peterborough Regional Health Centre, Peterborough, on Thursday, February 28th, 2019 in his 72nd year. Beloved husband of Suzanne Sharon (nee Hicks) for 47 years. Dear father of Dmitri Goold and his wife Linda, and Dominique Goold. Cherished grandfather of Julie, Jessica and Joshua Goold. Brother of Bob Goold.  Brother-in-law of Dale and Diane Hicks, Charles and Helen Hicks, Roxie Hicks and the late Jack Hicks. Nephew of Gord Butcher and his wife Jackie, and Jean Ward and her husband Jim. Also remembered by his cousins Gary Ward, and Lynda Goold. Sadly missed by many nieces and nephews. Predeceased by his parents Dorothy Butcher and Orlo Goold, his brother Lewis Harold Goold who died at birth and his sister-in-law Melanie Hicks.  Murray was an entrepreneur. Early in his marriage he was a child care worker and later a supervisor of child care workers in Toronto Lakeshore Psychiatry. At the same time, he ran a cash crop farm. He later gave up farming to work as a tractor salesman for Deboers Farm Equipment. He then moved on to be a commission salesman for BSM livestock confinement company. This led to him travelling all over the world to places such as Holland. He loved to travel.  After he retired, he went on to owning and managing apartment buildings in Elora, Fergus and Mount Forest. It was more than a job, he invested energy into the lives of his tenants. He deeply wanted to help them sort out their life skill problems. Some people didn\'t appreciate this, but many truly loved him. He ran the Mount Forest apartment building for 25 years, and many of those years he also ran the V&S Solutions store as well as the Bible bookstore. He absolutely loved people and knew everyone all over town. On the side he loved to buy and sell farm equipment. He also took extra training in ventilation and worked with a friend to design products that assisted with this. He was always wanting to learn and try new things such as being a pioneer in the use of Ground sourced heating/cooling in his home thirty years ago and using wind and solar energy to live off grid. He loved to read and try new things. In that last years of his life he volunteered for care partners in Mount Forest and delivered for Meals on Wheels. He also drove neighbours and friends in the Mennonite community around. He kept as busy as a young until the week he ended up in hospital.  Friends may call at the England Funeral Home, 294 Main Street South, Mount Forest on Wednesday, March 6th from 2 - 4 p.m. and 7 - 9 p.m. A funeral service celebrating Murray\'s life will be held at Central Pentecostal Church, 7674 Colborne Street, Fergus on Thursday, March 7th at 2 p.m. As an expression of sympathy, memorial donations to Central Pentecostal Church Benevolence Fund would be appreciated by the family.


Condolences
I am so sorry to hear of murrys passing .I use to cut his hair at Hair On Queen will miss his great stores .R.i.p
— Kate, March 19, 2019
Murray and I were cousins , born one day apart , and grew up 1/2 a mile from each other, in a farming community. Before his family moved away, when he was a young teen, he had already become a successful and welcome salesman in the neighbourhood, selling Regal greeting cards. As adults , we became reacquainted, when he and Suzanne visited us here in PEI , as well as when he was on business trips here. For many years, we have phoned each other on our birthdays in April, and during the Christmas season - always talking for hours about our families and communities, sharing thoughts about so many mutual interests.Murray grew up to be such a caring, likeable,interesting person and a wonderful friend.I treasure my memories of him and offer my sincerest condolences to Suzanne, Dmitri and his family, and to Dominique. Hugs to you all from Lynda (Gould) Reichheld and Gerald
— Lynda (Gould) Reichheld, March 6, 2019
Murray was a loyal customer at MacDonald's Home Hardware/appliances and was always so nice to deal with. He will be missed by many. Rest in Peace Murray Sincerely Diane Dineen
— diane dineen, March 5, 2019
I'm really going to miss seeing Murray and Suzanne in church. Murray was a generous, kind and intelligent man who made his ideas become realities. He was always interested in our lives. Over the past few weeks he accepted that his time on earth was short. And when visiting his strong, steady faith were and inspiration. Much love and sympathy to Suzanne, Dmitri, Dominique and family.
— MARY VANDERMAREL, March 4, 2019
I worked with Murray (and Suzanne) at V&S Solutions and later they moved across the road from my parents. Murray was a good boss and neighbour. He will be missed!
— Allison (Harper) Wierenga, March 4, 2019
My strongest memories of Murray are from many tears past when (as a child) he was my neighbour, and classmate in the one-room school houes called Hillcrest. We also attended high school together. It was during our high school years that Murray's family farm was expropriated for the construction of a new road. The family moved from a home with no electricity or running water. It was my sister Gwynneth who invited Murray and his brother Bob to attend our Sunday school at the Salvation Army. It was there that Murray and I became more than just neighbours and classmates. It was this connection that kept us as friends after the Goold family moved. Although our lives gradually drifted apart but we did keep in touch and Murray was a good friend to have. My condolences to Suzanne and Dimitri on your loss.
— Robin Ryerse, March 4, 2019