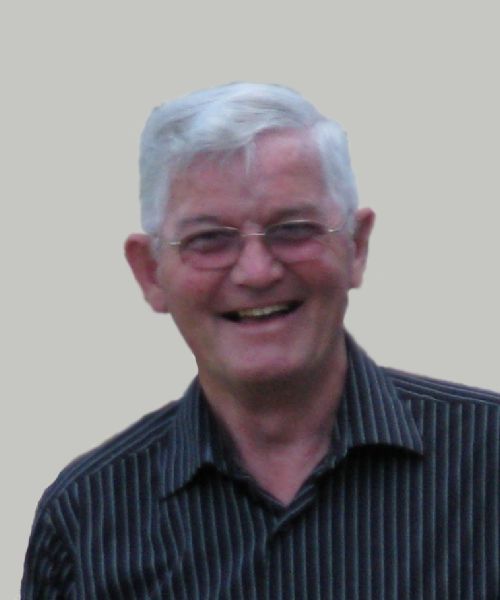 Robert Rae
November 9, 2018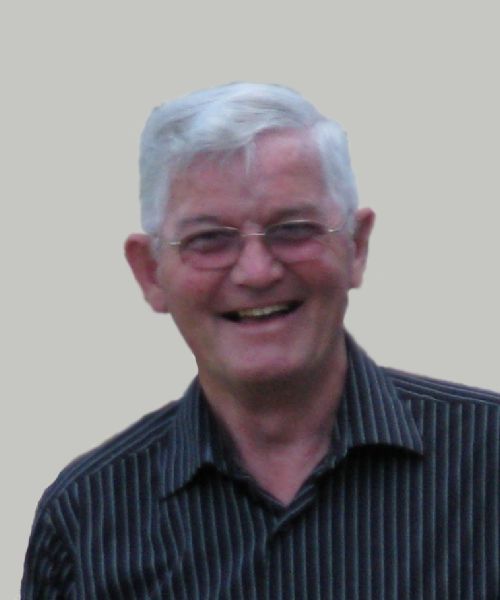 Robert Edward Rae, of RR#4 Mount Forest, passed away at the Louise Marshall Hospital on Friday, November 9th, 2018 in his 80th year.  Beloved husband of Eileen Rae (nee Pfeffer).  Loving father of Shawn Rae and his wife Joan of Britt, and Rhonda and her husband Peter Ridgeway of Durham.  Cherished grandfather of Melissa and her husband Travis Cox, Justin Rae, Blythe Ridgeway and Nathan Murray, Eric Rae and Jessica Deshevy, Brett Ridgeway, and Bryden Ridgeway.  Great-grandfather of Colton, Kaleb and Brinley.  Dear brother of Carson and Norma Rae, Delton Rae, Edna Jackson, Ormand Rae, Arnold and Marilyn Rae, Laverne and Irene Rae, Dorothy Ferguson, and David and Ruth Rae.  Brother-in-law of Stan Groff, Ed Ferguson, Rev. Dr. Lloyd Brown, and Gwen Bradshaw.  Predeceased by his siblings Norma and the late Ross Bradshaw, Shirley Brown, Betty Groff, and Mary Lou and the late Gordon Holliday, his sisters-in-law Fern Rae and Alice Rae, and his brother-in-law Donald Jackson.  Robert and Eileen owned and operated Robert Rae Fuels for 20 years supplying bulk fuel sales to the community.  Robert was a dedicated and passionate snowmobiler and he dedicated many hours to the betterment of the sport of snowmobiling.  Friends may call at the England Funeral Home, Mount Forest on Wednesday, November 14th from 2 – 4 and 7 – 9 p.m.  A funeral service celebrating Robert's life will be held at the Mount Forest United Church, 175 Queen Street East, Mount Forest on Thursday at 1 p.m., with visitation prior to the service from 12 – 12:45 p.m.  Interment at Mount Forest Cemetery.  As an expression of sympathy, memorial donations to Parkinson Society, Canadian Diabetes Association or Louise Marshall Hospital Foundation would be appreciated by the family.
Condolences
Our deepest sympathy to all of you.
— John & Lori Roefs, November 19, 2018
When I think about my grandfather and who he was, I can honestly say that we loved spending as much time with him as we did growing up. My brothers and I were given many a life lesson from our grandpa- both good and "oh that's going to get us into trouble". My grandmother will surely miss that sly grin that usually followed the trouble, his sense of adventure, and continuous energy that he always had. But Bob was also a man who appreciated hard work and kindness. Our mother, Rhonda, carries on that work ethic, confidence and determination that he had. In my brother Brett, I see the calmness that Grandpa carried himself with. Always content, reasonable, and the straight-line. In Bryden, I see that quick wit, humour, and spark. In my cousins, I see the childhood trips across the country and very tolerant grandparents who quickly learned the entire Shania Twain soundtrack. I see pool parties that never ended and questions as to why grandpa's bar of soap was sitting on the edge of the pool. I see snowmobile caboose rides, walks down to the barn to see the old John Deere's and vintage cars, and vinyl records being played after supper. There's a little bit of grandpa in all of us. For myself, I was graced with his gift of gab. After speaking to those who were able to join us yesterday for visitation, I've realized that it wasn't just the family who knew it wasn't truly a lunch date with Bob until he talked to half the restaurant. He resonated happiness and brought laughter into any room and he shared that friendliness with all that he could. Now, some of those friendships budded into being put to work on the trails but by the sounds of things, an entire countries' worth of trail stakes have been placed by Bob and the friends he's met along the way. He used to teach the course to the young kids to get the snowmobilers' permits years ago. I was one of the students back then and grandpa was so proud to have me there learning with him. Until I failed the test by one point- it was mechanical question, ya know. And the fella there who was marking my test asked if I planned on going out with anyone else aside from grandpa. If I had of said yes I'm not sure what would have happened, but I walked away with a smile and grandpa's approval that day and a very well kept secret with Bob. He truly loved his work as a Trail Warden for the Mount Forest Drifters and all he wanted was to share his passion. He showed a relentless dedication and pride to this community and was an absolutely astounding man. His love of life and desire to see the world and how he treated everyone with respect- he was the admirable lesson. He taught us to laugh and explore and live. And Bob was proud of all of us. But we are proud to say that he was our grandpa. From our family to everyone Bob has met over the years, if even as a passing wave on the trails, thank you for being here with us. He's just "gone for a run..."
— Blythe, November 17, 2018
If you knew our Grandpa you knew his love to talk and I don't mean just to his family and friends but to anyone who he'd see passing! Grandpa had this gift to spark up a conversation with anybody! If he said he was just heading out for a quick ride for a coffee, you knew he'd be much longer as there were at least one or two people he'd stop to chat with. Those longer rides didn't just end with his love to gab they continued with his love to ride! Snowmobiling brought so much peace and happiness to our Grandpa! If there was snow on the ground and Grandpa showed up, we knew we were missing a few days of school to go riding! And it wasn't just a short run!! And heaven forbid we ever take the same trail back! One time Grandpa,my 2 brothers, Justin and Eric and my dad had this crazy idea to take the sleds from our home in Britt all the way to Mount Forest and back!! I'm pretty sure they had to duct tape Eric to the sled! Grandpas love for sledding has been passed down to his son and grandchildren, and we don't intend to stop it there as all 3 of my children have been riding with their Papa since about 3 months old! Our Grandpa was a hard dedicated worker and he grew a successful business with our Grandma! He was a very proud Petro Canada distributor and boy when he found out my mom picked up a job in the summer working for a Shell Station, she certainly heard about it! He forgave her as she was helping out her cousin and well he absolutely adored my mom so he couldn't actually be upset with her! After working as hard as he did our Grandpa finally retired and enjoyed life travelling and camping with many friends, whom he met along the way! Myself and Blythe had the privilege of driving out West with Grandpa and Grandma one summer and those are some memories I will forever cherish! From Gondala rides up the mountains to good ol' Shania Twain sing alongs while driving! But I'll never forget the kind RCMP officer who came to the door of the RV to inform Grandpa he was not able to park where we were and that he needed to carry on! It wasn't the fact we had to move that upset Grandpa the most, but the "fruitcake" gloves the man was wearing! Grandpa honoured a man with a good firm, working man handshake and clearly with gloves like that how could he possibly have real man hands! That brings me to my Dad- Dad I'm not sure Grandpa ever told you how proud of the man you became, but I could see it in his face whenever you walked in the room! Even in his last days Grandpa always made sure to shuffle high and proud in his seat in order to give you the respectful man hand shake you deserved! Grandpa you will forever be missed but never forgotten and the beautiful snow that is currently falling brings us peace knowing you're happily- Out For a Run!! We love you Grandpa!!
— Melissa, November 17, 2018
Rhonda thinking of you and you family at this time
— Cathy and bob hass, November 16, 2018
We are shocked and saddened to hear of Bob's passing. We loved Bob. He was always smiling and sharing his joy with everyone. He made the world a better place. We will miss his mischievous sense of humor. We are sharing wonderful memories of him together. What a hole he will leave in your hearts. But know that he'll always be with you in spirit and memory. Watch for cardinals, dimes, butterflies and feathers. These will be signs that he's till around, guiding your path and sharing his love. Eileen, our thoughts and Prayers go out to you and your family. Carla Peppler, Sue Mulligan and Michelle Neuman from the Heartful Wellness Centre in Hanover
— Carla Peppler, November 15, 2018
Eileen, Shawn,Rhonda & families - We were very sorry to hear of Bob's passing. Sincere sympathy to all. May your many great memories be of comfort to you at this time. We were unable to attend the wake or funeral as Burton had hip surgery recently & is not out & about as yet.
— Marya & Burton Pinder, November 15, 2018
Eileen-We are sorry that we cannot pass on our condolences in person. Bob was a compassionate,kind man and a wonderful neighbor. He will be very much missed by all who knew him and thus we extend our deepest sympathy to all his family.
— Larry and Wilda Leibold, November 15, 2018
So sorry for your loss
— Ken and Heather, November 15, 2018
Eileen and families our deepest sympathy to all.
— Karen Switzer and Jim Seifried, November 15, 2018
Our sincere sympathy to Eileen and family. We did many a snowmobile "run" with Bob. Enjoyed his stories and the time we spent with him will not be forgotten.
— Dave Sparrow & Arlene Muckart, November 15, 2018
Our sincere condolences to you all as you mourn the loss of your husband, father and grandpa. May you find comfort in sharing memories of your loved one.
— Hank and Clara, November 15, 2018
Eileen, Shawn, Rhonda and families, I was saddened to hear of Bob' s passing. Bittersweet comes to my mind. And wow the many memories!! One of my favourite snow!mobile stories is how Bob coaxed me to snowmobile across a lake (which I always tried not to do) however he assured me if I rode with him and hung on I would be ok because his suit was buoyant and we would not sink. We went on many "a run" and when you went on "a run" with Bob you counted on leaving early in the morning and returning in the dark and always learning or seeing something new! He was an awesome guide! He had an awesome "run" for most of his time here on earth and he has left behind a great legacy of family, friends and many memories and stories that will be told for a long time going forward (even out on the trails!). Such an awesome picture of him capturing that twinkle in his eye and his heart-warming, friendly smile! You are all in my thoughts and prayers and I am so sorry for your loss. Happy Trails Bob! Big hugs, Marie.
— Marie Plume, November 14, 2018
Our sincere condolences, Eileen, to you and you family.......
— Tracey and Marj, November 14, 2018
Sincere condolences aunt Eileen. Our prayers of comfort to you all.
— Gary & Joanne Boudreau, November 14, 2018
We would like to express our deepest sympathies to the Rae family. Thoughts and prayers are with you, take comfort in your memories. Tom and Laurie Deshevy.
— Laurie Deshevy, November 14, 2018
My thoughts and prayers are with your whole family! My sincere sympathy. He was a great man, he will be very much missed. ❤❤❤❤
— Jocelyn, November 14, 2018
My earliest memory of Bob was him pulling into the backyard of our house on his Scorpion Whip sled – this was probably in 1976 and I was about 5 years old. We ran Ski-Doo and typical of Bob he asked me if I wanted to go for a ride on a 'real snowmobile?' Seconds later I was sitting in front of Bob on his Scorpion Whip and we took off across the field behind our house (I can clearly remember holding onto the fuel cap and being securely wedged in between his knees.). Thus began a life-long friendship centered around snowmobiling, building trails, marking trails, grooming trails, planning new trails, endless discussions on grooming equipment, 2 stoke vs 4 stoke – and most importantly of all buying new sleds - as often as possible. And who can forget his famous phone calls which always got right to the point - 'Want to go for a run?!!!' In the summer there were regular visits to his pool (always kept at least at 80F.) Thanks Bob for so many great adventures, fantastic stories and general advice on life. Happy trails my friend.
— Paul Barnard, November 14, 2018
Our deepest sympathy to you all!
— John & Judy Coghlin, November 13, 2018
We are so sorry for your loss, Bob was such a wonderful person. Our thoughts are with all of you.
— Tom and Lee Matthieu, November 13, 2018
To Eileen and family, our sincere sympathy.
— Joe & Katheryn Meyer, November 12, 2018
A life well lived. Our deepest sympathies .
— Ray and Donna Clark, November 12, 2018
Eileen and family, you have our deepest sympathy. He will be missed.
— Gord and Kathy Calder, November 12, 2018
Photo Album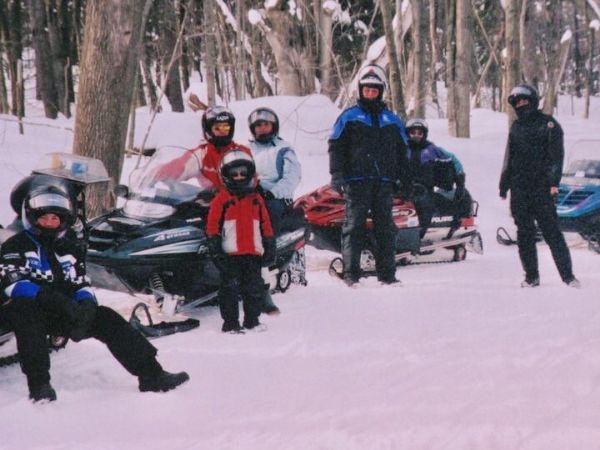 A collection of lights on the machine and a man of enthusiasm and dedication, snowmobilers across the province knew Robert. Between teaching the course for the beginner sledders to being Warden for the Mount Forest Drifters, everyone knew he belonged on t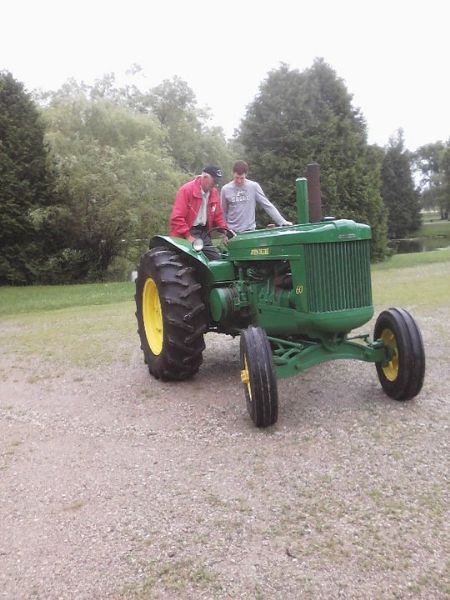 If ever you visited Robert, you knew you were going to go see his green and yellow machines. His love for John Deere tractors was well known and he always made sure to introduce his guests to his prided antiques. As the grandkids can remember, Bob enjoyed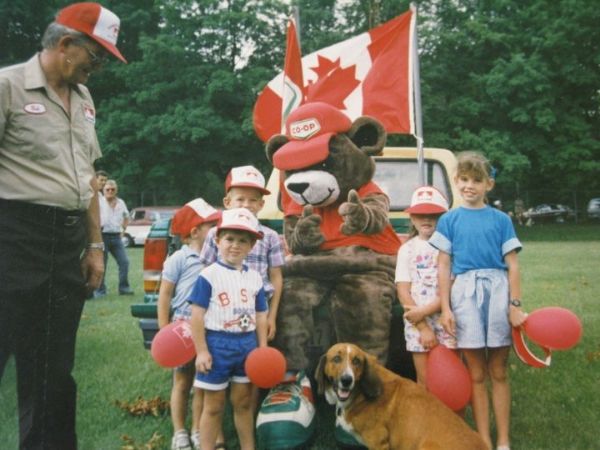 If recalled correctly, Bob had meter sticks created to hand out in this Canada Day parade featuring