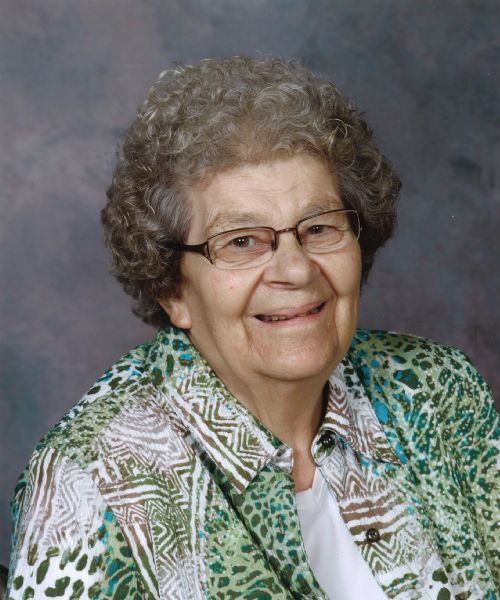 Betty Timbers
July 15, 2018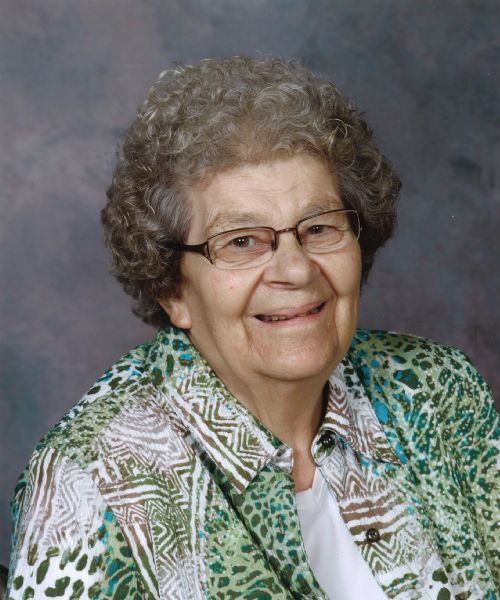 Leona Elizabeth "Betty" Timbers (nee Stover), passed away at Saugeen Valley Nursing Center, Mount Forest on Sunday, July 15th, 2018 in her 84th year.  Beloved wife of the late Stanley Timbers. Loving mother of Deborah Donald of Bradford, Janice Mokund of Toronto, and Gwen Cormack and her husband Don of RR#5 Mount Forest. Cherished grandmother of Kimberly Pegg of Bradford, Tara Brouwer and her husband Grant of Bradford, Lyndsay Mokund and her husband Corey Eke of Aurora, Ryan Mokunk of Toronto and Jeff Cormack and his fiancé Jess McKnight of Kitchener. Great-grandmother of Lilly Brouwer, Grace Brouwer, Ava Eke and Cole Eke. Betty will be fondly remembered by her extended family, and friends. Predeceased by son-in-law Ken Donald, grandson-in-law Michael Pegg, siblings Rita Daniels and her late husband Burton, and Russell Stover. A funeral service celebrating Betty's life will be held at the Mount Forest Pentecostal Church, 259 Fergus Street South, Mount Forest, on Friday, July 20th at 11 a.m., with visitation prior to the service from 10-10:45 a.m. Interment at Mount Forest Cemetery. As an expression of sympathy, memorial donations to the Mount Forest Pentecostal Church would be appreciated by the family. Arrangements entrusted to England Funeral Home, Mount Forest.
Condolences
Dear Gwen and Don..so sorry to hear of your mom's passing. Just to let you know you are in our thoughts and prayers Rod and Gaye
— Gaye White, July 19, 2018
Gwen and family Sending our sympathy to your family. Betty was a very pleasant and friendly lady. Sincerely Diane and Leonard Seifried
— DIiane Dineen, July 18, 2018
Debbie,Gwen and Janice- So sorry to hear of the loss of your Mom. She was one great lady and all of us are going to miss our "Aunt Betty".
— Pat Haskins, July 18, 2018
Another very special one has gone to be with the Lord. A good friend of my mom, always willing to help with the quilting group at the church. A gentle soul; enduring a lot and yet always positive. A mother to be missed. My sympathies, Diane Corley
— Diane Corley, July 18, 2018
Gwen and family... we are so sorry to hear about your Mom. She was such a lovely lady and we always enjoyed our chats when she would come in with your Dad. I was thrilled when she gifted me a couple of times with the slippers she used to knit. Keeping you in our thoughts and prayers... Barb and John
— Barb and John Stevenson, July 18, 2018
Nana, I'm thinking of you tonight. You may not have heard it a lot but I did love you very much. You will be missed greatly. I rejoice your in heaven above but tonight my heart is heavy.
— Kim Pegg "kimmy", July 18, 2018
Betty was a loving neighbor and kind with her beautiful smile. Betty will be missed by all her family, friends and all that knew her. You all have my sympathy. God will be with you as you go through this sad time. Betty will be out of pain now as her trust was always in our wonderful Lord.
— Isabel, July 17, 2018
It is not to often that a gentle soul comes into my life. Betty is that one. When I think of her, she was always working to help other people, be they the recipient of a throw she had knitted, or hats, scarves, dish clothes, sewing squares for quilts on a Thursday morning at her Church.She loved her Church and her 3 daughters,and spoke of you girls often. She tried her best to walk when she could. We played bingo together. Betty did like her ice cream cone after bingo,giving us a time to chat. Betty sat beside me for exercises and bell choir,and choir, making a joyful noise to the Lord. I have been missing Betty since i moved out to another nursing home. The people you meet ,that make a real impression on you, like Betty has done for me,will never be forgotten. We all can be assured that Betty had her Heaven Day. May you all find a measure of peace at this sad time.
— Janice Corbett, July 17, 2018
Debbie, Janice Gwen and Don, Grandchildren and Great Grandchildren, I am so sorry that Aunt Betty has gone to be with her Lord. I will miss her very much as we usually talked once a week. She was a very special Aunt to me. Sending all of you my deepest sympathies and love
— Margaret, July 17, 2018