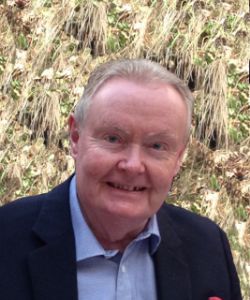 Lew Dobbie
April 5, 2017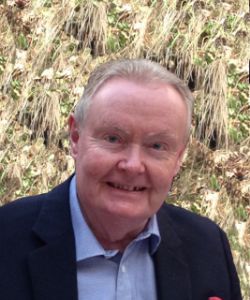 Lewis Robert Dobbie, of Mount Forest, passed away at St. Mary's General Hospital, Kitchener on April 5
th
, 2017, in his 71
st
year. Beloved husband of Diane Dobbie. Proud Dad of Leah and her husband Greg Simpson of Burgessville and Jodi Dobbie and her partner Kim Murphy of Eden Mills. Loving Papa of Hannah and Aidan; one of his great joys was watching his grandchildren succeed in both horseback riding and hockey.  Also survived by his brother Tim Dobbie of Burlington and sisters-in-law Roberta Carr of Las Vegas and Patrice McKenzie of Bracebridge. Fondly remembered by his nieces and nephews.  Predeceased by his "Uncle Jack". Lew was proud to continue the family legacy with a successful career in the Hardware industry.  He was a life-long supporter of the Hamilton Tiger-Cats and had a passion for harness racing.  He was a past member of the Burlington Golf and Country Club as well as past President of the Upper Burlington Optimist Club. Lew rejuvenated his passion for boating in later years and was a member of the Canadian Power and Sail Squadron. Cremation has taken place and private family arrangements have been made. In lieu of flowers, memorial donations to the Heart and Stroke Foundation or a charity of choice would be appreciated. Expressions of sympathy can be made through England Funeral Home Ltd., Mount Forest, ON 1-844-323-2631 or by visiting
www.englandfuneralhome.com
Condolences
a:4:{s:3:"url";s:48:"https://www.everipedia.com/Book_of_Lamentations/";s:4:"desc";s:815:"22 Because of the LORD's great love we are not consumed, for his compassions never fail.23 They are new every morning; great is your faithfulness. 24 I say to myself, "The LORD is my portion; therefore I will wait for him." 25 The LORD is good to those whose hope is in him, to the one who seeks him; 26it is good to wait quietly for the salvation of the LORD. 27 It is good for a man to bear the yoke while he is young. 28 Let him sit alone in silence, for the LORD has laid it on him.29 Let him bury his face in the dust— there may yet be hope. 30 Let him offer his cheek to one who would strike him, and let him be filled with disgrace. 31 For no one is cast off by the Lord forever. 32 Though he brings grief, he will show compassion, so great is his unfailing love. Lamentations 3:22-32 My condolences.";s:5:"title";N;s:5:"image";s:48:"https://www.everipedia.com/Book_of_Lamentations/";}
— Marilyn Johannsen, April 23, 2017
I knew Lew from the \\'70\\'s when I had a Home Hdwe just a few blocks away from his Pro Hdwe in Stoney Creek. We were friendly competitors and traded goods mutually as required. After I moved on I was a sales rep in the hardware industry and would meet Lew and his wife a trade shows over the years, trading stories and news of the past and present. I lost track of him for many years and had the luck of hooking up with him a couple years ago. I was working for Orgill as a contractor and met Lew as an Orgill representative. So sorry to hear of Lew\\'s passing. Nothing but good memories of our times together...
— Dave Lamb, April 21, 2017
My condolences on behalf of The Lumber and Building Materials Association of Ontario and myself.
— Dave Campbell, April 17, 2017
Lew was a great person & I will miss him terribly, especially my calls from him asking "What's goin' on?!". My prayers are with all of you in this difficult time.
— Josée Dagenais, April 17, 2017
I was born without brothers but was given Lew as a brother-in-law. What a gem. He was my friend, mentore, role model to my two daughters and my first employer at age 16. I remember feeling so proud when he threw me the keys to the Pro Hardware truck and asked me to make a delivery. Awesome! Where did 50 years go? He was a decent, fair and honest man. I respected his opinions and wise counsel. His quick wit, turn of phrase and humour were brilliant. Sleep well sweet prince. Know you will always be loved.
— PATRICE MCKENZIE (Trice), April 13, 2017
Thinking of you Jodi and family during this time. Lots of love: Your Hockey Team
— Hockey Team: Murphy Vet Clinic, April 12, 2017
I am in total shock to her about Lew's passing. I met Lew in 1976 when we both had Pro Hardware stores near each other. We'd talk about business and laugh about life every day. I mean every day...he'd call me to see how much I was doing in sales. He had a smaller store than mine, but he always did more in sales...and he'd get such a kick out beating me. He taught me a lot about business. He was a good personal friend and a good business friend. We got into a lot of trouble...I mean we had a lot of fun at the DH Howden shows back in the 70's and 80's. We usually ate too much and always drank too much each night of those shows!! I have some great memories of him and myself. The truckload of BBQ's that we bought together...all those lawnmowers that we bought together...the Green Cross fertilizer truckload sale events that we had every spring...the Buffalo Bills football games and dinner at Pete's Market after the games...man we had some fun!!! Lew, my friend I will miss you. I hadn't seen you much in past number of years, but whenever I heard your name I always felt warm inside. Diane...I am truly sorry to hear about Lew. He was one of the good ones and he will be missed. He touched a lot of people in his life and we are all better off for knowing Lew Dobbie. Kindest Regards, Doug Munro
— Doug Munro, April 11, 2017
So very sorry to hear of Lew\\'s passing. I traveled with him on my one and only trip ever to Canada while working an Orgill Blitz. What a wonderful time I had that week. He was such a pleasure to be around. We always made it a point to look each other up at our Markets just, if nothing else, to say hello. I will certainly miss him. RIP my Friend, Lew Dobbie. From your Mississippi Buddy-Ellison Barham
— Ellison Barham, April 11, 2017
My deepest sympathy to the family. I had the pleasure of working with Lew at Orgill. Lew and I traveled together for a week in Iowa and we had the best time you could have while working. I will sincerely miss seeing Lew at our markets, He was a true gentleman and will be missed.
— Ty Tetzlaff, April 10, 2017
WE too were shocked to hear of Lew's passing. Our deepest sympathy and love to Diane , Leah and Jodi . So many great memories of early years together as newlyweds, first time homeowners , and new parents of little girls at Redwood Pl. Burlington. So wish we had stayed closer over the years but as they say, life gets in the way .Be assured , however, we will always remember those special times and send your family our love . RIP Lew, hope the golfing is great there.
— Rod and Sue Dent, April 10, 2017
Our heartfelt condolences to all of you during this difficult time.
— Tanya Vickers, April 9, 2017
Dear Diane and family, We're very sorry to hear of Lew's passing. We are very fortunate to have known Lew. Our sincere condolences Dale and Connie Ferguson and family
— Dale and Connie Ferguson, April 9, 2017
We send you all our deepest sympathy. It's hard to believe that Lew has passed away. We have many good memories of your family when we moved in next door to you on Guelph Line. . . . chatting with Lew over the fence while he was trimming the grass under the fences, welcoming smiles from the whole family, watching Leah and Jodi grow up, watching them ride their horses, enjoying visits from Alphie ( your little Jack Russell). Time just passes so quickly. May all the wonderful family memories you hold in your heart give you peace and comfort in the days ahead. Love to all. Bob and Lorrie Lawrence
— Bob and Lorrie Lawrence, April 8, 2017
Our sincere condolences to Diane and The Dobbie Family with the passing of Lew. Joanne and I really enjoyed his company in the times we spent together with Diane, Jack and Carol, We are saddened by his passing but very glad that we had the opportunity to meet Lew share some good conversation, laughter and enjoy the company of good friends.
— Garth & Joanne Holding, April 8, 2017
To the DOBBIE Family, My deepest condolences on your loss. Through our industry, I got to meet Lew. From day one, Lew was that "what you see was what you got" - natural, passionate and caring. All who knew him were so fortunate. May the fond memories of Lew help you through these most difficult times. Stewart Rappaport
— Stewart Rappaport, April 8, 2017
Our deepest condolences to the Dobbie family. We lost a good friend this week, one of the good guys from our industry. Starting our sales agency and having the opportunity to have Lew join our team was a real coup. There were quite a few young men that started their sales careers with us, my son being one of them. Lew was influential in guiding us with his integrity, respect and his humour. You taught us well Lew and man, did we have some laughs. Rest peacefully our dear friend and know that we all have a piece of you within us. Kevin, Julie, Jeff & Jordan
— Kevin Bradley, April 8, 2017
When I met Lew over 10 years ago, we struck a bond instantly. He was certainly a gentleman and we had a lot in common. Whenever we met, he was filled with energy. Looking back now I wish I had followed up a closer friendship, but there are good memories which will last a long time. I wish so much I had known about his illness. Our best wishes and prayers are for Diane and family. Brian
— Brian and Donna Padfield, April 7, 2017
Ah Lew, can\\'t believe you are gone. Wherever we go from here I\\'m sure you have been given the best accommodation. That\\'s what you deserve my friend. Only a couple of weeks ago we spoke about timing for my annual Turkey Hunt at your home. That\\'s the kind of guy you were. Always welcoming and caring towards others. I will miss you my friend. Diane, my deepest sympathies to you, your girls, and extended family. All the best as you go forward. Fred Spurvey xo...
— Fred Spurvey, April 7, 2017
I am still in shock that Lew has left us. Most of my fondest memories while working at Home Care Building Centres / TIM-BR Mart were with Lew. We traveled together in Northern Ontario together and successfully launched the ACE Hardware program with the TIM-BR MART dealers. I have great memories of Lew and I laughing together. Actually he laughed mostly at me. I have a lot of stories of Lew and myself having fun after a hard day's work. I often reflect on these memories. Lew was a good friend. Please accept our deepest condolences. Paul and Karla Pettersone
— Paul Pettersone, April 7, 2017
I am so very sorry for the loss of such a sweet and kind man. Lew will be greatly missed by all who knew him.
— Angela Bradley, April 7, 2017
We are sorry to hear about your awesome dad. Great pictures you've posted, it sounds like Lew was a gentleman and inspiration to everyone whose life he touched. Much love, Mark and Amy
— Mark & Amy Kovich, April 7, 2017
My condolences to the family of Lew, he will be missed by loved ones, friends, and colleagues alike. He was a gentle man of gentlemen.
— Colin Carey, April 7, 2017
To the Dobbie Family, my deepest condolences. Lew was proud of his girls. We were coworkers in the past, and friends forever. I will miss Lew, He sure could make me laugh. Bruce, Maria and Jakob Peck
— Bruce Peck, April 7, 2017
So sorry to hear of Lew's passing. What a kind gentle man was a pleasure to have known him.
— Kelly & Lynn Powell, April 7, 2017
My sympathy to the Dobbie family, Lew was a great person & colleague
— Brad Miller, April 7, 2017
Photo Album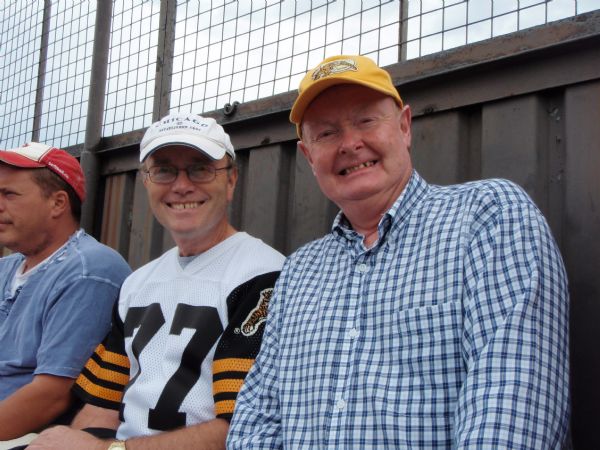 Lew and Tim: Oskee Wee Wee! - 2010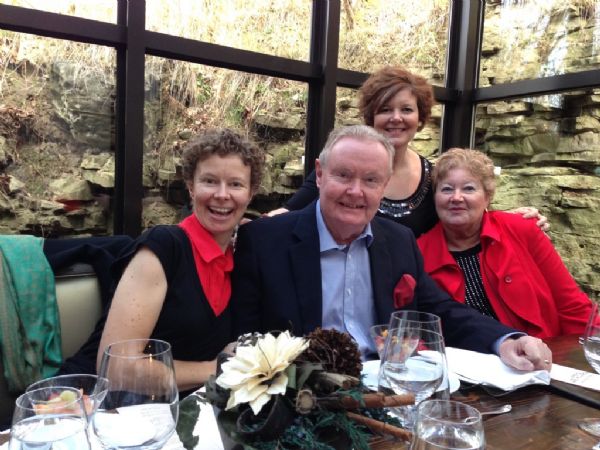 Lew, Diane, Leah and Jodi - Christmas 2015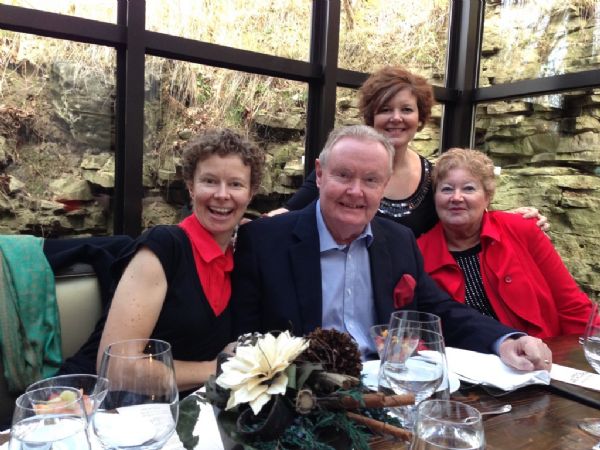 Lew, Di, Leah and Jodi - Christmas 2015