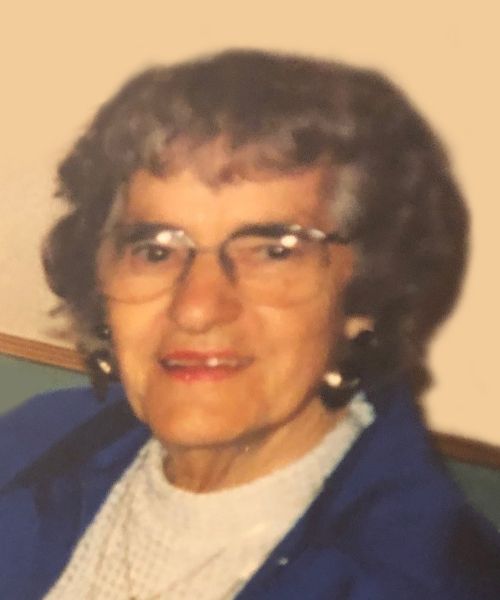 Mable Margaret Allen
April 15, 2021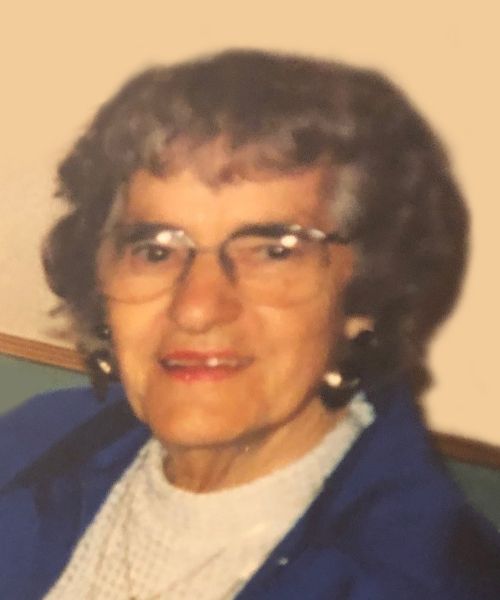 ALLEN, Mable Margaret
July 12, 1918 – April 15, 2021
Mable Allen (née Kirkpatrick) passed away peacefully at Caressant Care in Harriston on Thursday, April 15
th
, 2021 just months before her 103rd birthday. She was the beloved wife of the late Ralph Bertram Allen (1981). Mable is survived by her sister-in-law Ruby Kirkpatrick and was predeceased by her brothers George, Elwin, Edgar and Fred Kirkpatrick and her sisters Violet Elliot and Gladys Sim. She was also predeceased by her brothers-in-law Harry and Morrison "Mott" Allen. After training as a hairdresser Mable went on to a wonderful career in the world of beauty that included owning the Diane Beauty Salon in Mount Forest for decades. After living in Farewell for many years, Mable and Ralph moved to Mount Forest in retirement and she continued to provide hair styling from their home. She was a committed member of the United Church and the U.C.W. Her many nieces and nephews (and the great, great-great and great-great-great ones also) gave her a special place in their heart and will miss her zest for life and quick wit. Special recognition goes to the staff at Caressant Care who provided boundless compassion and support. A private funeral service will be held at the England Funeral Home, Mount Forest. Family and friends are invited to the funeral via livestream on Wednesday, April 21
st
, 2021 at 11:00 a.m. by visiting
https://www.facebook.com/England-Funeral-Home-1863283503935858
. Those wishing to make a donation are asked to consider the Mount Forest United Church, the Louise Marshall Hospital Foundation or a charity of your choice.
Condolences
Very sorry to hear about Mabel's passing she was an awesome lady with a great legacy. Allen & Suzanne Morrison
— Allen Morrison, April 28, 2021
Mable was such a special person to me. She welcomed me into her home when my parents moved to the Arctic for work. I lived with her throughout most of my high school years and counted her place as my home base during university. After I married Roger and we started raising our family, we still came back to Mount Forest and Harriston to visit "Grandma Mable". We love you Mable and we will miss you! May you Rest In Peace.
— Elva Lee Ball, April 27, 2021
Condolences to the Mabel Allen families from the Edgar and Mary Allen families.
— Gail (Allen) Blain, April 26, 2021
On behalf of my mom, Lorraine (Shaw, Allen, Blackwood) who passed away three years ago I send condolences on the passing of Aunt Mabel. Mom would visit Aunt Mabel as often as she could and always enjoyed their shared memories together. I also have many childhood memories of Aunt Mabel who lived across from my grandma's (Margaret Shaw) apartment. It was wonderful to be able to attend the Allen reunion (included as a picture in this feed) with Aunt Mabel, Aunt Meryl, Aunt Isobel and my mom and two young daughters. It was likely the last time that I saw Aunt Mabel but she will always stay in my Mount Forest memories. Sincerely, Lisa MacDonald (née Allen)
— Lisa MacDonald (née Allen), April 22, 2021
Our condolences to the Kirkpatrick famiies. We are the family who took Mabel to Harriston United Church until she unfortunately broke her hip. Sometimes she came home for lunch, Easter, or Thanksgiving. Our large noisy family didn't faze her a bit. Bob & Doddi Reidl
— Bob& Doddi Reid, April 21, 2021
Sincere condolences to the Kirkpatrick family. Mable and our mother grew up together and spent their last days sharing memories together in Caressant Care Harriston. She will be missed.
— Jim Scott & Marj Dennis, April 21, 2021
So many memories of Aunt Mable.....when we were kids, Mable and Ralph would take Barbara and I to the CNE with Scott and Brett and taught us how many pieces to cut a pie.She convinced me to become a hairdresser and she gave me my first job. She taught me how to work hard and the value of a dollar. She certainly knew how to have fun, having a couple of doubles before jumping the Bonfire, everyone watching to make sure she made it .Whew ... sometimes it was close! She worked well into her 80's and it was hard for her to retire because her clients were a very important part of her social life .Mary and I would sometimes play cards with her and Cassie Weideman and watching Mable using her bag of dimes dancing out of the bag ,loaning us money so we could enjoy betting on our euchre hands.(She eventually won it all back.)Too many stories to tell. Well she's had a good long life and she made her mark on all of us. Here's to Great Aunt Mable , may she rest in peace. We'll miss you.
— Julie Elaine Crawford, April 20, 2021
Please accept my sincere condolences. Mable was quite the lady and I was honoured to have known her.
— Lynne Turner, April 20, 2021
Our sincere condolences to the Kirkpatrick Family. My sister, Betty Lou, would often take me with her to go and have a wee visit with Aunt Mable. Both Allen & Betty Lou spoke very highly of Aunt Mable and would often make a point of going to visit her. I remember being in the Hair Salon with my Mom while Mable gave her a perm and Mable would always be talking and laughing and always had a smile on her face and would make sure you did as well. She was an amazing Lady ! May your many memories give you comfort at this difficult time.
— Heather & Jim Scott, April 19, 2021
Aunt Mable, you cuddled me on your knee almost eighty years ago. You helped finance my early building plans, as my family started to grow. You shared your humour and your love; now my eyes are misting up with tears, As I review the beautiful memories that we built throughout the years. George Allen and family (Ruth, Carol, Rodger and Wayne)
— George Allen, April 17, 2021
So very sorry to hear of Mabels' passing. She was one of my favourite Sunday School teachers. She would often have the class come out and spend a night at her home in Farewell. We were always intrigued by the big bear rug. She was a smart dresser and always looked great- dangling earrings and all! She lived a long life and may she live on in your memories.
— Lynn Reeves, April 16, 2021
Sincerest condolences from the family of the late Bonnie Patterson. I was just a youngster when we left the area but I often recall my mom and grandma (Minnie Darroch) speaking fondly of Mabel. If memory serves me she had something to do with helping Bonnie become a hairstylist. Sending you prayers, keep those good memories close and cherish them.
— Melissa Gissing ne Patterson, April 16, 2021