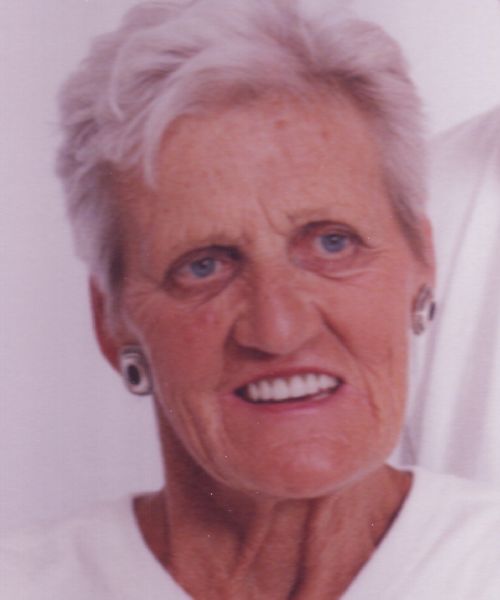 Barbara Watts
June 9, 2008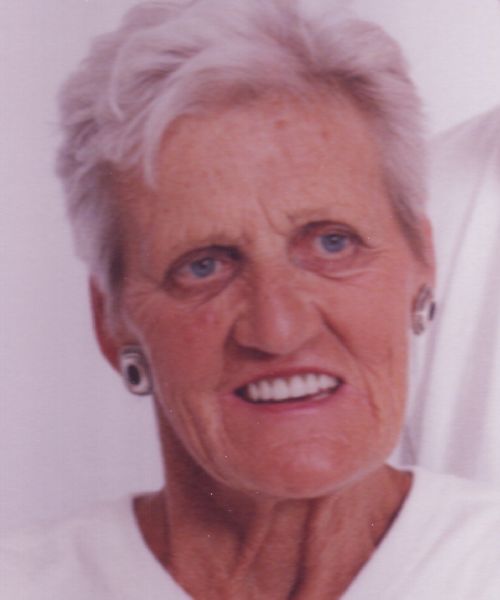 Watts, Barbara; Peacefully at her home at RR #3, Mount Forest on Monday June 9, 2008. Barbara June (Emson) Watts in her 79th year. Beloved wife of the late Maurice Watts. Loved mother of Ian Watts & wife Ann of Port Perry and Julie Benns & husband John of RR #3, Mount Forest. Loving grandmother of Brendon and Michael Watts and Mersadi Benns. Dear sister-in-law of Dick Meade of England. Predeceased by sisters Audrey Small & husband Joe and Jacqueline Meade. Cremation has taken place. Visitation at the Hendrick Funeral Home, Mount Forest on Thursday June 12th from 2:00 to 4:00p.m. A private family service will be held. Memorial donations to the Alzheimer 's Society would be appreciated by the family. On line condolences may be made at www.hendrickfuneralhome.com
Condolences
Barb will be forever remembered by her warmth and loving kindness. What a true blessing she was to have in my life and one of the few people I ever knew that could touch so many people with her heart full of love. A true gift to the world. Although I know she will be missed by many, it's comforting to know she is resting peacefully and will no longer have to struggle with her health or memory. Thanks to Sadi for remembering me at this difficult time and letting me know what had happened. I'm so sorry for your loss and send you all my many thoughts and prayers. Love, Beth
— Beth Brusso, June 15, 2008
Dearest Julie, John, Sadie, Ozzy & Sasha; Your mom was so at peace in your home her finally months surrounded by your love, compassion, tender care and laughter. Julie, you are an amazing woman. We so admire your strength and never failing dedication to your moms well being. Barb's dancing eyes and laughter live on in you. In sympathy for her struggles and in celebration of her life, we are thinking of you all. Love Tony & Sandi
— Sandi & Tony Clements, June 13, 2008
Julie, John and Sadi My thoughts are with all of you. your mom was a wonderful lady, someone that would open her home to anyone. she had fun she had wit she had class and I'm proud to say that I've known her. We love you and we're thinking of you. Love Marie and Jon
— Marie Gibbon, June 12, 2008
John, Julie & Family - Our Condolences on the loss of your mother/mother in law.
— Mount Forest District Chamber of Commerce Executive, June 12, 2008
In memory of Auntie Barbara
— , January 1, 2010
John, Julie & Sadie, We were saddened to hear of the passing of Barbara and our thoughts and prayers are with you. She was a wonderful lady and will be greatly missed. Scott and I will always remember the fun birthday party we had at your house for Scott and Sadie with both your Mom and Dad there. That is a very nice picture of her. You are a very special family for giving her the love and attention she needed and may she now rest in peace. Take care. Don, Marie, Scott and Dana.
— , January 1, 2010
Our loving thoughts are with you and your family. Barb was a spunky lady who loved to laugh and enjoy life. We all have fond cottage memories of both Barb and Morris, all of us laughing on the deck, drinking wine and enjoying each others company. We send our love and support to all. Lee, Brett and Ryan
— Brett, Lee and Ryan Laycoe, June 12, 2008
Ian and Julie, My prayers and thoughts are with you and your families. I share your grief but rejoice in the fact that Auntie Barbara now has eternal peace as she has gone home to be with our true Father. I am blessed to have fond memories of the times that I ventured up to Mount Forest and enjoyed the company of you and your parents. Auntie Barbara was special to me as she had the inherent threads of Emson that reminded me so much of my late mother in her words and body language. She always made me so welcome, even if I was just passing through on a business trip without notice. We really didn't know each other when I first visited Canada in November 1986 but her warmth and our family ties made it as if we were never separated by so much time. I look forward to being with you both again soon to share some of the memories and fun times. Love Paul.
— Paul Meade, June 12, 2008
John, Sheryl and were saddened by the passing of your mother-in-law. At this time of sorrow remember that you have a lifetime of memories to keep her in your heart. Bryan Elliston
— Bryan & Sheryl Elliston, January 1, 2010
Dear Julie, Ian and family: Our heartfelt condolences to you all on the loss of dear "Aunt" Barbara. She was a person who showed a tremendous amount of kindness to others and it was always a joy to be in her company over the years. She will be missed. Our very best to you and your family as time marches forward. Love to all, Karen(Ennis-Watts) and William Volkwijn
— Karen and William Volkwijn, June 11, 2008
Ian My condolences to you and your family on the passing of your mother.
— Dave Rutherford, June 11, 2008
Dear Ian, Ann, Brendan and Michael, I'm so sorry to hear the news; please know that you and the rest of your family are in my prayers. Take care, Theresa
— Theresa Ommert, June 11, 2008
Ian & Family, we are so sorry to hear about the loss of your Mother. Our deepest sympathy goes out to you and your families.
— Tony Berti, June 10, 2008
Though I did not know Mrs. Watts personally, I would like to express my sympathy your loss after reading of it in the newspaper. When you lose someone dear to you, the pain and grief can seem unbearable. As one of Jehovah's Witnesses, I draw comfort from the Holy Scriptures and I would like to share a wonderful promise with you. The Bible book of Revelation chapter 21 verse 4 shows that "God will wipe out every tear from their eyes and death will be no more, neither will mourning nor outcry nor pain be anymore." Imagine, a time where there is no sickness or death! Please be assured that our loving Creator understands what you are going through and may you find comfort in His promise for the future.
— Lindsay, June 10, 2008