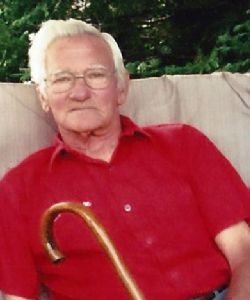 Gerald Terryberry
June 30, 2014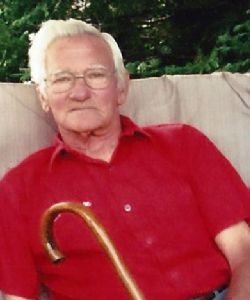 Terryberry; Gerald'Gerry' on Monday June 30th, 2014 at the Louise Marshall Hospital, Mount Forest. Gerald'Gerry' Norman Terryberry of Pike Lake in his 83rd year. Beloved husband of Donna (Reidt) Terryberry for 56 years. Loving father of Lee Roswell and her husband Don of Harriston, Paula Domm and her husband Brian of Hanover, and George Terryberry and his wife Tracy of Drayton. Cherished grandfather to his 9 grandchildren and 3 great-grandchildren. Dear brother of Ruth McLeod of Mount Forest and Judy Riley and her husband Bob of Hamilton. Gerry will be sadly missed by his many nieces, nephews and their families. Predeceased by his parents George and Gladys (Pearn) Terryberry and also by brother-in-law Keith McLeod. Gerry was retired from the OPP having served for 33 years and a member of the Royal Canadian Legion Branch #134, Mount Forest. Cremation has taken place. A private memorial service will be held at a later date. Funeral arrangements entrusted to the England Funeral Home, Mount Forest. In lieu of flowers, donations to the Louise Marshall Hospital Foundation would be appreciated by the family. Online condolences may be made at www.englandfuneralhome.com
Condolences
To Donna and Family, We are sorry to hear about Gerry passing. He was a great guy and a good police officer. I was glad to have had the opportunity to have worked with him at the OPP Milton Detachment and I still remember our gettogethers at your home on 10 sideroad. Thinking of you and we will keep you in our prayers. Karen & Bob Willmott
— Karen & Bob Willmott, July 8, 2014
I would like to extend my sympathies in the loss of "uncle" Gerry. Growing up with the Reidt family that included the Terryberry's too. It was always fun to see Uncle Gerry and Aunt Donna,it would be mostly in the summertimes when the families would get together, good childhood memories. Thinking of you Donna and that you have wonderful support around you.
— Helen Cane, July 7, 2014
Donna: The notice of Gerry's passing reminds us of the 50's & 60's in Mt.Forest -of the OPP shift work, the 6 day work week, the camaraderie at work, but also the hockey games and the Christmas parties with the wives and families. Our thoughts and prayers are with you and your family. Murray and Irene Peer
— Murray & Irene Peer, July 2, 2014
Ruth, we extend our love as you go through this difficult time of the passing of your Brother Gerald. May his memory always bring a smile to your heart. We are thinking of you.
— Robert & Colleen Hyslop, July 2, 2014
George, Tracy, and family, Sorry for your loss of your Dad; May God bless you during this difficult time. Hugs from Joyce and Vince.
— Joyce Rendle, July 2, 2014
Uncle Gerry, You were one of a kind. Love and miss you always, Your niece Sending strength and my love to my Aunt Donna and many cousins. Miss you dear brother. I know your watching over us standing right beside mom and dad. Love your sister Judith
— Lisa Riley-Wager, July 1, 2014