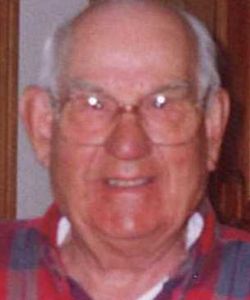 Marian Studzinski
July 12, 2013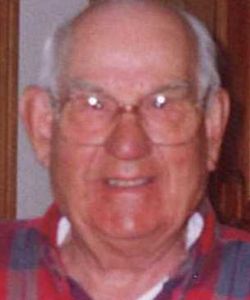 Studzinski, Marian; at Louise Marshall Hospital, Mount Forest on Friday July 12, 2013. Marian Studzinski of Mount Forest in his 91st year. Beloved husband of Joan (Game) Studzinski. Loved father of Paula Russell & husband Paul of Vancouver, B.C. and Alan Studzinski & wife Andrea of St. Peter 's Bay, P.E.I. Loving grandfather of Evan, Alistair and Gabriel Russell and Holly and Nicholas Studzinski. Marian is also survived by family in Poland. A graveside service will be held at the Amos Cemetery, Dromore on Tuesday July 16th at 1:00p.m. A reception will follow at the Amos Presbyterian Church, Dromore. Funeral arrangements entrusted to the England Funeral Home, Mount Forest. In lieu of flowers memorial donations to a charity of one 's choice would be appreciated by the family. On line condolences may be made at www.englandfuneralhome.com
Condolences
We will always remember our visits to Grandma Joan's and Grandpa's on the farm. Nick falling off the bridge and into the stream and being scooped out will never be forgotten. The same goes for me listening to his stories and being puzzled by his permanently closed hand which was from his war time experience. Grandpa's knowledge and stories passed down to other generations will never be forgotten and will also be cherished. Xoxoxo
— Holly and Nick Studzinski, July 21, 2013
Dear Joan, Paula, Al and families; So sorry to hear of the passing of Marion. He will always be part of my fondest teenage memories - tolerant, funny and kind. May he experience love and joy in heaven. Love "Kat"
— Kataryna Lavoie, July 17, 2013
Ah Marian, I remember when .... you fed us and made sure we were properly hydrated when we came to your house. Marian always greeted me with genuine warmth and dare I say delight!?! I always knew the affection I had for him was shared between us. Marian was a dad who could give his kids enough space to do their own things while providing a high level of supervision .... and then there were the T-towels on the arms of the sofas ... and the shiny clean house ... and the car parked at the furthest reaches of parking lots so no one would hit or scratch it .... and the dog Toby who loved his daddy ... I remember Marian with love and laughter, and am so sorry that he has passed this life, but confident that he will be happy in Heaven. I really appreciated Mrs. Studzinski's words about Marian finding peace. I remember that tattoo he was forced to have during the war. Marian's wartime experiences were the first known to me, and helped me understand the trauma caused by war in a unique and personal way. I was so happy to hear that he found peace and contentment in this lifetime, and now for eternity. Sending love and big old Chops hugs xoxoxo
— Victoria Chippindale, July 17, 2013
Dear Joan, Al and Paula. I was very saddened to hear about the passing of Marion. I can't believe he was 91 years old. My gosh how time goes whipping past us. I know we have not kept in touch but I have kept tabs on you guys as best as I can. It has been a very long time since I have seen your Dad Al but when I think back it seems like yesterday. We had some wonderful times you and I and often were a burrr in Marion's side. I'm glad that he lived such a long life and by the looks of things spent much of his later years on his loved property in Mount Forrest. I still have the scar to remember my one Studzinski family trip to Mount Forrest. I hope that one day we can reconnect Al. Paula, I am out in Langley BC so maybe sometime we can meet for a little catch up. Al, if you are ever out this way... I'd love to hear from you. Joan, I have the fondest of memories of you. You were always so kind and sweet to us when we were such know it alls at our early age. My best wishes to all of you and I have said a little prayer for Marion's entrance to the next world. Life is so short even when you live to be 91. Best regards, your old Pal Schmidt. (Paul Smith) 604-209-7916
— Paul Smith, July 16, 2013
Our deepest sympathies from your co workers at Hunter River Pharmacy , You and your family are in our thoughts and prayers.
— HUNTER RIVER PHARMACY, July 16, 2013
The Martin Family is very sad to hear of Marian's passing. May and Pep would often talk about the times of visiting back and forth in a kinder and gentler time. Joan, Randy & Dennis and Families
— Joan Martin, July 15, 2013
We will always fondly remember building forts and boulder dams on the creek with Gramps.
— The Russell Boys, July 14, 2013