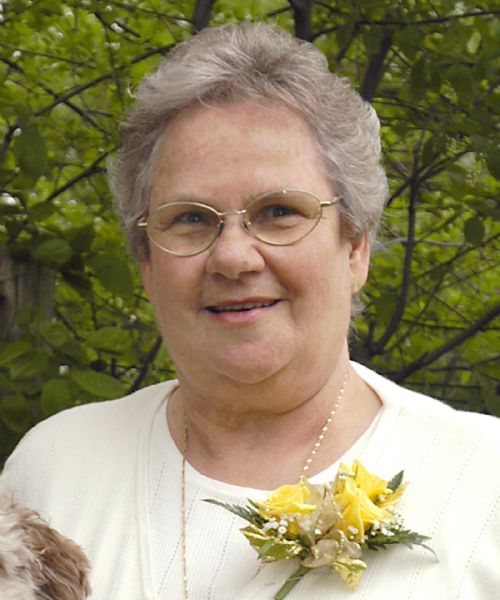 Violet Smith
June 12, 2008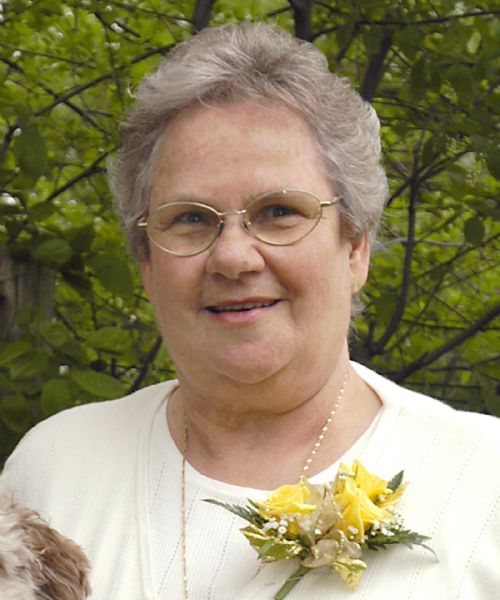 Smith, Violet'Vi'; at Louise Marshall, Mount Forest on Thursday June 12, 2008. Violet'Vi' May Smith of Mount Forest in her 72nd year. Beloved wife of Archie Smith. Loved mother of Dan Smith & wife Heather of Haliburton, Garf Smith & wife Dagmar of Mount Forest and Debbie Ferguson & husband Russell of Thornbury. Loving grandmother of Vanessa Smith of Japan, Alicia Smith of Haliburton, Danielle Foster & husband Jeremy of Toronto, Aaron Smith & friend Jessica Malto of Mount Forest and Kieran Ferguson of Thornbury. Dear sister of Shirley Brown & husband Glen of Mount Forest and Thelma Gopsel of Georgetown. Sister-in-law of Margie Smith of Wingham. Predeceased by brothers Howard Smith & wife Velma and Stan Smith and by brother-in-law Gordon Gopsel. Friends may call at the Hendrick Funeral Home, Mount Forest on Saturday June 14th from 11:00a.m. until time of the funeral service at 1:00p.m. Cremation to follow. Memorial donations to the Canadian Cancer Society would be appreciated. On line condolences may be made at www.hendrickfuneralhome.com
Condolences
Dan and Family: My wife and I wish to express our sincerest condolences on your loss. May God be with you and your family.
— Doug and Nancy Gibb, June 16, 2008
Dear Dagmar and Garf, I am so sorry to hear of your Mom's passing. I'm sure she will be greatly missed by all her family. I hope you remember who I am, I just live across the road from you at 265 London Rd.S. I treasure life as your Mom was just a few years older than me and I guess we can only take one day at a time My deepest sympathy Isabel Primmer
— Isabel Primmer, June 14, 2008
Archie, Garf and Dagmar So sorry to hear about the passing of your wife and mother, but the good memories will carry you through
— Cheryl & Gary Williamson, June 13, 2008
Dear Garf, Dagmar, Dani, Aaron & families; Our thoughts are with you on the recent loss of your dear Mom, Grandma. We know she was very special to each of you and that you will miss her very much. Take comfort in the wonderful times you had with her over your life time, and cherish each and every memory. With heartfelt sympathy & love, Sandi & Tony
— Tony & Sandi Clements, June 13, 2008
Dan, Heather, Family and Friends Our thoughts are with you. All the best, The Bancroft Enforcement Team
— , January 1, 2010
Dear Garf & Dagmar, so sorry to hear of the loss of your mother. Just wanted to express our deepest sympathies. Joyce & John McLean
— Joyce & John McLean, June 13, 2008
To Archie, Dan, Garf, Debbie and all their families ... please accept our sympathy. We didn't know Vi very well but on the few occasions we were together, we enjoyed her sense of humour and good company. Our thoughts are with you.
— Neil Kinnear and Lesley Chung, June 13, 2008
Dan and family, our thoughts are with you at this difficult time.
— , January 1, 2010
Dear Dan, Heather & family: Very sorry to hear about your mom.
— Dan Slater, June 13, 2008
Archie and Family We want to offer our deepest sympathy and understanding. Vi was a good friend and neighbour as we grew up together. You will surely miss her but hope your memories will carry you through the months to come. Alvin and Joan
— Alvin and Joan Eccles, June 12, 2008