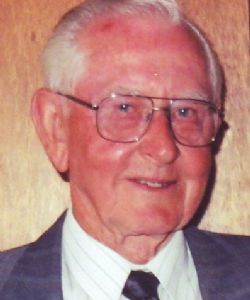 Lyle Rawn
March 21, 2009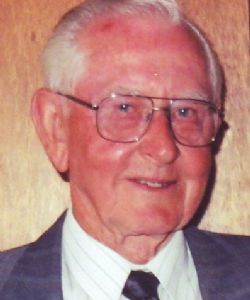 Rawn, Lyle; at the Louise Marshall Hospital, Mount Forest on Saturday March 21, 2009. Lyle Everett Rawn of RR #3, Mount Forest in his 82nd year. Beloved husband of Reta (Scott) Rawn. Loved father of Barry Rawn & wife Thelma of Fergus, Bev Rawn & wife Donna of Guelph, Harvey Rawn & wife Theresa of Waterloo and Keith Rawn of Mount Forest. Loving grandfather to his 9 grandchildren. Dear brother of Shirley Dodds & husband Hugh of Varney and Myrna McTavish & husband Doug of London. Also survived by his many nieces and nephews. Predeceased by brothers Fred Rawn & wife Theresa, Ivan Rawn & wife Mary and Carl Rawn & wife Bertha. Friends may call at the Hendrick Funeral Home, Mount Forest on Tuesday from 2:00 to 4:00 & 7:00 9:00p.m. The funeral service will be held at the Mount Forest United Church on Wednesday March 25th at 2:00p.m. Cremation to follow. Memorial donations to Louise Marshall Hospital or to Letterbreen United Church would be appreciated by the family. On line condolences may be made at www.hendrickfuneralhome.com
Condolences
We would like to express our sincere condolences to the family and friends of this truly remarkable human being. Our apologies for not being able to attend the funeral. Timing was a factor. With all our Love......Mike and Bonnie, Brock and Lindsay
— , January 1, 2010
To the Rawn family, we were so sorry to hear of the passing of Lyle. Our thoughts are with you at this difficult time. Lyle & Marg
— Lyle and Margaret Dowling, Calgary, AB, April 1, 2009
Reta and family: So sorry to hear the news of Lyle's passing. Dad was very fond of Lyle and spoke so highly of him! Their shared love of horses certainly was a topic of conversation! I'll always remember the day I went with Dad to your barn and 'adopted' a little kitten that had been dropped off. As Lyle said, it was too cute to be a barn cat! Our thoughts are with you all.
— Ruth Mather Halford, March 28, 2009
Dear Kieth and family I and my family would like to extend our deepest sympathy on your loss of your father.
— Ingrid Graham, March 26, 2009
Above all, everyone would say that Lyle Rawn was a gentleman and projected that role model stature to everyone. The tremendous attendance to pay respect speaks for itself. There are few who can fill the shoes of all his special features, and he will not be forgotten.
— Bria Padfield, March 25, 2009
Dear Reta and Family, We are saddened to learn that Lyle has passed away. We will remember him for his bagpipe music in happy times and also for his very moving musical tribute for my Dad, Gordon Carmount at the cemetery. We extend our sincere sympathy to you and your family. Sherry & Bob Graham
— Sherrill Graham, March 25, 2009
I am sorry for the loss of your husband, father and grandfather. My sincere thoughts and prayers are with you at this time.
— Lynn Reeves, March 24, 2009
To Barry, Thelma, Shannon, Cody and Kaillie, I realize the importance of losing your dad and grandpa, as both my parents are gone. Just remember you will have many memories to help you through this time of mourning. My thoughts are with all of you.
— Karen Aitken, March 24, 2009
Dear Reta and family, Wayne and I would like to send our sympathy and condolences. Lyle was a very special man who will be fondly remembered and will live on in our hearts forever.
— Reta and Wayne Heintz, March 24, 2009
Bev, please accept my condolences on the passing of your Dad. I'm really sorry I won't be able to get to either of the viewings or the funeral, but my thoughts will be with you. I trust that the Lord will give to you and the family the courage, comfort and strength you need at this difficult time. Finbar Desir
— Finbar Desir, March 24, 2009
My sympathies in these sad times. I hope you can find comfort in knowing that he will always be remembered by friends and loved ones.
— Justin Barrette, March 23, 2009
keith Ijust wanted to let you know that I'm thinking of you at this time of your lost . Your dad was a wealth of knowledge ,and a pleasure to talk to .I send my deepest condolences to the entire family.My thoughts and prayers are with you during this difficult time.
— willard ghent, March 23, 2009
Keith, John and I just wanted to let you know we are thinking of you during this time of loss. As we say to Taija and McKenna when someone we know passes - "no matter how good or bad the memories are, they are in our hearts forever and the more we talk about them the less it hurts....eventually."
— John and Tali McGovern, March 23, 2009
With deepest sympathy and caring thoughts.
— , January 1, 2010
Dear Reta & Family members, Hoping these words convey our heartfelt sympathy at your time of loss. Lyle was a true gentleman in every sense of the word and we know he will be missed by many. Most sincerely, Allen & Sharon Mears
— Allen & Sharon Mears, March 23, 2009
To the Rawn Family. Our thoughts and prayers are with you at this difficult time. Remember, this isn't the end, this is change. You will see traits of Lyle come through each other and your children for years to come, each time being reminded how blessed you are to have had such a special man in your lives.
— Marilyn, Murray, Scott and Carly McQueen, March 23, 2009
Dear Reta, Children and Grandchildren. My thoughts and prayers are with you in this time of sorrow. Lyle was a wonderful man who will live on in the lives of his beloved children and grandchildren, and in the hearts of all those whose lives he touched. Irene
— , January 1, 2010
Reta and family, We were saddened to hear of Lyle's passing and you are in our thoughts and prayers. Lyle was a well known gentleman and will be greatly missed. I will always remember and cherish my numerous sleigh rides! God Bless.
— , January 1, 2010
Harv, Teresa,Philip and Vicki so sorry to here of your dad/grampa's passing I will keep you in my thoughts and prayers Hetty
— hetty meulenbelt, March 23, 2009
Dear Harvey and Theresa, Our thoughts and prayers are with you at this time. Your father will live on in your hearts and memories. Dick and Lydia
— Dick and Lydia Wassink, March 23, 2009
Dear Rita and Family: Lyle will long be remembered by his neighbours and friends on "The Second". He was always on hand to help out in whatever way he could and the Earl Hunt family depended on the Rawns in many aspects of our lives, most especially for clearing the snow so we could get out in the winter. I'll be thinking of you lots in the coming days. Margaret.
— Margaret Hunt-Neuhaus, March 23, 2009
Dear Bev, I just heard about the passing of your father. I just want to drop you this quick note to say I empathise with your loss, my father died over 20 years ago now. There will be good days, and other that aren't so good, cherish the memories. You and your family will be in my prayers. Richard
— Richard Kaufman, March 23, 2009
Bev and Family, we're never ready to lose a parent. I'm thinking of you. Jacquelynn
— Jacquelynn Ellis, March 23, 2009
Harvey, Theresa & family, Our thoughts and prayers are with you. Remember, we never lose our loved ones while they remain in our hearts. God Bless! Ron & Mary Ellen
— Ron & Mary Ellen Wooddisse, March 23, 2009