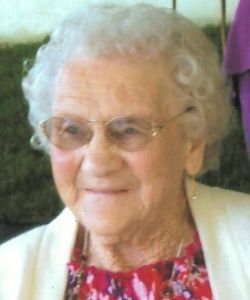 Ruby Rachar
June 20, 2010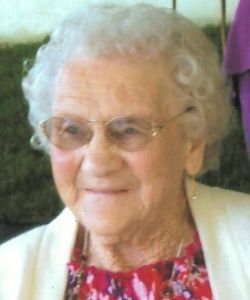 Rachar, Ruby; at Saugeen Valley Nursing Centre, Mount Forest on Sunday June 20, 2010. Elizabeth Sara Ruby (Moore) Rachar of Mount Forest in her 101st year. Beloved wife of the late Harold Rachar. Loved mother of Lloyd Rachar & wife Kate of Mount Forest. Loved mother-in-law of Dorothy Rachar of Mount Forest and Roy Ransome of Arthur Township. Loving grandmother to her 17 grandchildren 33 great grandchildren and 17 great great grandchildren. Dear sister of Nelson Moore of Mount Forest. Survived also by her nieces, nephews and their families. Predeceased by sons Norman Rachar, Bruce Rachar & wife Sharon and infant son Ross Rachar and daughter Inez Ransome. Friends may call at the Hendrick Funeral Home, Mount Forest on Tuesday from 2:00 to 4:00 & 7:00 to 9:00p.m. The funeral service will be held in the funeral home chapel on Wednesday June 23rd at 1:00p.m. Interment at Mount Forest Cemetery. Memorial donations to the Mount Forest United Church or Louise Marshall Hospital would be appreciated by the family. On line condolences may be made at www.hendrickfuneralhome.com
Condolences
As my husband and I plan at trip to the UK, one of the items we read was that it is not unusual to catch a ride with the mailman. It brought back many memories of riding into town from R.R.#6 with Ruby. I moved away from MF decades ago and now have no immediate family there but I recall with fond memories many aspects of growing up surrounded by great people!
— Ruth Mather Halford, September 4, 2014
To The "Rachar Clan" We wish to extend our sincere sympathy on the passing of "Ruby"... She was a grand Lady!
— Dan & Sherry Burke, June 23, 2010
To the Rachar Family, What a joy it was to visit Ruby at the Saugeen Valley Nursing Centre. She will always be remembered for her beautiful smile and was a very happy lady. She enjoyed the music when I played piano for the Chaplain at the home and I know if Andy was here he would be at her funeral. She will be missed and you all have my deepest sympathy. Isabel Primmer
— Isabel Primmer, June 23, 2010
Please except my condolences on the passing of Ruby. She was a always smiling and happy and it was great that I have know here for so many years. I was in the True Blue Lodge with here and she was always very nice and generous to me when I started into it. She will be greatly missed. Sincerely Flo
— Flo Van Meer, June 23, 2010
Please except my condolences on the passing of Ruby. I had know here since we where in the True Blue Lodge together. She was always smiling and happy. She will be sadly missed by everyone. Sincerely Flo
— Flo Van Meer, June 23, 2010