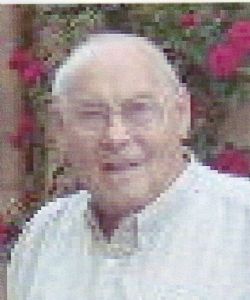 Rudi Noss
December 20, 2008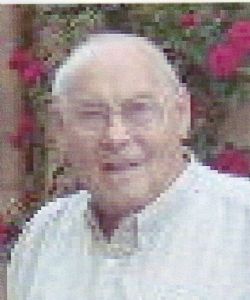 Noss, Rudi; at Louise Marshall Hospital, Mount Forest on Saturday December 20, 2008. Rudi August Noss of Mount Forest in his 84th year. Beloved husband of Barbara (Bennett) Noss. Dear father of Laurence Noss & wife Marilyn of Dundalk and Caroline Lorenzi & husband Peter of Fergus. Grandfather of Laurence Jr., Lisa, Kristina, Annalee and John. Rudi is also survived by Barbara 's family Jenny, Greg, Jacquie and their families and also his family in Germany. Friends may call at the Hendrick Funeral Home, Mount Forest on Monday from 2:00 to 4:00 & 7:00 to 9:00p.m. The funeral service will be held at First Baptist Church, Mount Forest on Tuesday December 23rd at 11:00a.m. Interment at Holy Cross Cemetery. In lieu of flowers memorial donations to First Baptist Church or to Cancer Patient Services would be appreciated by his family. On line condolences may be made at www.hendrickfuneralhome.com
Condolences
Dear Barb, Our thoughts and prayers are with you.
— Brian Plume & staff at color your world, December 23, 2008
Dear Barbara, our heartfelt condolence on the death of Rudi. We grieve with you and you can be sure that we are with you today, tomorrow and the next time. How beautiful was our last time together here in Germany with Rudi and you in 2007. We will never forget Rudi. He was a fantastic man with a big heart. God bless you Barbara. Love Josef and Sabine Echzell/Germany When god saw that the road was too long, the hill too steep and the breath to heavy, he laid the arm around him and said: come home.
— Josef and Sabine Hruschka, December 22, 2008
Dearest Barbara, It is with deep sadness that we read of Rudi's passing. We knew that it was inevitable, yet it still brings feelings of grief for you and your family. We pray that God's love, as shown through family and friends, will hold you up during this time and the days ahead. Love, Carol and Ray Kaspar
— Carol and Ray Kaspar, December 21, 2008
Although we only met Rudi a few times, he was a great guy always welcoming others into his life. He touched our hearts as we know he did many others. Our prayers are with you Barbara and the rest of the family. Much love, Rich, Lin and Alex Atlanta, GA
— Rich and Lin Bennett, December 21, 2008
Barb and Family You are not alone today Nor will you be tomorrow For warmest thoughts of those who care Are with you in your sorrow And may it comfort you to know Your loved ones are thought of too By everyone who shares the loss Of one so dear to you We will miss you Rudi.
— Jody and Mary Legacy-Harding and Family, January 1, 2010
Dear Barbara and Family, Please accept our deepest condolences from the entire Kramer family. Our hearts and thoughts are with you in your time of sorrow. We hope you can find peace and acceptance and will cherish the wonderful memories of your beloved Rudi. Thinking of you with much love, Vera,Andrew and the Gang
— Vera and Andrew Kramer, December 20, 2008