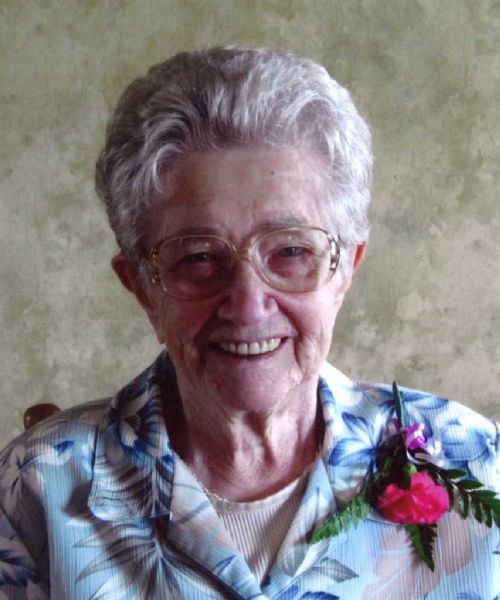 Adriana Meulensteen
June 5, 2012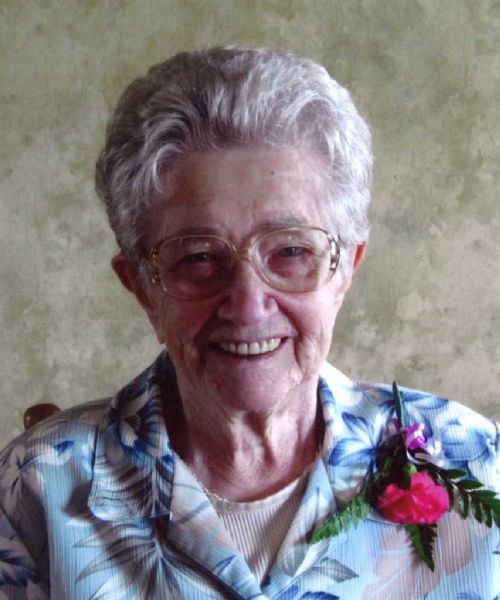 Meulensteen, Adriana'Jane'; at Saugeen Valley Nursing Centre, Mount Forest on Tuesday June 5th, 2012. Adriana'Jane' (Peters) Meulensteen of Mount Forest in her 88th year. Beloved wife of the late Johannes H. Donkers (father of John Meulensteen) and the late Harry Meulensteen. Loved mother of John Meulensteen & wife Jan of Clifford, Corrine Vaine & husband Barry of Mount Forest, Herb Meulensteen & wife Anna of Listowel, Joe Meulensteen & wife Faye of Mount Forest, Martha McClung & husband Rob of Wasaga Beach, Frank Meulensteen & wife Brenda of Atwood, Wilma Farlow & husband Ben of Ayton and Paul Meulensteen & wife Peggie of Listowel. Loving grandmother to her many grandchildren and great grandchildren. She will also be sadly missed by many loving relatives in Canada and Holland and close friends.

Jane was a loving, generous, hard-working and ultimately selfless woman. Jane 's utter devotion to both her family and her faith has proved to be the cornerstone of her personality and an inspiration to those she knew. Jane 's years of dedicated work supporting and helping her family grow and eventually allowed them the opportunity to own their own successful farm. As Jane grew older, her commitment to those she cared for continued to form the focus of her life. Her elder years were spent travelling with her husband and enjoying the many growing families she created. Jane believed very strongly in the virtues of hard work and sacrifice and we know she will be at peace now that she is reunited with her loved ones and God. She will be greatly missed.

Friends may call at the England Funeral Home, Mount Forest on Thursday from 2:00 to 4:00 & 7:00to 9:00p.m. A Prayer Vigil will be held on Thursday evening at 6:45p.m. Mass of Christian Burial will be celebrated at St. Mary of the Purification Church on Friday June 8th at 11:00a.m. Interment at Holy Cross Cemetery. Memorial donations to Heart and Stroke Foundation or a charity of one 's choice would be appreciated by the family. On line condolence may be made at www.englandfuneralhome.com
Condolences
Dear Meulensteen family, You're mother's passing has broken my heart like she was my own - she was a 2nd mother to me. She embraced me every other Sunday after church - made a place for me at the table where I sat with the rest of you like I belonged - all sipping our cups of bullion with crackers. If I had a sleep over, I got the same hug and the same kiss that Wilma got after saying our bedtime prayers. Those are precious moments for a child, and memories that I have forever held on to. She was a beautiful loving and caring woman whom I'm certain had this impact on many people. Her service was beautiful and the words about her touched my heart. I'm sorry that I wasn't able to connect with each of you after to express my sincere heartfelt condolences. I hope you find comfort in knowing she is at peace. Love to each you, Lucy.
— Lucy Van Dongen, June 9, 2012
I knew Jane from when Allan was in the Nursing Home and from helping Heather with the Bible Study every Wed. afternoon. Jane was always smiling and ready to have a chat. We miss her. My prayers to John, Jan and Kimmy. Marge
— Marge Seawright, June 9, 2012
Our deepest sympathy goes out to your family at this time. May all your fond memories help you through. Our thoughts and prayers are with you.
— Gord and Mary MacEachern, June 8, 2012
Norm has fond memories of your parents at the property in Mount Forest. Our deepest sympathy and prayers are with the Meulensteen family at this time.
— Norm and Diane Culp, June 7, 2012
To ALL of the Meulensteen family: Our condoelnces to you all with the loss of your Mother and Oma. I remember her as "Jana", the centre of the household in Pickering, Brougham and later Kenilworth. There were always lots of kids, food and laughter. It made my dad's day if he could tease or pester your mom in some way and she's always took it in stride. On our first night in Arthur your mom came with a hot meal for everyone, always time to help out, a true friend. May you all find comfort in the good memories that you shared with her.
— Maria and Reg Hammond ( Van Hout ), June 7, 2012
Martha (Our Oma), Dad and family - Our thoughts are with you. Sending you all our love and hugs.
— Heather, Ryan And Danielle Webb, June 6, 2012
Our condolences to the Meulensteen family. Our thoughts and prayers are with you at this time. With love, The McCutcheons
— Jim, Jana, Camryn and Claire McCutcheon, June 6, 2012
Our deepest condolences on your loss of mother, grandmother and great grandmother. Your mom was very blessed to have her family. Our prayers are with everyone at this time. Bev.
— Bev and Greg Ament and girls, June 6, 2012
Our condolences go out to Jane's family.Jane was a person with a big heart and we loved her very much. The Meulensteen family is very special to our family we seemed to have a special feeling that has stayed with us through out the years. Although we are far away we will be with you in heart and mind. Fons and Michelle Beeris Vandepas
— Fons and Michele Beeris-Vandepas, June 6, 2012
Joe, Faye, Corrine & Barry, & families: Our sympathy to you at the passing of your mother/grandmother and also to your siblings & their families.... sincerely, Gary & Gwynne
— Gary & Gwynne Smith, June 6, 2012
Dear Family members, I am sorry that your dear mother has passed away from your life. Last Satutrday evening June 2nd when I dropped in for a brief visit with her, she decided to sit up on the side of her bed very much to my surprise! Unknowing to me that this was to be her last time to give me once more a gentle hug. You must feel very proud of the example your mother gave to each and every one of you. Oh how she loved you "her family". You now will follow in her footsteps, spreading her joy and love for others. I am sorry that I am going to be away this Thursday morning for a week vacation with some of my siblings. I know that God will Bless you and give you all the strenght you need. You "are" in my prayers!! Sister Dora
— Sister Dora Kruis.......Kenilworth,, June 6, 2012
Our condolences to the entire Meulensteen family as this time of sadness.
— Jeff & Jenn O'Grady, June 6, 2012
Our very deepest sympathy to the Meulensteen Family. Our thoughts are with you all at this very difficult time.
— Rick, Karen, Chad, Cody and Ty McCann, June 6, 2012
- I should add that your ferlwos look much more professional than mine. Mine look a little like the child made them herself, but that's probably because I wrapped the ferlwos around a pipe cleaner lol! I am really enjoying all your work Jody. x
— Rafea, July 27, 2012
Bless your heart luv, it still hurts.Jerry and I speak about Leroy almost every day.I am so grtufeal for the time we had with him ,which were all good times and fun lasting memories. Love you
— Yasunobu, July 27, 2012
8Dtxqd , [url=http://yarpdafoyjso.com/]yarpdafoyjso[/url], [link=http://wtdwqbvfnilx.com/]wtdwqbvfnilx[/link], http://fabvychqhjle.com/
— mzufmifrvo, July 28, 2012
Hi Richard! With the WordPress iPhone app you can upload your iPhone viedos to YouTube. Simply start a new blog entry, select the camera icon, select the video you want to upload from your Camera Roll and Save and Publish. You of course must have a YouTube account already setup and go into setting in WordPress and set it up to link to YouTube. Video Blogging on the run. Pretty cool huh?
— Reyhan, July 29, 2012
zLV0GW , [url=http://ltpwabspxkig.com/]ltpwabspxkig[/url], [link=http://gwqicinwrebh.com/]gwqicinwrebh[/link], http://nqlyuwgswgds.com/
— yuavanajh, July 30, 2012
for all the fond memories and the wonderful person she was while we were growing up at the farm as neighbours, our hearts go out to the entire family
— Mary and Bill Oppers, June 7, 2012
Deepest sympathy to your whole family. Although it has been many years since I last saw your mother, I remember many a time sharing a lunch or dinner at your large kitchen table at the farm. Your mom could always make us laugh. I remember her always having a smile on her face. Know that you are all in our hearts and prayers during this difficult time.
— Cathy (van den Broek-Robson) and Pete, June 7, 2012
Our deepest sympathy to the Meulensteen family. Thinking of you during this difficult time. Dean & Linda Love
— Dean & Linda Love, June 7, 2012
Condolence from Dale Voelzing and Daune Myles. Our deepest sympathy to the whole family.Hoping you will make it through this troubled time.
— Dale Voelzing, June 7, 2012
We are thinking of you all at this time, you were blessed to have had her in your lives for all these years. She was such a warm and caring person and always a smile, I'm sure she will be missed by all of you, hold on to your memories at this sad time.
— Lyall and Pat Lytle, June 7, 2012