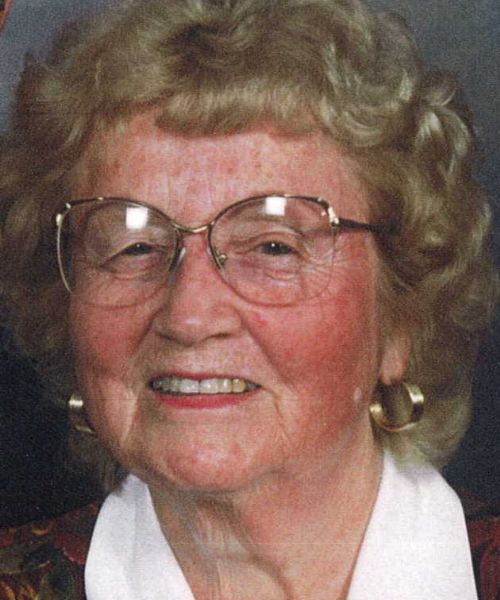 Christine Dippel
March 27, 2012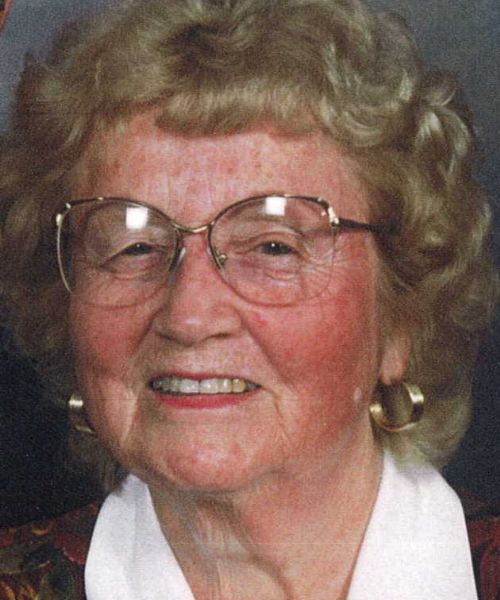 Dippel, Christine; at McVean Lodge, Hanover on Tuesday March 27th, 2012. Christine (Seiler) Dippel formerly of Mount Forest in her 91st year. Beloved wife of the late Dr. John Dippel. Loved mother of Bob Dippel & wife Mary Allen of Mount Forest and Jim Dippel & wife Katherine of Mount Forest. Loving grandmother of Kristen, Andrew, Daryl, Michael and Adam. Sister-in-law of Marie. Christine will be missed by her nieces, nephews and their families. Predeceased by sister Irene Knipe & husband Gordon and brothers Carl Seiler & wife Hazel, Alf Seiler & wife Edna and Jack Seiler. Friends may call at the England Funeral Home, Mount Forest on Friday from 2:00 to 4:00 & 7:00 to 9:00p.m. The funeral service will be held in the funeral home chapel on Saturday March 31st at 11:00a.m. Interment at Mount Forest Cemetery. Memorial donations to Louise Marshall Hospital or to the Mount Forest United Church would be appreciated by the family. On line condolences may be made at www.englandfuneralhome.com
Condolences
Bob, Jim and families, I am very sorry to hear of your loss. My thoughts and prayers are with you at this difficult time. Scott
— Scott Moody, March 31, 2012
Dear Bob and Mary and family: Please know that our thoughts and prayers are with you at this sad time. Sincerely Betty and Larry
— Betty & Larry Henry, March 31, 2012
Jim and Kathy: Please accept our condolences in the passing of your Mom, Jim. Our thoughts are with you at this trying time.
— Ed and Sue Kelly, March 30, 2012
To my cousins Bob, Jim, and family. I'm so sorry to hear of the passing of my Aunt Christine. My sympathy goes to all of you during this most difficult time. My thoughts are with you. Cherish your memories...
— Paul Seiler, Houston, TX, March 30, 2012
Jim and Kathy, sorry for your loss, life is fragile and there is never a good time for it to end. Be strong. We unfortunately can't make the trip to be there at this time. Hopefully our paths may cross again soon
— Keith and Bonnie McMillan, March 30, 2012
Jim and Family, On behalf of myself and my family please accept our condolences on the passing of your mom. I only met her the night the Church went carolling and we stopped at their place. I remember her sweet voice joining us in the carols as we sang. Taija and McKenna still remember that evening as well....memories are there to make us smile even if we don't want to. Sincerely, Tali McGovern and Family
— Tali and John McGovern, March 30, 2012
Dear Bob, Mary&family Jim and Kathy & family so for your loss of a great mom and grandma our prayers are with you in this time of need
— Dan Cathy Cory and Michelle Legault, March 30, 2012
Bob and Mary, Jim and Kathy and families, We are so sorry to hear of the loss of your mother and grandmother. We apologize for not being able to attend the visitation or funeral. Hold tight to memories for comfort, lean on your friends for strength, and always remember how much you are cared about.
— Jim, Gail, Jacqui and Ben Knipe, March 29, 2012
To the Dippel families - please accept our condolences on the passing of Christine.
— Florence & Carm Noble, March 29, 2012
Jim, Kathy & family, Our thoughts and prayers are with you.
— Shawn, Laurie & family, March 29, 2012
Sincere sympathy to all the family. She always greeted people with a smile and lived for her music. Keep your memories of a wonderful lady.
— Alvin and Joan Eccles, March 28, 2012
Bob & Mary, Jim & Kathy and families. Sorry to hear of your mom and grandma's passing, it is a difficult time but find comfort in knowing she is now with your dad likely playing the organ and definitely free from pain and burdens of any sort. We had many great visits on their front porch; they were always great neighbours. Enjoy the wonderful memories and knowing that they are reunited in a better place.
— Marilyn, Murray, Carly & Scott McQueen, March 28, 2012
Hi Jim and family, my condolences. We seem to be orphaned far too soon. We can talk about some fond memories this June. Sincerely, Ron MacDonald
— Ron MacDonald, March 28, 2012
Jim, Katherine,Daryl,Michael and Adam - Please accept my sympathy on the loss of your mother and grandmother. Sorry that I won't be there for the visitation or service. I'll be thinking of you in this strssful time. Please convey my condolences to Bob, Mary and family.
— Bob Adams, March 28, 2012